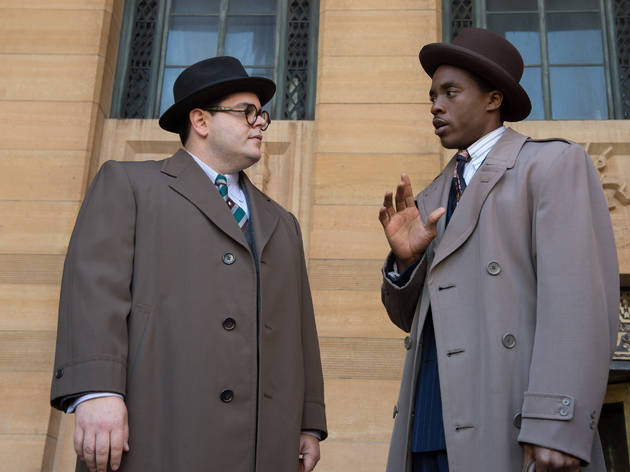 Time Out says
A towering figure of American law gets a biopic that could have used a bit of his boldness.
With a fearlessness that more up-and-coming actors should share, Chadwick Boseman has already dived into the big, historical roles: He transformed beautifully into a poised, internally conflicted Jackie Robinson in 42 and an electrifying James Brown in Get on Up. He's the perfect guy to take on the aggrieved energy of Thurgood Marshall in a script set long before 1967, when the crusading lawyer was elevated to the Supreme Court. Marshall is a trial drama that re-creates 1940's wealthy suburban Connecticut, a place where even the mere sight of a dapper African American—much less a mouthy and egotistical one, like Boseman's portrayal borders on (thrillingly)—drew shocked stares.
So who's the pasty-faced white boy constantly jockeying for screen time in a movie that should rightfully be Boseman's? He is, of course, Josh Gad. Playing a local Jewish attorney appointed to a racially fraught case when Marshall is banned from speaking on behalf of his chauffeur client, Gad is mostly free of his usual cutesiness. His character, a family man who is endured in a community that would never golf or dine with him, grows a backbone over the course of a plot that balances clichés against the far-more interesting subject of unlikely camaraderie that blooms out of mutual persecution.
Marshall isn't as flashy as it ought to be—these squarish compositions and long-telegraphed dramatic reveals somehow underserve the film's provocative moment in American jurisprudence, when roles were changing, and not just in the South. As scripted by Michael and Jacob Koskoff, a brainy father-son team, the screenplay deserves a director like peak-period Oliver Stone or Spike Lee, someone who could excite the racial subtext of every furious verbal exchange. Instead it has House Party's Reginald Hudlin, himself no slouch but here developing a fairly typical prestige movie that might have the unwitting effect of dulling events that were far from typical.
Follow Joshua Rothkopf on Twitter: @joshrothkopf
Details
Release details
Rated:
PG-13
Release date:
Friday October 13 2017
Duration:
118 mins
Cast and crew
Director:
Reginald Hudlin
Screenwriter:
Michael Koskoff, Jacob Koskoff
Cast:
Chadwick Boseman
Josh Gad
Kate Hudson
Dan Stevens

Users say