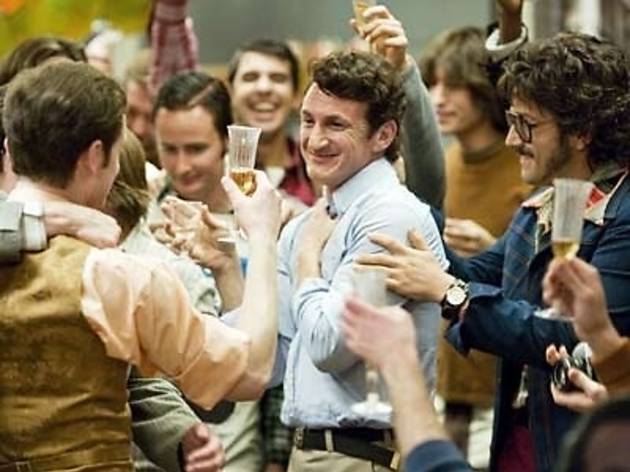 In a cinema season filled with stories of larger-than-life leaders, none are more outsize and hopeful than Harvey Milk, the first openly gay man elected to public office in the U.S. (Milk became one of San Francisco's supervisors in 1978). Gus Van Sant's deeply moving, archival-footage-rich biopic of the slain leader—he was killed 11 months after taking office by cosupervisor Dan White (Brolin, excellently depicting the ex-cop's simmering rage)—doesn't break any new ground. Milk, like several political biopics, contains its share of awkwardly shoehorned-in speechifying.
But what the film lacks in daring narrative it makes up for with its electric portrayal of its radical subject. Harvey Milk was more than just a galvanizer of SF's queer population; he was a committed activist, forging strong alliances with labor and speaking out for the elderly. His fire and flamboyance are magnificently captured by Sean Penn, who plays gay perfectly, calibrating certain nellie gestures so that they never devolve into mincing-queen stereotypes. Though Milk's man-man love is shown somewhat chastely—a long kiss with boyfriend Scott Smith (Franco); randier ass-slapping with another lover, Jack Lira (Luna)—the heat missing in the bedroom scenes burns up the political stage: "My name is Harvey Milk and I want to recruit you,"
Penn roars.
Momentous political events earlier this month have amplified Milk's significance. I saw the film two days after the election, leading to an even more heightened response after Penn says, "You gotta give 'em hope." California's homophobic Proposition 8 also won on Election Night; in one of Milk's pivotal scenes, Proposition 6, which would have banned gays from teaching in California public schools, is solidly defeated. Would an October release date of Milk have helped to ensure Prop 8's defeat? Probably not; the notion itself is magical thinking. But Milk could achieve something far more wide-reaching. As the film powerfully shows, Harvey Milk believed that one of the most radical acts a gay person could commit was to come out. But the action didn't stop there; it was merely a first step toward demanding what everyone should have: justice, equality, fairness.
Release details
Rated:
R
Release date:
Wednesday November 26 2008
Duration:
128 mins
Cast and crew
Director:
Gus Van Sant
Screenwriter:
Dustin Lance Black
Cast:
Alison Pill
Victor Garber
James Franco
Diego Luna
Sean Penn
Emile Hirsch
Josh Brolin
Joseph Cross