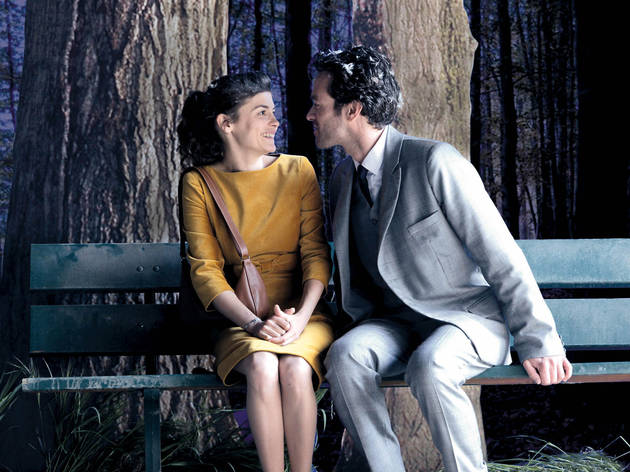 Despite what, in abstract, seems to be a perfect pairing of artist and subject, Michel Gondry's adaptation of French author Boris Vian's whimsical 1947 novel, L'Écume des Jours (translated in English as Froth on the Daydream), is aggressively irritating. Our hero, well-to-do Parisian Colin (Romain Duris), lives a robustly carefree life: He wants for nothing, thanks to his attentive financial adviser/personal chef Nicolas (Omar Sy), whose meals literally come alive on the plate. And his apartment is a fantasy world where a mini-man in a mouse costume lives in the walls and a piano-cum-cocktail-dispenser makes harmoniously blended drinks. (It's called, natch, a "pianocktail.")
Your quirk meter overloaded yet? Just wait until Chloé (Audrey Tautou) enters the picture. She's the woman of Colin's dreams, and the duo embarks on a whirlwind romance that involves everything from a cloud car that flies across the skyline to a wedding presided over by a priest who descends in a spaceship. Tragedy is also in the offing, though the film's slow change in mood doesn't stop Gondry from overloading each scene with continually "inventive" sights: CGI, stop-motion animation, minutely detailed miniatures, forced perspective. The results make your head spin more than they make your spirits soar.
It's unfortunate, since the filmmaker is among those few who can wow you simply by the fact of his seemingly boundless imagination. In the movie's best scene, the newly married Colin and Chloé float from the church door to a waiting limo as if suspended underwater, a gorgeous visualization of lovestruck euphoria. The problem is that it's one of the rare moments when the spectacle fully complements the underlying emotions. For the most part, Gondry's overwrought visions repel real feeling.
Follow Keith Uhlich on Twitter: @keithuhlich
Release details
| | |
| --- | --- |
| Rated: | N/R |
| Release date: | Friday July 18 2014 |
| Duration: | 94 mins |
Cast and crew
Director:
Michel Gondry
Screenwriter:
Michel Gondry
Cast:
Audrey Tautou
Romain Duris
Omar Sy
Gad Elmaleh