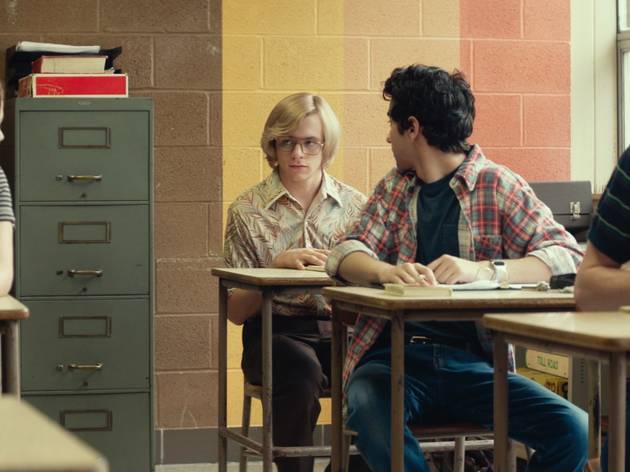 Time Out says
Before the world knew his name, Jeffrey Dahmer is depicted as a lonely teen who yearns for friendship (among other things), in this provocative drama.
Okay, so maybe he's not your best friend. But graphic novelist Derf Backderf did go to high school with the future serial killer and '70s teen loner Jeffrey Dahmer, who, back then, who was just another Ohio kid with a fetish for dead animals. Writer-director Marc Meyers turns Backderf's celebrated book into an absorbing, dramatized portrait of casual cruelty and teenage desperation, equal parts The Virgin Suicides and The Texas Chain Saw Massacre. It's anchored by a dangerously glum performance by 21-year-old Ross Lynch, who becomes more interesting the more you watch him. Behind Dahmer's clunky aviator glasses, Lynch's eyes shine with the hope of communion with his peers. Receiving his wish, he's adopted as a dorky mascot of sorts by a pack of cool kids who like the way he "spazzes out" in public places. "Do a Dahmer!" they command of him, and he obliges; your heart sinks when their interest wanes and their plaything is discarded. (Backderf's book may have been spurred out of a sense of shame.)
As a viewer, it's weird to be put in the situation of feeling anything at all for so notorious a figure. But even though Meyers sets his period-perfect indie before any of the abductions take place, he's careful not to lean too heavily on moments a psychologist would stroke his beard at. When Jeffrey's chemist dad (Dallas Roberts) catches his boy in the backyard fooling around with acids, his fury is tinged with a loving parent's disappointment. And the spectacle of our antihero's drunken, unhinged mother (Anne Heche, a little on brand) abandoning her fragile son in a long-telegraphed divorce should be familiar—and affecting—to anyone who watches non-cannibalism movies about broken homes. Expertly, My Friend Dahmer strikes a tricky tone of accuracy, empathy and warning; it must, in order to stay on the right side of ethics. The film isn't an apology—it's better than that: a window onto the making of a monster.
Follow Joshua Rothkopf on Twitter: @joshrothkopf
Details
Release details
Rated:
R
Release date:
Friday November 3 2017
Duration:
107 mins
Cast and crew
Director:
Marc Meyers
Screenwriter:
Marc Meyers, Derf Backderf
Cast:
Ross Lynch
Anne Heche
Alex Wolff