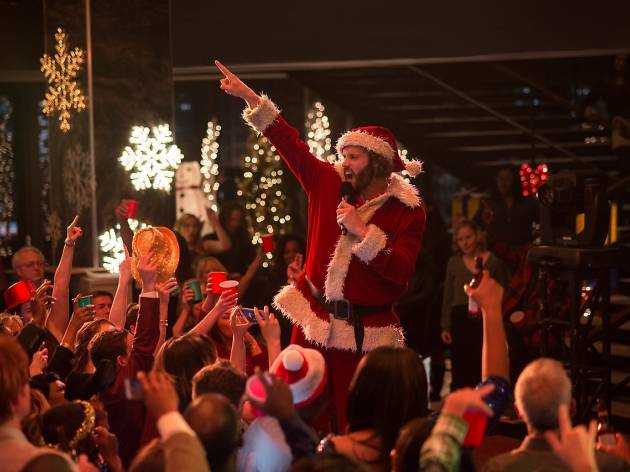 The jokes are tired, but Jennifer Aniston and Kate McKinnon just about keep this lackluster workplace comedy watchable.
Let's be honest: No one actually likes the office Christmas party. You go because it's there. You like a couple of people you work with, and after a few badly mixed cocktails, it's enjoyable enough. But you never really shake the sense that you'd be having a better time elsewhere. All of the above is true of Office Christmas Party. So let's credit Josh Gordon and Will Speck's mildly diverting but shapeless seasonal comedy with capturing the spirit of its subject.
Like most drunken workplace gatherings, this episodic tale of a failing Chicago tech company attempting to reverse their fortunes by throwing a massive Christmas blowout is unruly but never truly wild. The jokes feel cautious: Upgrading asses on photocopiers to dicks in 3-D printers (so 21st century!) is about as subversive as it gets.
But even if its script could have benefited from a few more drafts, the film's ensemble of easy-going comedy pros is in a generally merry mood. Jason Bateman, forever the frazzled everyman, is an affable anchoring presence, while the likes of Kate McKinnon (as a nightmarish HR manager with a hideous line of non-denominational holiday sweaters) and Silicon Valley's T.J. Miller (as Bateman's puppyishly dim but well-meaning boss) freewheelingly mug around him. Jennifer Aniston delivers the saltiest lines as the company's ruthlessly humorless CEO, though it's a coal-lump of a part. And in a film that sporadically attempts to progressively satirize PC workplace culture, the sour smell of misogyny pervades the mulled-wine aroma.
Release details
| | |
| --- | --- |
| Rated: | R |
| Release date: | Friday December 9 2016 |
| Duration: | 105 mins |
Cast and crew
Director:
Josh Gordon, Will Speck
Screenwriter:
Justin Malen, Laura Solon, Dan Mazer
Cast:
Olivia Munn
Jennifer Aniston
T.J. Miller
Kate McKinnon
Jason Bateman