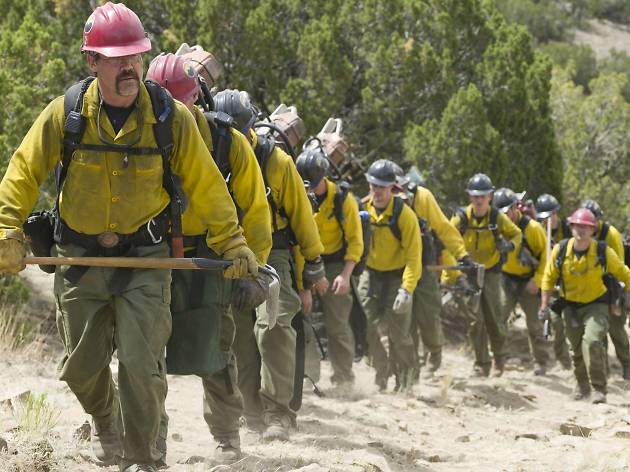 Time Out says
Firefighters go into battle in a sturdy piece of based-on-real-life heroism that's kept at an emotional distance.
Soaked in Americana and twangy guitars, Only the Brave provides an uncomplicated, hearty glimpse into the true story of the Granite Mountain Hotshots, an elite firefighting crew that combats the worst forest blazes. Led by Josh Brolin as Superintendent Eric Marsh, the film treats its central firefighting unit more like a group of soldiers, complete with basic training and helicopter rides into battle with an enemy they dub "the beast." While aspects of the routine become mundane, it's the developing brotherhood amongst the men, and the sense of community around them, that ultimately strengthens this story.
Director Joseph Kosinski (TRON: Legacy, Oblivion) depicts the infernos in dazzling aerial shots that glide over the forests around Prescott, Arizona. Brolin's Marsh remains levelheaded in the face of the flames, and stubbornly self-assured. Though many of the scenes in which Marsh and his crew navigate forest fires are visually stunning, they lack the intensity of most war scenes, or even of 1991's Backdraft. Despite the looming threats on display, Kosinski never imbues his movie with a real sense of danger until it's too late to take the threat seriously. For all of the movie's flare, Only the Brave lacks dynamism.
Brolin remains compelling despite having little to display outside of masculine anger. His onscreen wife, Jennifer Connelly, has much less to do, save for an emotional talk near the end of the film. The stellar cast—including Jeff Bridges and Taylor Kitsch—are largely limited to performing through reaction shots. Brolin also serves as the mentor to a new trainee played by an underserved and blonde-dyed Miles Teller. Teller, who receives news of the film's climax over a walkie-talkie, is kept at a distance from the emotional core of the story; that removed feeling, unfortunately, is shared by us.
BY: ZACHARY SHEVICH
Details
Release details
Rated:
PG-13
Release date:
Friday October 20 2017
Duration:
133 mins
Cast and crew
Director:
Joseph Kosinski
Screenwriter:
Ken Nolan, Eric Warren Singer
Cast:
Josh Brolin
Jeff Bridges
Miles Teller
Jennifer Connelly

Users say