Portrait of a Lady on Fire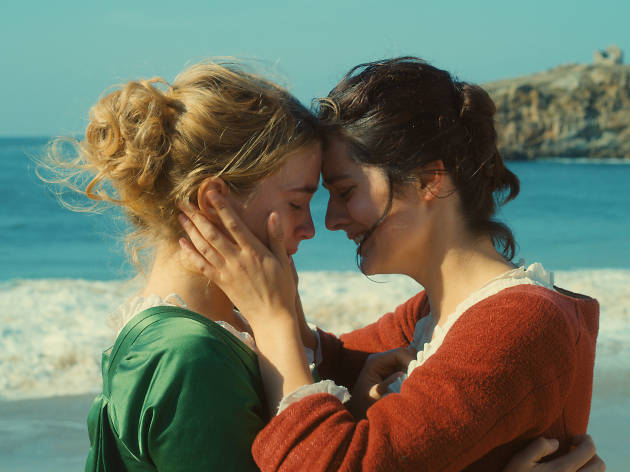 Time Out says
Céline Sciamma's glorious period romance is a master class of swelling passions in a time of stifling restraint.
France's Céline Sciamma is one of the most exciting filmmakers around—her Water Lilies, Tomboy and Girlhood are all intimate studies of young women at points of profound change in their lives. Those earlier movies were contemporary, realist tales. Now, with Portrait of a Lady on Fire, Sciamma has crafted a powerfully original story of art and love, set almost entirely on a Breton island in the 18th century, and one that operates on the level of a painterly, radical reverie that's just to the left of reality. It's Sciamma's most cerebral and challenging work to date, full of ideas about artists and muses, the female gaze and solidarity. The movie feels stately and quiet at first, and you wonder if it might end up being too polite, too controlled. But it harbors a rising passion that's devastating when it bursts into fullness.
Everything begins with Marianne (Noémie Merlant) teaching an art class. A memory throws her into an extended flashback that takes up nearly the entire running time. We see her being rowed by a boatful of men to a remote island; she's a professional painter, arriving to do a portrait of Héloïse (Adèle Haenel, hypnotically headstrong), a young woman whose mother wants a likeness of her to send to her prospective husband, a Milanese aristocrat. Already one painter has come and gone, in failure. Marianne's challenge is to get Héloïse to unwittingly pose during the interludes when they take walks on the stormy beach or the nearby dunes. Marianne does eventually get her subject to sit for her, but what happens between them is far more interesting: a growing romance that's reflected in the painting. A bond emerges, as well, with the only other person left in the house when Héloïse's mother travels away: a servant, Sophie (Luàna Bajrami), who gets help from both women when a crisis emerges in her life.
Portrait may be set in the past, but it feels contemporary in its energy and what it says about art and who's making it. It's also an intensely moving evocation of female love and friendship, without ever being coy or unnecessarily erotic. It's bold and proud. One of the many winning things about this film is that, while the story exists in a wider world dominated by the desires and rules of men, Sciamma strips them out of her cast almost entirely, apart from brief appearances in the bookends. That makes for an oasis charged with possibility—and, for a moment, freedom.
Details
Release details
Rated:
R
Release date:
Friday December 6 2019
Duration:
121 mins
Cast and crew
Director:
Céline Sciamma
Screenwriter:
Céline Sciamma
Cast:
Valeria Golino
Adèle Haenel
Noémie Merlant
Luàna Bajrami