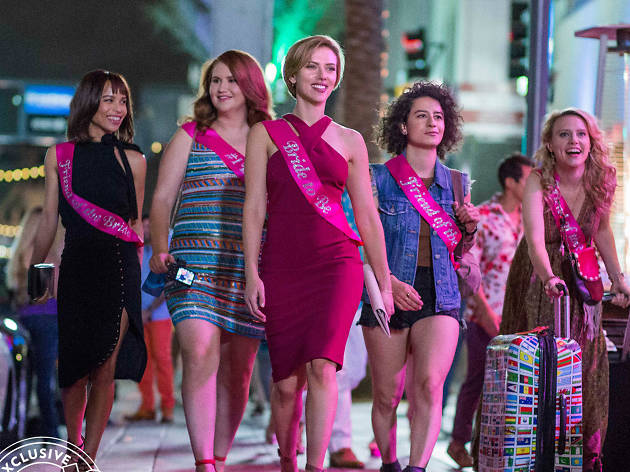 Time Out says
This skin-deep ensemble comedy about a bachelorette party gone horribly wrong should have set its brilliant cast free.
Bachelorette parties—and plenty of the bachelor ones, I've noticed—are never just about the booze and the partying. There's always that slightest twinge of jealousy, a bruised hint of abandonment, a recklessness about to spin out of control. So it goes with the tonally uneven Rough Night, a half-borrowed comedy that quickly kicks its one night of female carousing into the realm of terrible decisions. You can feel the film's desperation right under the surface: The script (by Broad City's Lucia Aniello and Paul W. Downs) wants to join the company of Bridesmaids or Bachelorette, but respectively, it's neither warm nor cool enough. Instead it settles for a coke-fueled mania that doesn't cohere into anything apart from a handful of funny moments.
Rough Night's quintet of stars are dazzlers stuck in a middle gear; watching them play off each other is its own kind of pleasure, regardless of the takeaway. Scarlett Johansson is capable of a starchy kind of humor (see her SNL hosting), and that's the energy she supplies here as Jess, an awkward state-senator candidate who's currently losing in local polls to a competitor who's intentionally deploying dick picks. Taking a break from the combat, Jess gathers her college friends, including clingy Alice (Jillian Bell), secretive Blair (Zoë Kravitz), loud-and-proud Frankie (Ilana Glazer) and Jess's semester-abroad confidante, Pippa (Kate McKinnon, stealing another summer movie with an outrageous Aussie accent and bug eyes).
The Miami Beach debauchery is a little ho-hum-Hangover, but it's still more likable than the film's ice-cold plunge into unwitting manslaughter when a hired stripper accidentally gets brained during his routine (blood pools thickly under his head) and the women panic, trying to cover it up. That's the same premise of 1998's Very Bad Things, which really dove into male entitlement. Here, it's a mere bump on the road to more slapstick moments involving corpse disposal, sex-crazed neighbors and cleaning up the evidence. Orchestrating a gender reversal on this concept isn't especially liberating; you might actually get more laughs out of the cutaways to the lame bachelor party of Jess's fiancé, where sensitive men get "wild" at their private wine tasting. Given its multitalented cast, Rough Night should have committed to the darkness (originally, the screenplay's title was Move That Body). In execution, the women are asked only for flop sweat and nervous jabbering. Party on.
Follow Joshua Rothkopf on Twitter: @joshrothkopf
Details
Release details
Rated:
R
Release date:
Friday June 16 2017
Duration:
101 mins
Cast and crew
Director:
Lucia Aniello
Screenwriter:
Lucia Aniello, Paul W. Downs
Cast:
Scarlett Johansson
Zoë Kravitz
Jillian Bell
Kate McKinnon
Ilana Glazer