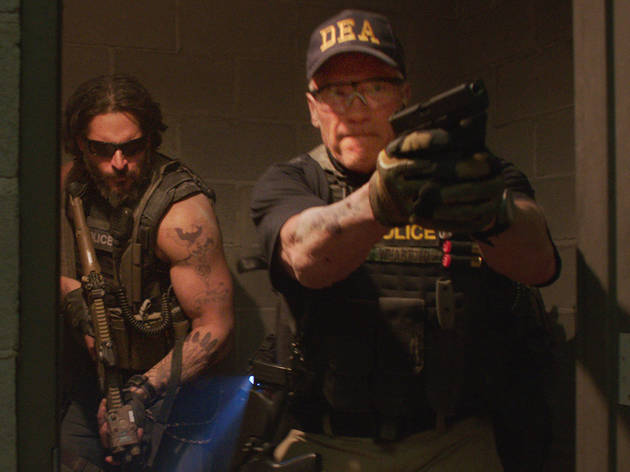 It begins where many movies climax—with a kidnapping and a risky plan to steal a ton of cash from a seemingly impregnable fortress. But David Ayer's unapologetically hard-R action thriller is out to futz with our expectations, even if it still can't quite transcend the trappings of the typical Arnold Schwarzenegger vehicle.
Yes, the former Governator is back, and he's in a more brooding mood than usual. That's because his character, DEA agent John "Breacher" Wharton, has had a tragedy in the family, which leads him to concoct a plan to rob a particularly vicious cartel of $10 million. The heist goes off without a hitch, thanks to the expertise of the task force Wharton heads, all of whom are in on the job. But then the money disappears, a hard-nosed investigator (Williams) starts poking around, and some retributive murders occur.
Somehow it all goes back to the never-solved kidnapping of Wharton's wife and son, and this allows Schwarzenegger to sulk and suggest regret in ways that are normally alien to this virile superstar. Has he truly turned his back on his "See you at the party, Richter" days? Not quite, since Ayer's aesthetic—with its dissociative jumps in time and repellently ugly violence—only feigns insight into Wharton's apparently tortured character.
In truth, he's the same old Arnold—out for blood, just getting there with less puns and by more roundabout means. Not that there's anything wrong with that. Indeed, you're thankful when Ayer stops trying to artistically tart up this Peckinpah-lite tale of vengeance and just lets his leading man do what he does best: blow the bad guys away.
Follow Keith Uhlich on Twitter: @keithuhlich
Release details
| | |
| --- | --- |
| Rated: | R |
| Release date: | Friday February 28 2014 |
| Duration: | 109 mins |
Cast and crew
Director:
David Ayer
Screenwriter:
David Ayer, Skip Woods
Cast:
Arnold Schwarzenegger
Max Martini
Josh Holloway
Joe Manganiello
Mireille Enos
Sam Worthington
Terrence Howard
Olivia Williams