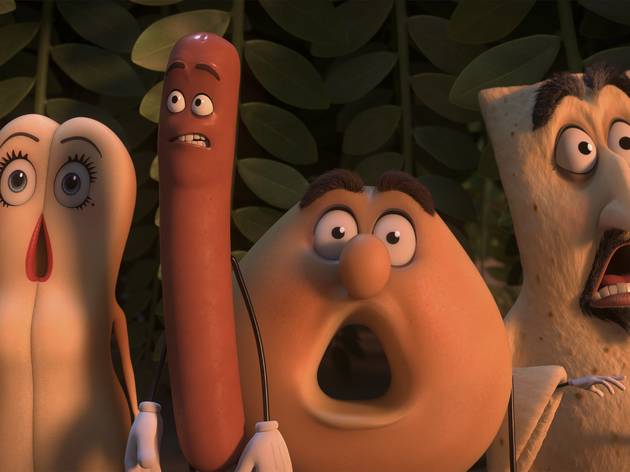 Time Out says
Think you're headed for indigestion with this talking-food sex comedy? Healthy toppings go a long way.
Sometimes, nutrition comes in unlikely packages—but before I make Sausage Party sound like a pile of spinach, know that it's exactly the R-rated single-entendre animated sex fest the title implies, at least for its first 15 minutes. During that gloriously foulmouthed introduction, we meet horny Frank (Seth Rogen), a slick tube of meat who just wants to raw-dog it with Brenda (Kristen Wiig) the pillowy bun on the shelf next door, her lips parted suggestively. Both are excited for the Fourth of July, when they know they'll get it on. We're in a supermarket, where the singing, talking food—orotund produce and chatty chips—just can't wait to be picked up.
Had this rude movie stuck to that one joke, even its brief 89 minutes would have felt like an extra-long checkout line. But as with 1999's deceptively deep South Park: Bigger Longer & Uncut and, more recently, The Lego Movie, the script works hard to invest its scenario with an existential and political dimension, crudely but effectively expressed. A bagel with the nebbishy voice of Woody Allen (Edward Norton) makes an uneasy truce with a bearded, disapproving Middle Eastern lavash bread (David Krumholtz); later, they'll become more than friends. And what exactly lies beyond those air-conditioned aisles? Chomping teeth, slicing knives and hell, in a parable that approaches Babe for darkness. (As for an explicit scene that parodies both 9/11 and Saving Private Ryan's carnage, some things just have to be experienced firsthand.)
Everyone is someone else's food—a sophisticated notion for any film. It's worth applauding the sizable writing team (which includes star Rogen, his Superbad creative partner Evan Goldberg, Jonah Hill and more) for polishing the flow of Sausage Party to a busy Pixar-like sheen in which every inch of space is colonized by a joke. Some of those gags are more cringy than others—like Craig Robinson's cracka-hating box of grits—but don't call it empty calories.
Follow Joshua Rothkopf on Twitter: @joshrothkopf
Details
Release details
Rated:
R
Release date:
Friday August 12 2016
Duration:
89 mins
Cast and crew
Director:
Greg Tiernan, Conrad Vernon
Screenwriter:
Evan Goldberg, Kyle Hunter, Ariel Shaffir, Seth Rogen
Rating Breakdown
5 star:

0

4 star:

2

3 star:

0

2 star:

0

1 star:

1
This movie is hilarious - made by some pretty big celebs (including Seth Rogen), this film makes what seems like a kid's movie into an adult raunchy entertaining movie. Definitely do not watch with kids in the room... even the trailer has a lot of curse words!
This movie was by far the worst excuse for a motion picture I have ever had the "duty" to see. It's marketed as a "super funny" animated comedy and it turns into a line by line piece of propaganda. I would give it 0/1000 if I could. By the end of the movie it turns into a disgusting rape fest. And of course, there's plenty of consensual gang-bangs, bukkake, sodomy.... It's a real great modern family flick. Oh- it's really close to the hearts of classic stoners, especially the ones that love buying bath salts from a guy in a dark ally and rushing home to cook it up on a spoon, draw it up in a needle and shoot it up. It's sooooooo relatable and funny!! HA. HA!!!
If you're looking for an equal experience I would reccomend a root canal.
DO. NOT. SEE. THIS. MOVIE.
TRUST. ME.
It's safe to say that there is nothing else remotely close to Sausage Party in the animated adult rated film realm. This movie was hilarious and vulgar; everything you would expect from the great Seth Rogan.