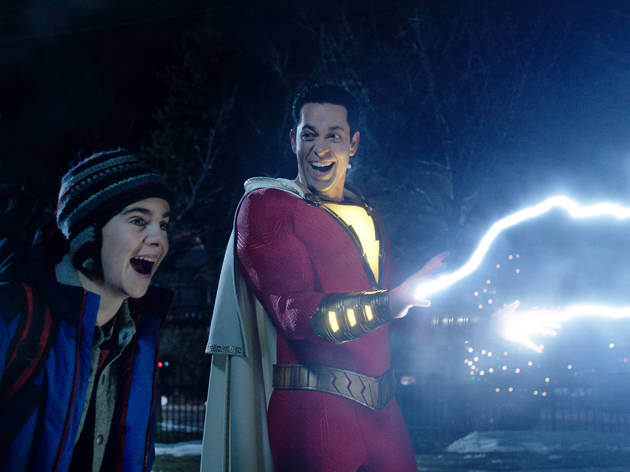 Time Out says
Boldly—even proudly?—silly, a superhero movie weaponizes its own boyishness, reminding us that these films aren't supposed to feel like final exams.
Review by Joshua Rothkopf
If you think superhero movies are essentially about overgrown children (boys, to be exact, despite some recent lip service to the contrary), Shazam! is here to prove you absolutely right. Be ready, though, for it to win you over with its goofy Freaky Friday–ness: It's a story in which young Billy Batson (Asher Angel), a wayward 14-year-old foster kid with serious abandonment issues, suddenly becomes a full-size man with abnormally pumped biceps, lightning-spouting fingers, a ridiculous white cape and a giggly sense of invincibility. (The Marvelous Mrs. Maisel's Zachary Levi plays it perfectly, with bounding, immature glee.) Sneakily, the movie both pokes fun at itself and redeems the genre with guilelessness and heart—which isn't a first. Still, if you're evoking the lovably awkward Christopher Reeve, you're doing it right.
Swiftly, director David F. Sandberg (Lights Out) gets the quasi-hallucinogenic origin nonsense out of the way: There's an ancient cave in another dimension, where an ultraserious wizard (Djimon Hounsou, loving it) needs to find a hero. Initially, in the film's 1974-set prologue, a boy fails this test—he'll become the bad guy (Mark Strong, doing his bald-villain thing).
Then it's Billy turn: "Gross," he says, when commanded to grab the wizard's magic staff. But the transformation works, and the movie explodes into its riotous midsection, thanks to It breakout star Jack Dylan Grazer. He plays Billy's painfully neurotic foster brother Freddy, crippled and emotionally vulnerable but also a voice of self-deprecating salvation. They horse around and make dumb YouTube videos, discovering hidden powers (and a hidden need for kinship).
Feeling anything in a DC Universe installment is, in itself, evidence of filmmaking that's superheroic (that overall bluish-gray glumness is completely gone). So imagine the shock to also encounter a nuanced, funny script, a richly developed surrogate family, a visual appreciation of Philadelphia and its heroic Rocky iconography, and not one but two expert jokes involving a strip club. Shazam! is so teen-centric, it sometimes plays like a spandexed Harry Potter. But the YA bent makes sense: The euphoria of newfound powers, unexamined and bursting out, is best expressed by characters (and films) that channel the irreverence of adolescence. Some heavy moments kick in near the end, as does a surfeit of slightly cheesy CGI, always a drag during climactic fight scenes. But for a long, glorious stretch, Shazam! plays like the anti-Nolan antidote it is.
Follow Joshua Rothkopf on Twitter: @joshrothkopf
Details
Release details
Rated:
PG-13
Release date:
Friday April 5 2019
Duration:
132 mins
Cast and crew
Director:
David F. Sandberg
Screenwriter:
Henry Gayden
Cast:
Zachary Levi
Mark Strong
Djimon Hounsou
Asher Angel
Michelle Borth
Jack Dylan Grazer