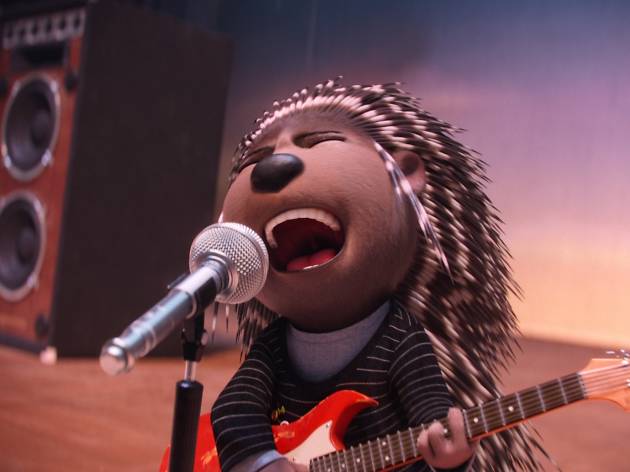 Time Out says
The makers of Despicable Me deliver a fun, toe-tapping animated musical about animals pursuing their dream—to be singers.
This delightful animated feature from the studio behind the Minions movies takes a tired-sounding idea—a comedy set around a talent contest—and turns it into something winning and witty. Sing is fast and frenetic, dashing from character to character, song to song. Our hero is a koala: Buster Moon (voiced by Matthew McConaughey), a throwback theater owner-cum-producer down on his luck. With the help of his aging female assistant, a lizard (voiced by the film's writer-director Garth Jennings), Buster initiates a singing contest in an attempt to save his crumbling building. But a clerical error bumps the prize money up from $1,000 to $100,000, and suddenly every singing beast in town is queueing at his door for a chance of winning the cash.
There's Johnny (Taron Egerton), a British gorilla uneasy with his father's criminal lifestyle; Rosita (Reese Witherspoon), the harried porcine mother of 25 hungry piglets; Meena (Tori Kelly), an extremely shy elephant; Ash (Scarlett Johansson), a jilted grunge porcupine; and Mike (Seth MacFarlane), a crooning, boastful mouse in the Rat Pack mold. Like the most effective TV talent shows, Sing balances snapshots of each creature's home life with their emergence into the spotlight of potential fame. The rush of familiar music—Queen, Elton John, Leonard Cohen—often sung by the voice actors themselves, can feel like listening to a karaoke jukebox in overdrive. But the film's welcome focus on relationships, emotions and other details stops it from feeling superficial.
Anyone who's seen Disney's recent Zootopia might find familiar the vision of a busy American city populated entirely by non-humans. But Jennings (Son of Rambow, The Hitchhiker's Guide to the Galaxy) runs with the idea without throwing any jokes or comments in its direction. The animation itself might not be the most inventive out there (this isn't Pixar), but where Sing soars is in its one-by-one attention to its ensemble of beasts and its obvious passion for music: It's nearly impossible to watch this film and not be humming the Beatles' "Golden Slumbers" for days afterward.
Details
Release details
Rated:
PG
Release date:
Wednesday December 21 2016
Duration:
108 mins
Cast and crew
Director:
Garth Jennings
Screenwriter:
Garth Jennings