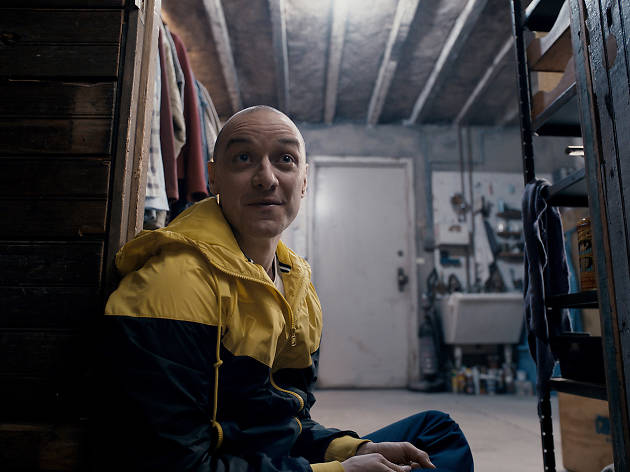 James McAvoy plays a psychotic child abductor with two dozen personalities, but his director flaunts the same-old tricks.
M. Night Shyamalan still takes himself enormously seriously, as if none of the flops after 1999's The Sixth Sense ever happened. The guy has impressive powers of compartmentalization—he obviously still thinks of himself as an inspired wunderkind—which makes Split, his latest thriller, an unusually personal statement. It's one of those somber, cello-scored dramas about a clever psychopath (James McAvoy, having too much actorly fun) who has 23 distinct personalities and, more troublingly, three high school girls locked up in his cellar. One of his captives is The Witch's almond-eyed Anya Taylor-Joy, whose cool problem-solving demeanor you root for.
Split trots out many of Shyamalan's pet moves (it's amazing how well we know this filmmaker), including his tendency to infuse genre nonsense with the deeper trauma of child abuse. A lot of the picture works better in flashback, as we learn what made our young heroine so steely. Less successful are endless therapy sessions between McAvoy's varying personae (think-piece alert: They include a gay fashion designer, a spiritually minded woman and a scared little boy) and his maternal therapist (Betty Buckley), who must be charging him by the minute. The screws don't really tighten—they clamp closed: Suddenly there's a lot of running around and screaming.
It's crucial to note that Split doesn't build toward a twist ending (not that any decent critic should reveal those bits of ridiculousness)—or, in fact, a proper ending at all. It leaves you hanging in a way that feels swooningly pretentious for this kind of movie. There's a tiny shiver of something in the final few seconds that doesn't exactly change what we've watched so much as say, "I'm still M. Night Shyamalan, and I'm still crazy!" He's become his own twist ending. Half your audience (I'm being generous) will gasp; the rest of you will roll your eyes. Split, indeed.
Follow Joshua Rothkopf on Twitter: @joshrothkopf
Release details
Rated:
PG-13
Release date:
Friday January 20 2017
Duration:
117 mins
Cast and crew
Director:
M. Night Shyamalan
Screenwriter:
M. Night Shyamalan
Cast:
James McAvoy
Haley Lu Richardson
Anya Taylor-Joy
Betty Buckley

Rating Breakdown
5 star:

2

4 star:

0

3 star:

0

2 star:

0

1 star:

0
I've seen this movie over the weekend. One word to describe James MacAvoy's performance; mesmerizing. The way he was able to channel different personalities showed just how fantastic of an actor he is. The movie itself never drags and leaves you in a state of anticipation for what may happen next. The ending has an unexpected twist that I think would leave moviegoers wanting more.
This film is vintage Shyamalan, returning to his roots which established himself as a director with films like The Sixth Sense, Signs, and Unbreakable. Over the past decade many of his films seemed to have tried to take his formula and extrapolate it to the extreme with over zealous focus on "the twist at the end", so much so you could find yourself focusing on trying to figure out the film's conceit vs. just enjoying the journey. In Split, M. Night simplifies the scope, returning to previous material from when he was at his best. There is still a bit of a twist at the end, but it's not all consuming, and MacAvoy's performance is spellbinding, always focusing you on the here and now.

The time out review seems a bit biased as the reviewer clearly wasn't a fan of any of M. Nights previous films other than the sixth sense, directly referring to every other one of his films as a flop (200M + Box Office is a flop?). This bias shines through with the disdain for the ending, which I felt wrapped up quite nicely and in a satisfying manner, but would not be appreciated without a bit of love for another Shyamalan film.