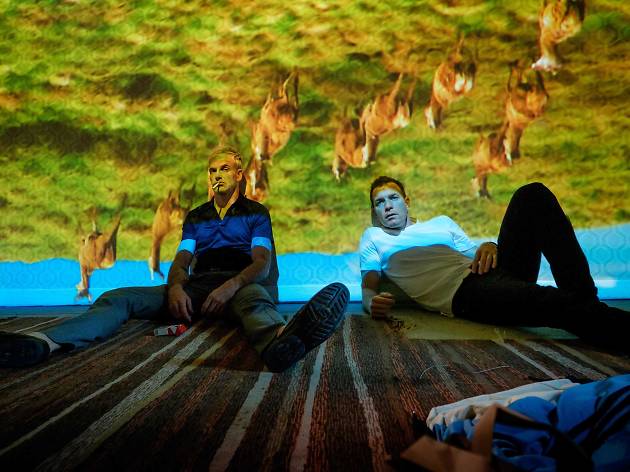 Time Out says
Lightning might never strike twice, but director Danny Boyle and his cast have delivered a thoughtful, respectable and knowing sequel to 1996's Trainspotting.
You can't re-create your past, but you can relive it in your head over and over again, seeing it differently as you become someone new each year, month, week and day. That's the big, trippy idea at the heart of Danny Boyle's T2 Trainspotting, a frenetic but also reflective film about the past colliding with the present. It has some soaring highs and a few lows, but it's never lazy, even if it doesn't match the one-off magic of the 1996 Britpop-era original. Frankly, how could it?
T2 sees Renton (Ewan McGregor) arriving back in Scotland from Amsterdam, where he's been working in "stock-management software for the retail sector" ("choose life," indeed) and where his marriage has taken a wobble. Back home, he seeks out childhood friend Spud (Ewen Bremner), to whom life also hasn't been kind in an altogether more devastating way: Drugs remain a constant in this universe. Renton also reconnects with Sick Boy (Jonny Lee Miller), who now runs a blackmail and prostitution racket with business partner Veronika (Anjela Nedyalkova in one of several underwritten female roles; Shirley Henderson and Kelly Macdonald suffer the same fate). The missing piece of the puzzle is Begbie (Robert Carlyle), still seething about being sold out by Renton and who's in prison—but not for long.
Perhaps there's just too much going on for the melancholy to fully hit home. T2 works too hard to be both a buzzy, scuzzy revenge story—complete with barroom fights, nighttime chases and low-rent porn scams—and a downer portrait of time gone by, opportunities missed and relationships lost. It's a boisterous, awkward film: The tone is more maudlin, grander, with less humor, although there's a familiar anarchy to the visuals. But it also has just enough of the two ingredients that made the first film such a gem: style and soul. And you have to salute Boyle for doing something more interesting than delivering a straight-up cash-in. For all the movie's energy, it's an oddly haunting experience to see those once-youthful faces again, more lined, less carefree.
Details
Release details
Rated:
R
Release date:
Friday March 17 2017
Duration:
117 mins
Cast and crew
Director:
Danny Boyle
Screenwriter:
John Hodge
Cast:
Ewan McGregor
Jonny Lee Miller
Robert Carlyle
Ewen Bremner