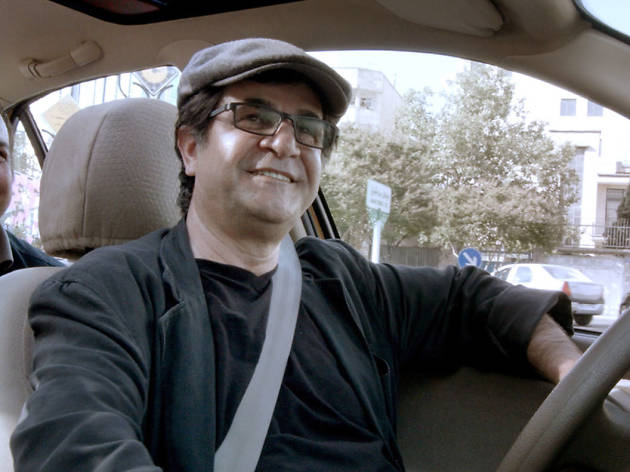 Time Out says
Jafar Panahi steers another rebellious masterpiece.
By striking director Jafar Panahi down, the Iranian government has only made him more powerful than it could possibly imagine. Banned from making movies and baselessly convicted of crimes against national security, the Offside filmmaker has regardless successfully exported three bona-fide masterpieces in the five years since his sentencing. Although Taxi boasts neither the raw anger of 2011's This Is Not a Film nor that project's incredible origin story—the footage was loaded onto a USB drive and then smuggled out of Iran in a cake—this spry, sharp and relentlessly clever middle finger to censorship is Panahi's boldest act of defiance to date.
Giddily refueling Iranian cinema's fascination with cars and their unique properties as a space that's simultaneously both public and private, Taxi finds Panahi behind the wheel of a cab in downtown Tehran. Shot to resemble a documentary (but far too pointed and plot-driven to be mistaken for one), Taxi slowly transforms the interior of Panahi's car into a stage for crimes, confessions, deathbed declarations and even a goldfish-related tragedy. Each passenger who climbs into his mobile prison cell is quick to notice the camera mounted to the dashboard, but none of them are disturbed by its presence (the cast is uncredited to protect their identities). In fact, most of the fares have cameras of their own and look into Panahi's lens as though it were a mirror—a self-admitted criminal mistakes it for an antitheft device, a lawyer compares it to Big Brother, and Panahi's adorable young niece eagerly likens herself to the heroine of a film her uncle made before she was born. Such reflexivity has always been key to the director's work, but he's never had this much fun smudging the line between fiction and reality.
Many of the characters at the heart of these miniature dramas recognize their cabbie, who's a celebrity in his home country even if his movies are prohibited from screening there. (Panahi's growing fame itself is a testament to the failure of censorship.) From its opening long-take to its gut-punch of a finale, Taxi is a brilliantly humane testament to the fact that, in the 21st century, cinema is truly everywhere, and Jafar Panahi is still in the driver's seat.
Follow David Ehrlich on Twitter: @davidehrlich
Details
Release details
Rated:
N/R
Release date:
Friday October 2 2015
Duration:
82 mins
Cast and crew
Director:
Jafar Panahi
Screenwriter:
Jafar Panahi
Cast:
Jafar Panahi

Users say