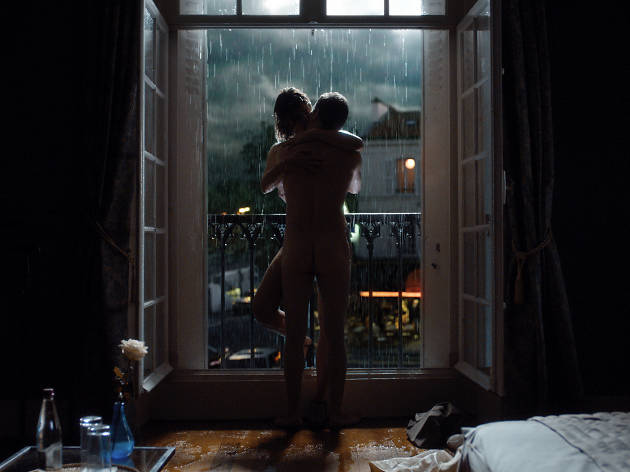 Time Out says
The pieces are more intriguing than the whole picture in Mathieu Amalric's jaggedly alluring murder thriller, adapted from a novel by prolific mystery writer Georges Simenon. It's an elliptical deconstruction of a soured love affair in which a man, Julien (Mathieu Amalric), finds himself caught between his mistress, Esther (Stéphanie Cléau), and his wife, Delphine (Léa Drucker). The film opens in gorgeously sensuous and near-absurd fashion as Julien and Esther share an afternoon of passion in the eponymous room, their bodies abstracted (a breast in the corner of the frame, saliva-flecked lips shot in extreme close-up) and their orgasmic cries building. A drop of blood falls on the sheets: Esther has bit Julien (to his baffled delight), but you might also say she's vampirically infected him. Come what may, they will not be separated.
No sooner has erotic bliss subsided than we're in a sterile magistrate's chambers where Julien is being interrogated about his involvement in some murderous business. We don't find out the specifics of his alleged crime immediately. Instead, the film jumps around in time, from Julien and Esther's first sexual encounter to the cheating husband's increasingly temperamental interactions with spouse Delphine, back to that inviting blue-walled hotel room ad forward to the oppressive courthouse where Julien and Esther's fate will be decided. (Amalric's collaborations with the late Alain Resnais, like 2009's narratively unhinged Wild Grass, seem like a major influence on his approach.)
Shame and regret hang over every scene, and the feelings only deepen the longer the movie goes on. This is less of a whodunit than a psychological portrait of one man as he unravels, his guilt ever in question. For all its surface effectiveness, however, The Blue Room never quite makes that intangible leap into greatness. It's a phenomenally executed exercise that, like its protagonist's memory, is too wispy for its own good.
Follow Keith Uhlich on Twitter: @keithuhlich
Details
Release details
Rated:
N/R
Release date:
Friday October 3 2014
Duration:
76 mins
Cast and crew
Director:
Mathieu Amalric
Screenwriter:
Mathieu Amalric, Stéphanie Cléau
Cast:
Mathieu Amalric
Léa Drucker

Users say