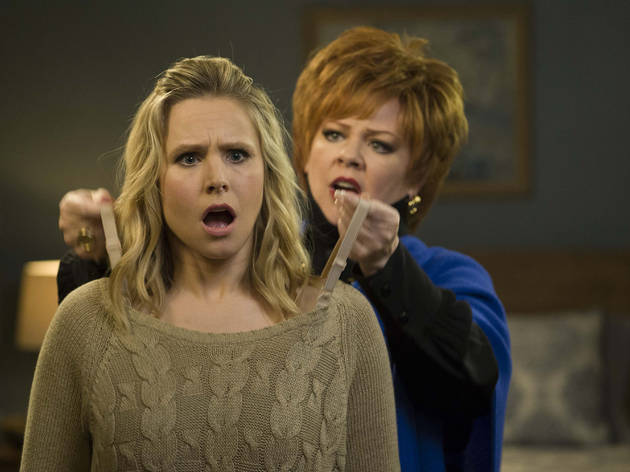 Time Out says
Melissa McCarthy can't save a comedy that wastes her gifts on a clichéd story of belated conscience.
The funniest moment of Melissa McCarthy's disappointing latest has nothing to do with the movie's plot, a tired one, but everything to do with what makes the star so consistently alive onscreen. In the scene, McCarthy's blowhard business magnate, Michelle Darnell, is giving dating advice to her dishrag of a personal assistant, Claire (Kristen Bell), who also happens to be her host, since insider trading has left the boss broke. Their exchange starts with merciless sweater mocking, moves on to a snippy bra-strap adjustment, then blooms into a full-on war of boob slapping. The date isn't important anymore, only the battle for dominance.
McCarthy needs to spar with someone, preferably in close quarters—be it Jason Statham or Rose Byrne in last year's underrated Spy, or Kristen Wiig in Bridesmaids. Even though The Boss is co-written by McCarthy and her husband, director Ben Falcone (who should know his wife's strengths better), the film often strands its title character in shrill one-note caricature, mostly unchallenged. Michelle seizes on a Girl Scouts–like baking program, Dandelions, in which Claire's teen daughter participates, as the key to her comeback. First you laugh at McCarthy's harshness in front of the kids, who aren't used to her screw-the-competition ethos, then you sigh realizing this is no School of Rock.
Aside from Michelle's half-assed attempt to grow a conscience near the movie's end, The Boss is filled with dead weight, which includes even Game of Thrones' Peter Dinklage as Michelle's randy business competitor; he never gets to unleash his wit. A weird overabundance of Chicago establishing shots feels unmotivated (production incentives?), as does the impulse to film marauding children in slow motion, their savage lessons learned. The Boss almost forgets who's boss, but bad McCarthy is better than none at all.
Follow Joshua Rothkopf on Twitter: @joshrothkopf
Details
Release details
Rated:
R
Release date:
Friday April 8 2016
Duration:
99 mins
Cast and crew
Director:
Ben Falcone
Screenwriter:
Ben Falcone, Melissa McCarthy
Cast:
Peter Dinklage
Melissa McCarthy
Kristen Bell

Users say