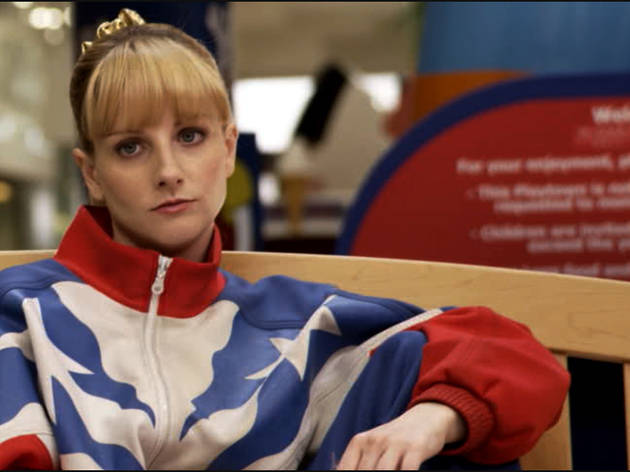 Time Out says
Her glory days long behind her, a Midwestern gymnast clings to the past in a comedy that feels just as tired.
Playing a desperate ex-Olympian still milking her Ohio hometown for freebies years after her expiration date, Melissa Rauch is the only joke in The Bronze, an intentionally toxic comedy that, like its main character, could use a few more moves in its gymnastics routine (emphasis on routine). Strutting around her local mall in an ancient USA tracksuit and a permanent bitch face, Hope Ann Greggory (Rauch) wants everyone to cherish the memory of her third-place finish at the 2004 Games in Rome—or at least keep up appearances with free Sbarro's pizza and limitless lines of credit.
The beautifully tacky art direction of Hope's bedroom, littered with patriotic detritus, dusty trophies and pink stuffed animals, speaks reams to her arrested development (a good thing, since Rauch's Midwestern nasal honk is pitched well past excruciating). But even though the star cowrote her own script, The Bronze still stalls her with little to do, apart from make other sports parodies like Blades of Glory seem like triumphs of invention. There's Hope's overly doting dad (Office Space's priceless Gary Cole), a painfully awkward wannabe boyfriend (Thomas Middleditch) and, most troublingly to our blond-banged heroine, a gifted teen whirlwind (Haley Lu Richardson) who might just claim the turf for herself.
Expected developments arrive with thudding regularity: a pride-swallowing offer to coach the wunderkind ("I'm not a coach—I'm a star!"), a candlelit first date, the big floor-mat finale. The Bronze can only rouse itself when Hope cuts loose with the sweary viciousness you know she can barely contain. (One stupendous sex scene for the ages, a riot of twirling limbs and running nude leaps, is an unexpected climax to all the naughty talk.) But for a movie with a critique of mediocrity well within its grasp, this one settles for an embrace of it, barely breaking a sweat.
Follow Joshua Rothkopf on Twitter: @joshrothkopf
Details
Release details
Rated:
R
Release date:
Friday March 18 2016
Duration:
108 mins
Cast and crew
Director:
Bryan Buckley
Screenwriter:
Melissa Rauch, Winston Rauch
Cast:
Melissa Rauch
Gary Cole
Haley Lu Richardson
Thomas Middleditch