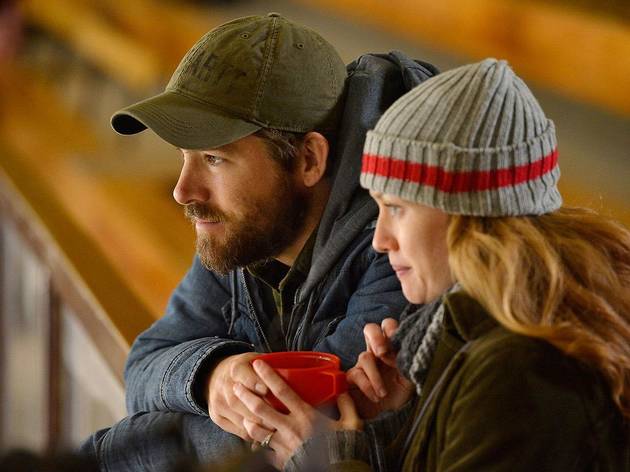 Often only a light breeze has to blow through a thriller for it to be called wintry, but this movie from the once-celebrated, now-iffy Canadian filmmaker Atom Egoyan (The Sweet Hereafter, Chloe) deserves the label. Yes, The Captive is full of snow and ice, heavy coats, gray skies and thick boots, but its subject is also as bleak as a 3am February walk along the side of an Ontario highway.
It tells of the aftermath of a kidnapping: A young girl, Cassandra, is snatched from the backseat of a pickup truck parked outside a roadside diner by her dad, Matthew (Ryan Reynolds). Several years later, Matthew and his estranged, fragile wife, Tina (Mireille Enos), are still living a waking nightmare, and the cops who first investigated the case—hotheaded Jeffrey (Scott Speedman) and cooler, more empathetic Nicole (Rosario Dawson)—find themselves drawn back into the investigation after new evidence emerges. Meanwhile, from the beginning of this moody, maudlin tale, we're also watching an unpleasant, nervy middle-aged man named Mika (Kevin Durand), who sports a villainous mustache and a poor Brando impression. He pipes arias through his classy chalet-style home, and his role only becomes clear as time passes.
Egoyan's direction is compelling, confident and mysterious, playing with our sense of dread and the unknown, only drip-feeding us information for a good chunk of his film. For a long while, we experience various plot strands and time periods in fractured fashion. Egoyan gives us a puzzle and it's not obvious who's in the right or wrong, as he toys with our perspective. One early scene—the kidnapping itself—is handled in masterly fashion: The action happens offscreen and we're left looking elsewhere as the camera glides slowly through the scene to an eerie score.
But beneath the well-tuned atmospherics lurks a schlocky, fairly ludicrous and pretty distasteful yarn that ultimately puts the stress in all the wrong places. Once the fog of mystery clears, what's left is too often silly and exasperating. Granted, Egoyan is partly aiming for a high-strung, operatic approach: His film's first shot is of a diva on a TV screen singing Mozart. Yet there are only so many hysterical, far-fetched plot turns you can accept before deciding that the real human tragedy that the film gives us early on—two parents losing their child—means very little to the director when there's more pulpy fun to be had.
Release details
| | |
| --- | --- |
| Rated: | R |
| Release date: | Friday December 12 2014 |
| Duration: | 112 mins |
Cast and crew
Director:
Atom Egoyan
Screenwriter:
Atom Egoyan, David Fraser
Cast:
Ryan Reynolds
Scott Speedman
Rosario Dawson
Mireille Enos