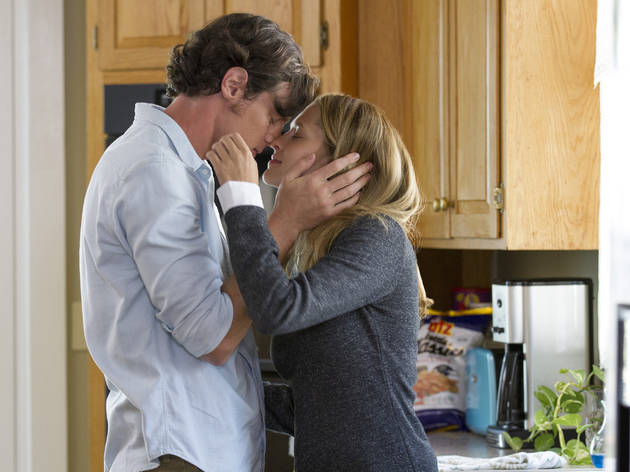 Romance, tragedy, toned bodies, conservative values: It can only be the latest from Nicholas Sparks.
There's a peculiar sense of anxiety that accompanies the watching of a Nicholas Sparks adaptation; it's never if tragedy strikes, but when. The opening scene of The Choice occurs in a hospital, with handsome young veterinarian Travis (Benjamin Walker) striding dolefully but purposefully forward, clutching a bunch of flowers. The calamity has already occurred, but it takes a flashback spanning seven years to learn exactly what horrific punishment Sparks has in store this time. Meanwhile, know this: As usual, love will be declared, tears will be shed, rain will fall, stars will be gazed at and dogs will be shamelessly anthropomorphized by their owners.
Director Ross Katz lingers over the perfect landscapes of coastal North Carolina and the equally perfect contours of the beachwear-clad Gabby (Teresa Palmer) and Travis, whose early squabbling can only augur one thing: love at first sight. The two are soon sharing flirtatious moments and enjoying wholesome American pastimes like barbequing, church-going and truck riding, all while basking in a seemingly perpetual summer. When disaster eventually comes, it is presaged by a pathetic rumble of thunder from an approaching storm cloud.
All of this would be harmless enough, even down to its bland message, delivered in husky voiceover by Travis—that the choices you make in life can change everything (well, duh). But Sparks's insistent, socially conservative vision of life blares through the fluff: Whenever Gabby says "no," all any man hears is "yes," while Travis triumphantly confesses his love for fossil fuels (seriously). The Choice: so many reasons to weep.
Release details
Rated:
PG-13
Release date:
Friday February 5 2016
Duration:
111 mins
Cast and crew
Director:
Ross Katz
Screenwriter:
Bryan Sipe
Cast:
Alexandra Daddario
Maggie Grace
Teresa Palmer
Benjamin Walker

Rating Breakdown
5 star:

1

4 star:

0

3 star:

0

2 star:

0

1 star:

0