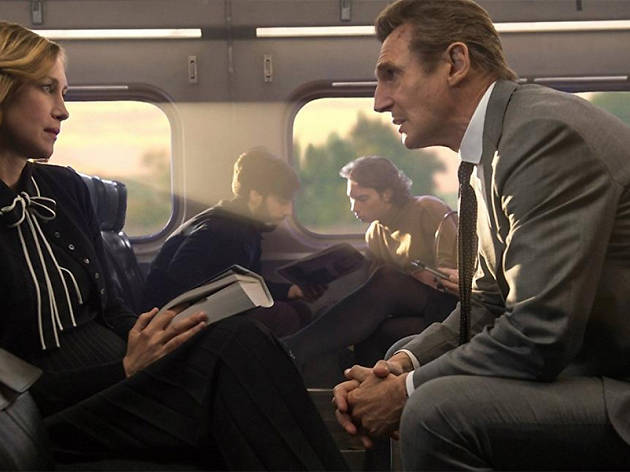 Time Out says
Liam Neeson boards the action train in vain as his latest vehicle huffs and puffs into the station.
Since Taken, once-unlikely action-hero Liam Neeson has usually plied his on-screen trade as a seemingly upright citizen with hitherto unsuspected ass-kicking skills. For his fourth collaboration with Spanish schlock-peddler Jaume Collet-Serra (Unknown), however, the formula gets an added dash of Hitchcockian homage, though the stale outcome suggests that Neeson's era as a retirement-age hard man has run its course.
After years doing a wage-slave routine as a Wall Street number cruncher, ex-NYPD officer Michael McCauley (Neeson) gets laid off at a moment which spells financial disaster. Still, unlikely salvation may prevail on the Metro-North, where a slinky, no-good Vera Farmiga offers him a unique proposal. All he has to do is help her identify an out-of-place passenger among the 6pm regulars and there's a pile of cash waiting for him. Tempting? You bet. Potentially fatal? That too.
It's a zingy set-up but just as quickly, it hits the skids. Neeson's course of action inevitably involves running, punching and shooting, but the plot is about as convincing as his jet-black hair. Collet-Serra throws CGI at the problem with the giddy despair of a man who's just missed his last train home. There are hints of the pulpy crowd-pleaser The Commuter might have been, but it's too clunky and there are groans where the laughs should be. Like most workday journeys home, it's functional at best, a total snooze at worst.
Details
Release details
Rated:
PG-13
Release date:
Friday January 12 2018
Duration:
104 mins
Cast and crew
Director:
Jaume Collet-Serra
Screenwriter:
Byron Willinger, Philip de Blasi, Ryan Engle
Cast:
Liam Neeson
Vera Farmiga
Patrick Wilson

Users say