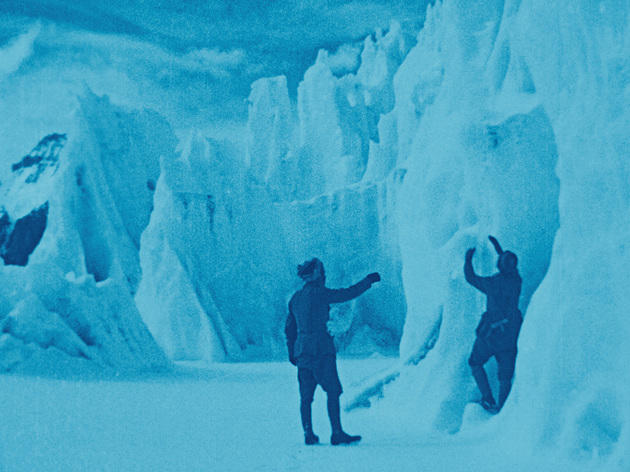 It is stunningly rare to be offered a quiet adventure these days—sure, there's a time and place for digital enhancement and furious editing, but for a change, here's a taste of something dangerous, wild and raw that hasn't been sensationalized at all. Those seeking a break from the thrills 'n' spills of such outdoor-adventure movies as 127 Hours or Alive would do well to investigate this 90-year-old treasure, a restoration of Captain John Noel's 1924 documentary of a British team's attempt to climb Everest.
The expedition famously resulted in the deaths of two now-legendary climbers, George Mallory and Andrew Irving, and there remains controversy as to whether the men ever reached the summit. But while there is some tantalizing footage here of a cliffside rescue, the film's mood is dreamlike, to say the least. Black-and-white footage of the Himalayan landscape is accompanied here by a beautiful new score from Simon Fisher Turner, featuring understated chamber orchestrations and authentic Tibetan clanging; watching the film is a quietly mesmerizing experience, along the lines of the Popol Vuh soundscapes in Werner Herzog's Aguirre, the Wrath of God.
The Epic of Everest was a box-office draw in its time, offering a chance to see the mountains but also peek at the lives of Tibetan peasants, portrayed here as filthy and culturally unsophisticated. That upset the Tibetan aristocracy in Lhasa to such an extent that British-Tibetan relations were partially severed, which in turn meant that the Tibetans were without an ally to help them during the Chinese takeover in 1950. In the film, we discover that a holy Tibetan lama gives the mountaineers his blessing en route but warns them that their mission would likely fail. This extraordinary glimpse into the expedition makes a strange success of an otherwise doomed adventure.
Release details
| | |
| --- | --- |
| Rated: | N/R |
| Release date: | Friday November 14 2014 |
| Duration: | 87 mins |