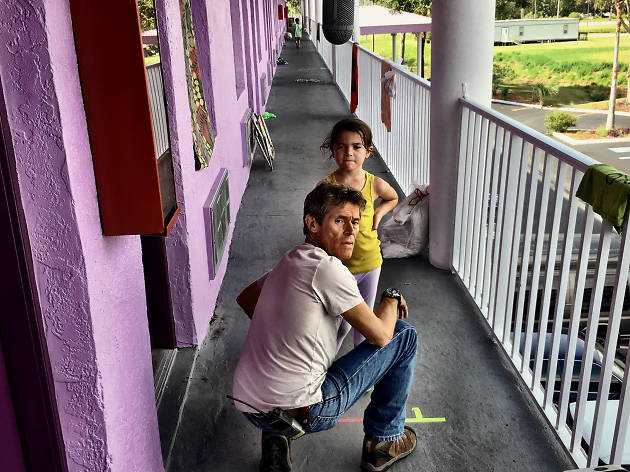 Time Out says
Indie wunderkind Sean Baker continues his celebration of communities on the margins, in a movie that vibrates with compassion and energy.
Sometimes a movie needs only a place – a real one, sharply observed – and a community of people you might see down at the supermarket to cast a spell that hundreds of millions of dollars can't fake. That was definitely the case with director Sean Baker's 2015 breakthrough, Tangerine, shot on iPhones and vibrating with the sass of Los Angeles's trans hooker scene.
The Florida Project, Baker's mighty and empathetic latest, shows him continuing to develop his dramas from earthy resources. We're situated at the Magic Castle, a ratty motel on the outskirts of Orlando's Disney World. The little kids who gleefully run around these hallways and swampy backfields don't seem to notice the disparity between their pastel-colored surroundings and the hard-luck life they're living. Nor do they appreciate the dangerous choices that their single mothers (including a revelatory Bria Vinaite) stare down on a daily basis, simply to make the rent.
Into this riot of carefully choreographed noise and nonprofessional performances comes the veteran showstopper Willem Dafoe, who ties the movie together under his troubled brow as the building's harried manager, Bobby. Dafoe knows from tortured roles (Platoon, The Last Temptation of Christ), but this creation—a delicate blend of protector, fusspot and secret survivor—is his richest, most lovable piece of work. He stands by the Coke machine, compassion pouring out of him, and the film takes on a saintly, worried grandeur.
Follow Joshua Rothkopf on Twitter: @joshrothkopf
Details
Release details
Rated:
R
Release date:
Friday October 6 2017
Duration:
115 mins
Cast and crew
Director:
Sean Baker
Screenwriter:
Sean Baker, Chris Bergoch
Cast:
Brooklynn Prince
Bria Vinaite
Willem Dafoe

Rating Breakdown
5 star:

0

4 star:

1

3 star:

0

2 star:

0

1 star:

0
This movie is fascinating and unsettling.
The bright, summery colours of Florida, the giant gift shops and magical Disney Land up the road are all a complete contrast to the grim reality of those living in the motels along the motorway.
Behind the pastel-purple walls of the ironically-named 'Magic Castle Motel' is a community of people living on the bread-line. Their tiny $35 a night motel rooms are their unofficial homes, messy and decorated with all their worldly possessions.
The children's lives are full of freedom- naively running around, exploring the open spaces, begging for money to buy ice-cream, being naughty, being inquisitive, being kids with no limits.
The adults are at a loose end, poor and living hand to mouth with very little hope of ever living the American dream. Their kids, no doubt, will end up no different to them.
The soft-hearted motel manager, Bobby, played by Willem Defoe, has a thankless task of managing the long-term residents, while trying to attract tourists.
The scene where a foreign couple on their honeymoon arrive at the motel and realise this definitely isn't the Magic Kingdom Hotel they thought they had booked, is painful to watch. Their trepidation turns to horror when resident children start moving their bags to try get a tip.
Nothing much actually happens in the movie- the pace stays the same throughout and if it wasn't for Defoe's familiar face, you'd be forgiven for thinking you were watching a fly-on-the-wall documentary of Halley, a young mother and her 6 year old daughter, Moonee, during a summer.
Throughout though there is a feint sense of something building up, something changing.