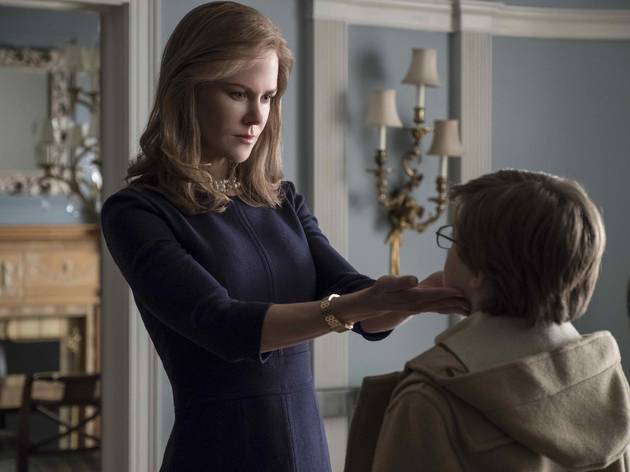 Time Out says
Slavishly faithful to the book's subplots but stuck in a two-and-a-half-hour brood, the film version never takes wing.
It's terrible when a beloved novel arrives onscreen with a self-important thud, and that's putting it diplomatically in the case of The Goldfinch. Donna Tartt's hushed 2013 bestseller, a Pulitzer Prize winner, divided opinion, with naysayers calling it young-adult fiction (as if that were easy to pull off). No one disputed, though, that the thing flew, swiftly touching on symbolic scenes of Manhattan terrorism and adolescent abandonment while burrowing toward a deeper preoccupation with the question of survival, of objects small and large. That animating spirit is exactly what's missing from this overlong movie version, slackened by wall-to-wall sad music (not to mention sinful misappropriations of New Order and Radiohead), narcotized narration and a thematically deployed lens blur that begins to play like coyness.
Baby Driver's Ansel Elgort, never persuasive as a tortured soul, brings us into the character of Theodore Decker, who, at age 13, survived an explosion in the Metropolitan Museum of Art that claimed the life of his mother. Quaking from PTSD and rootlessness, young Theo (Wonderstruck's Oakes Fegley, squinty but an improvement on Elgort) finds himself harbored by a Waspy, wealthy Upper East Side family, the Barbours, and their concerned, saintly matriarch (Nicole Kidman, touching in the film's most effective turn). But just as that situation seems to be tipping toward permanence, Theo's estranged alcoholic dad (a cartoonish Luke Wilson) and his trashy girlfriend (Sarah Paulson) show up unannounced and whisk the boy off to a mostly foreclosed prefab development in suburban Las Vegas, where things go south.
Director John Crowley gets overloaded by the script's plodding and-then-this-happened trudge; it's too bad, because he pulled off something of a miracle with the Ireland-to-America immigrant romance Brooklyn (this time, he has no Saoirse Ronan to anchor the material in sympathy). On its way to an uncathartic climax that somehow involves a black-market-fenced oil painting and an Amsterdam shootout, The Goldfinch throws in so much diversionary character work that you wonder if anyone thought the stew was going to be edible. Jeffrey Wright mumbles and soothes, It's Finn Wolfhard burns his tongue on a hot-borscht Russian accent and Willa Fitzgerald, playing an Ivanka–like character named Kitsey, grins stiffly through a decorative, meaningless courtship with Elgort's grown-up antiques dealer. If you loved the book, perhaps it'll be satisfying to check these characters off your mental list, but that's not what any fan could have ideally wanted.
Follow Joshua Rothkopf on Twitter: @joshrothkopf
Details
Release details
Rated:
R
Release date:
Friday September 13 2019
Duration:
149 mins
Cast and crew
Director:
John Crowley
Screenwriter:
Peter Straughan
Cast:
Finn Wolfhard
Ansel Elgort
Nicole Kidman
Oakes Fegley
Luke Wilson

Users say