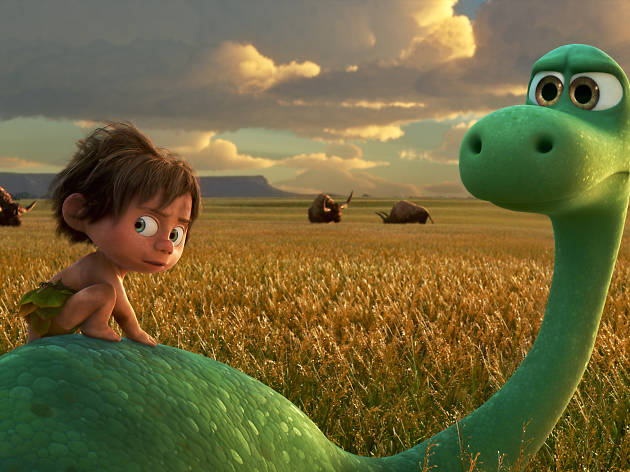 Time Out says
Pixar's latest is half evolved, half fossilized.
Even with the psychologically playful Inside Out still visible in the rearview mirror, the vistas of Pixar's second film of the year manage to take your breath away. Sun-dappled streams, swaying trees and an almost palpable sense of weather shock with their photorealism—if this is what animation has become, the computers have won. (The Good Dinosaur says more about the influence of Steve Jobs than the recent biopic that bears his name.)
Do those landscapes match the creatures trampling over them? Another matter entirely. After the famous meteor that brought about the Ice Age misses the planet by miles in the film, we're plunged into an alternate timeline of dinosaurs who work their own farm (and crack jokes in English), while Homo sapiens, still howlers at the moon and barely erect, have a way to go. The strain of peerless execution chafes against the movie's slightly tired story of an anthropomorphized boy dino, Arlo (Raymond Ochoa), who, separated from his prehistoric family, must go on a journey of self-discovery. His companion is a grunting human child (imagine an early ancestor to the Feral Kid from The Road Warrior).
Together they wander into scenes that play, charmingly if weirdly, like grungy moments from a Sam Peckinpah Western, complete with savage hillbilly raptors, chatty campfire boasts (some voiced by the tangy Sam Elliott as a ranching T. Rex) and herds of cattle. Elsewhere, the film falls into weird lulls and regrettable sentimentality, not to mention a bizarre scene of hallucinogenic fruit eating. Notably undisciplined for a Pixar plot, it feels like a lot of heavy lifting to get to the same old lessons about kinship and finding your clan.
Follow Joshua Rothkopf on Twitter: @joshrothkopf
Details
Release details
Rated:
PG
Release date:
Wednesday November 25 2015
Duration:
100 mins
Cast and crew
Director:
Peter Sohn
Cast:
Frances McDormand
Jeffrey Wright
Steve Zahn