The Huntsman: Winter's War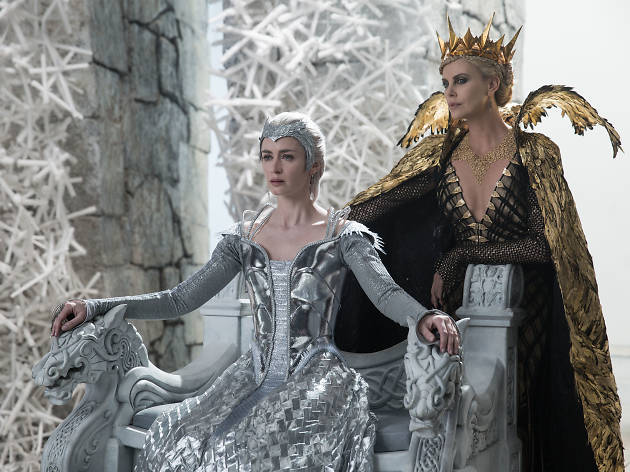 Did anyone ask for a sequel to fairy-tale romp Snow White and the Huntsman? Tough, you've got one.
Mirror, mirror on the wall, what's the fairest sequel of them all? Not this follow-up to 2012's Snow White and the Huntsman, which starred Kristen Stewart as an especially glum Snow White and Charlize Theron as her hot evil stepmother. Winter's War is hammily entertaining, but sometimes it feels like a Game of Thrones party thrown by a bling-laden Russian oligarch who has tossed his favorite Hollywood actors a few million dollars to come in costume.
Stewart is gone. This time, the plot (it gets pretty messy) begins as a prequel, with the queen's heartbroken sister (Emily Blunt) fleeing to a frozen wasteland. Curdled by grief, she transforms into the Ice Queen, kidnapping children for her army of heartless killers. The one rule in her realm: Nobody can fall in love. But two of her fighters (Jessica Chastain and Chris Hemsworth, back as the Huntsman) can't help it.
Blunt outclasses everyone, cold and unhinged, while Chastain does a decent enough Katniss. But chirpy Hemsworth looks like he's in a different movie. As with the original, we get the ritual humiliation of fine British comedic actors digitally shrunken to dwarf-size (Nick Frost, Rob Brydon). All told, the film isn't so terrible that it deserves to be taken out to the forest and finished off. But as for that rule that no one can fall in love? We're pretty sure that's not going to be a problem.
Release details
| | |
| --- | --- |
| Rated: | PG-13 |
| Release date: | Friday April 22 2016 |
| Duration: | 114 mins |
Cast and crew
Director:
Cedric Nicolas-Troyan
Screenwriter:
Craig Mazin, Evan Spiliotopoulos
Cast:
Charlize Theron
Chris Hemsworth
Emily Blunt
Jessica Chastain