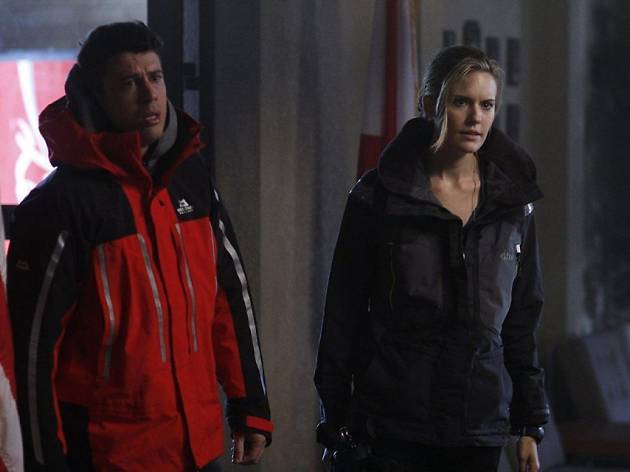 Time Out says
The weather outside is frightful—and so is the movie.
The most bluntly titled thriller since Snakes on a Plane, The Hurricane Heist is neither good enough nor bad enough to command eyeballs. Still coasting on being the director of the first The Fast and the Furious a full 17 years ago, Rob Cohen is unable to muster true engagement with the banal plot and characters, or deliver the kind of inspired ridiculousness that makes for a guilty pleasure.
Toby Kebbell, a good British actor doing a bad Southern accent, stars as Will, a meteorologist in Alabama (by way of Bulgarian filming locations). Will and his brother, Breeze (True Blood's Ryan Kwanten), a mechanic, witnessed their father getting blown away by Hurricane Andrew as children; these days the siblings are estranged. But of course, they must put aside their differences to defeat a gang of ruthless thieves attempting to rip off a local Treasury facility of $600 million in old bills, just as Category 5 Hurricane Tammy is rolling into town. Lost's Maggie Grace is an ATF agent with a past, while the bad guys are led by The Witch's ominous patriarch Ralph Ineson (thankfully not phoning it in).
The screenplay by Jeff Dixon and Scott Windhauser (yes, that's his real name) is largely comprised of expository dialogue and unlikely developments, and Cohen wrangles the workmanlike action with professionalism but not much flair. A true "good bad flick" has to catch us off guard with its audacity and ridiculousness, and too much of The Hurricane Heist is rote. This one's just blowing through theaters on its way to streaming services.
Details
Release details
Rated:
PG-13
Release date:
Friday March 9 2018
Duration:
102 mins
Cast and crew
Director:
Rob Cohen
Screenwriter:
Scott Windhauser, Jeff Dixon
Cast:
Maggie Grace
Toby Kebbell
Ryan Kwanten

Users say