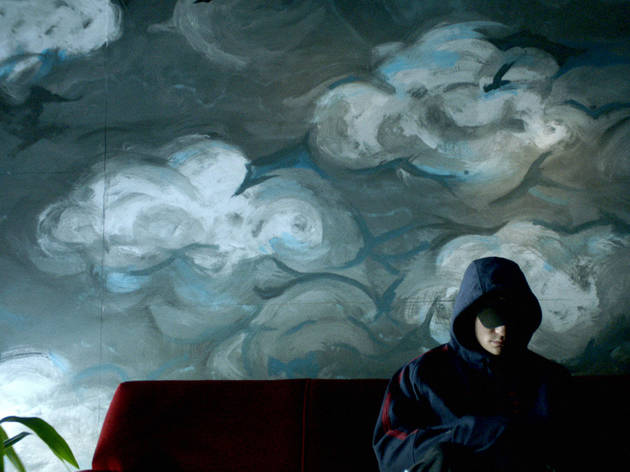 Blessed with an improbable-but-true story that functions on many ironic levels, this clever doc ultimately conveys more about the complex American character—shifting between intimacy and criminality—than a whole shelf of fiction films. The Imposter begins in low-lit despair: An angelic 13-year-old boy goes missing from his San Antonio home in 1994. Based on the film's bleak current-day interviews with sister, mother and other relatives, you brace for the worst, even as we hear the news from Spain coming a few years after Nicholas's disappearance: He's been found and wants to come home. We meet this swarthy black-bearded sham—not a teenager, not blue-eyed, not even American. He's serial imposter Frédéric Bourdin.
Amazingly, in a new confession, Bourdin describes his desperation to belong; he dyes his hair blond and swaddles himself in a hoodie. Add stupefaction to the film's undercurrent of grief exploitation as this guy is accepted by the family as their long-lost son, issued a U.S. passport and flown home for the Texas childhood he never had. Director Bart Layton offers just as much information as necessary to develop his black comedy of dopey FBI agents and forlorn country bumpkins; to ruin his most delicious twist, one that requires a total rethink of those initial glum interviews, is to spoil a rare documentary treat, the discovery of something far worse than identity theft. Sometimes the movie's Errol Morris–like re-creations get a touch slick, but they fit the story's trajectory of frying pan to fire. Go and be stunned.
Follow Joshua Rothkopf on Twitter: @joshrothkopf
Rating Breakdown
5 star:

1

4 star:

0

3 star:

0

2 star:

0

1 star:

0
Saw it last night and I genuinely was stunned. Gripping from start to finish. And the fact that its a drama doc makes it better than a straight fiction story. Susan Sarandon was sitting one down from me and she loved it too - so they must be doing something right...