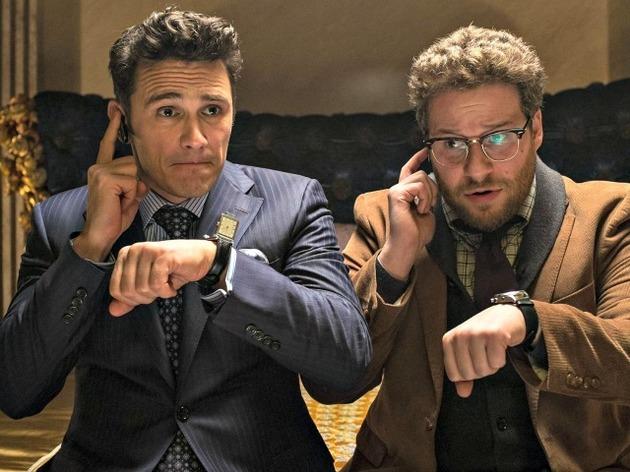 Time Out says
Despite making a career of playing slight variations on the same pasty manchild, Seth Rogen (together with longtime collaborator Evan Goldberg) has consistently leveraged his broad appeal as a vehicle for laughing at the great crises of our times: cancer (50/50), the apocalypse (This Is the End), Zac Efron's abs (Neighbors). But if Rogen has always been unafraid to go places that most people won't, The Interview marks the first time he goes to a place that most people can't: North Korea.
Fashioning The Great Dictator and Inglourious Basterds into a cross joint and then lighting it from both ends, Goldberg and Rogen's second directorial effort follows the hysterically violent misadventures of idiotic talk-show host Dave Skylark (James Franco, hamming it up) and his underachieving producer, Aaron (Rogen). When they land an interview with Skylark superfan Kim Jong-Un (Randall Park), the CIA enlists the bumbling duo to assassinate the world's most reclusive tyrant. Cut to Pyongyang, where Skylark and Kim are singing Katy Perry's "Firework" to each other inside the cockpit of a tank.
It's Park's performance that elevates the premise of a routine SNL sketch into the stuff of a compelling and genuinely radical feature, the actor portraying Kim as an endearingly deranged despot with nuclear daddy issues. But Goldberg and Rogen are most enamored of the idea that Kim's subjects see him as a living god, and the character's insecurities soon form the cornerstone of the film's halfhearted but hilarious look at the fine line between celebrity and idolatry. On Skylark's show, audiences are shocked to discover that Rob Lowe is balding. But on Pyongyang TV, audiences are carefully protected from the bombshell revelation that Kim has a butthole.
And therein lies the genius of The Interview: It isn't just the most sophisticated and beautifully shot of Rogen's star vehicles, it's also the most giddily puerile. As funny as Neighbors and as demented as This Is the End, The Interview confirms Rogen as the most ambitious mainstream comedian in Hollywood. In the unlikely event that it proves to be Sony's downfall, at least they'll go out with a bang.
Follow Davd Ehrlich on Twitter: @davidehrlich
Details
Release details
Rated:
R
Release date:
Thursday December 25 2014
Duration:
112 mins
Cast and crew
Director:
Evan Goldberg, Seth Rogen
Screenwriter:
Evan Goldberg, Seth Rogen, Dan Sterling
Cast:
Seth Rogen
James Franco
Randall Park