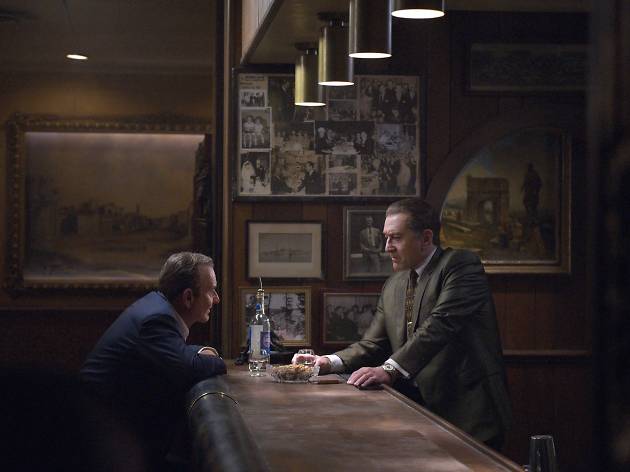 Time Out says
Replete with all the gangster gab a Scorsese fan could want, the director's latest is strongest in its quieter passages, when self-reproach takes its toll.
Martin Scorsese pulls off a killer self-own at the top of his overstuffed, frequently electrifying The Irishman. As the Five Satins' gorgeous "In the Still of the Night" casts its timeless doo-wop spell, the camera creeps forward—not into the bowels of the Copacabana or anywhere near as glamorous, but down the boring carpeted hallway of a nursing home. Is this where all of Scorsese's gangsters end up? Only the unlucky ones, the film suggests. Too-generously adapted by Steven Zaillian from the 2004 crime memoir I Heard You Paint Houses, the nearly three-and-a-half-hour The Irishman—spanning the decades like an extra-long Cadillac—isn't about still nights so much as the dying of the light, the end of one's years and the belated, unarticulated guilt that's inherent to mob life.
Or at least it gets to that guilt. Eventually. When we first sidle up to the wheelchair-bound Frank Sheeran (Robert De Niro, building a performance that becomes more interesting as it quiets down), he's a white-haired oldster narrating his life. Just for a second, you wonder if he's rambling to himself. He steers us back to the late 1940s, when, as a married WWII vet and union truck driver, he meets mafioso Russell Bufalino (the much-missed Joe Pesci, these days dropping crafty little smiles) on the side of a Pennsylvania road. It doesn't matter how many times Pesci calls De Niro "kid" (and it's several): Nothing will fully sell you on Scorsese's biggest gamble, digitally de-aging his cast so that they can play their own thirtysomething characters. Everyone looks unnaturally pinkish and puffy-faced, like 50-year-olds who have recently discovered hair dye.
After a while, you adjust or, rather, you get tired of probing the slightly off evidence of your eyes (and the headache it produces). There's a lot of fun to distract you. The Irishman is a movie of point-blank gunshots to the face and diner sit-downs, of bloody steaks and cigarettes and insults. It gives you live-wire actors like Bobby Cannavale, Ray Romano and the tightly coiled stand-up comedian Sebastian Maniscalco, all of whom supply realness where it's needed. And, as the plot settles into the relationship between Sheeran, a murderer for hire, and Teamsters leader Jimmy Hoffa, Scorsese springs his most wonderful surprise on us: a bug-eyed, verbally unleashed Al Pacino. More than just a believably magnetic Hoffa, Pacino kicks the film into the realm of pure, delicious crazy, ranting against crusading attorney general "Boobie" Kennedy and the dawning threat of "millionaires' kids."
That last bit is as Trumpy as The Irishman dares to be. Instead, Scorsese has the time of his life letting the actors tear into a plethora of dumb arguments, often emerging with comic gold. There's a fight about a purchased fish. (What kind was it? How do you not know? Did you just ask the guy for "fish"?) Another one about wearing shorts to a big meeting. A deliriously extended riff on the ominous wisdom of "It's what it is." Call it cranky-old-man cinema, but these conversations are actually the main course: fitful grabs for vitality that play like dyspeptic bickering. The padding of The Irishman isn't its talk (Goodfellas's "Funny how?" speech now has plenty of company) but its tangents—duller echoes of earlier, better Scorsese moments. Sad kids nervously stare out of bedrooms; there are too many scenes of driving, too many whackings.
Nothing this misshapen ever flies—Scorsese once managed to make a movie called The Aviator that was similarly overburdened—yet his all-over-the-place enthusiasm plays well against the material's death stench. Though it would have made for a nice, tidy ending, Scorsese doesn't need to cap off his career with some kind of sign-off to the gangster epic; that would be far too sentimental for him. What The Irishman does become, in its final hour, is something better: a film about broken trust, to family and God. De Niro's Sheeran, like the monks wrecked by spiritual compromise in Scorsese's magnificent Silence, can't express his own pain. Blocked remorse may not be why the average fan goes to a Marty movie, but that's the statement this director, now 76, feels like making. After so much artistic brilliance, Scorsese is being too hard on himself (maybe this review is too), but when The Irishman is about doubt, it's as personal as it gets.
Follow Joshua Rothkopf on Twitter: @joshrothkopf
Details
Release details
Rated:
R
Release date:
Friday November 1 2019
Duration:
209 mins
Cast and crew
Director:
Martin Scorsese
Screenwriter:
Steven Zaillian
Cast:
Robert De Niro
Joe Pesci
Harvey Keitel
Al Pacino
Ray Romano
Bobby Cannavale
Anna Paquin