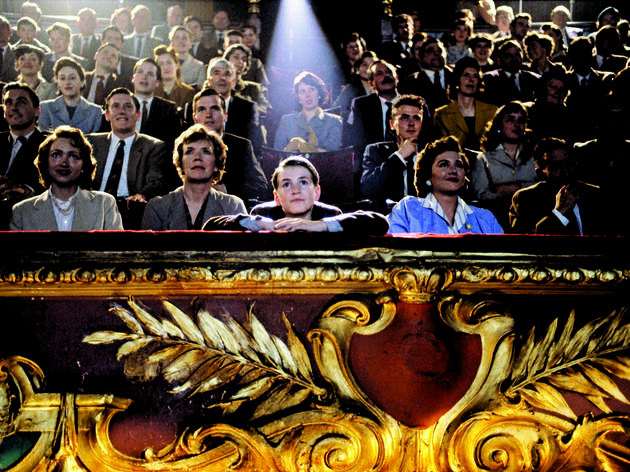 Time Out says
It begins very prim and proper, with a bowl of flowers, classical-music accompaniment and cursive credits that could be embroidered on a throw pillow. Is this Downton Abbey '92? A dissolve to a rainy Liverpool street dotted with hollowed-out, abandoned residences tosses that impression to the wind, but what's this we hear: the Twentieth Century Fox fanfare, Nat King Cole singing "Stardust," a snatch of dialogue from the Alec Guinness version of The Ladykillers? Then another dissolve—to a vision of a boy, Bud (McCormack), sitting quietly on his steps, longing to go to the movies.
Welcome to the world of the great British director Terence Davies, whose entrancing semiautobiographical feature, a companion piece to his esteemed Distant Voices, Still Lives, from 1988, is being given a weeklong run at Film Forum in a glorious new 35mm print. The movie observes an epochal year, circa the mid-'50s, in Bud's life, though Davies never inflates his young protagonist's crises (be it the bullies who torture him at school or the first stirrings of his forbidden homosexual desires) to
the level of bathetic melodrama. Everything proceeds with a dreamy allusiveness—witness the stunning God's-eye tracking shot over Bud's frequent haunts as Debbie Reynolds croons "Tammy"—that's the product of a consciousness simultaneously recollecting and enduring these events. Past and present are alien concepts; to Davies, the unbearably moving fact is that we are who we were.
Follow Keith Uhlich on Twitter: @keithuhlich
Details
Release details
Rated:
PG
Release date:
Saturday September 12 1992
Duration:
84 mins
Cast and crew
Director:
Terence Davies
Screenwriter:
Terence Davies
Cast:
Jimmy Wilde
Anthony Watson
Leigh McCormack
Tina Malone
Ayse Owens
Marjorie Yates
Nicholas Lamont

Users say