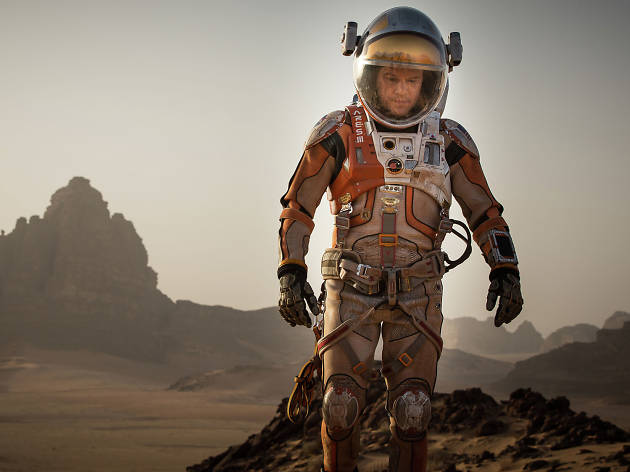 Matt Damon brings wise-cracking life to Mars this rousing sci-fi survival story from rebounding director Ridley Scott.
Handling the elements of his signature style with a flair he hasn't shown since Gladiator (2000), Ridley Scott returns to mainstream mastery with The Martian, a space misadventure turned survivor's tale. Similarities to Apollo 13 and the more recent Gravity will be obvious to anyone who's ever rocketed into zero-g thrills, but that's not to say that Scott—who does well by Andy Weir's science-heavy 2011 novel (smartly streamlined by scripter Drew Goddard)—doesn't bring his own spin. A scary storm on Mars swarms the Ares 3 crew in a blizzard of frozen dust reminiscent of the inhospitable planet from Alien (1979). After an emergency evacuation strands Matt Damon's presumed-dead astronaut Mark Watney on his own, his initial wandering of the vacant "hab" outpost plays like any number of Scott's moody sci-fi classics, from Blade Runner to Prometheus.
But differently, The Martian has spunk in store: "I'm not going to die here," Watney says in his video diary, and we actually hear a heavy-metal power chord as this chatterbox of a botanist gets to work manufacturing water from hydrogen, creating a greenhouse-enclosed potato farm (fertilized by the disappeared crew's waste packets) and cooking up a way to contact Mission Control. Bringing optimism, nerd-itude and a touch of crazy to his character's solo ordeal—at one point, scraggly Watney calls himself a "space pirate"—Damon is the key to the movie's exuberance. This is his Cast Away and it's hard to imagine another star commanding the role with such boyish, brainy confidence.
The rest of the film, though, about Watney's rescue, suffers slightly in comparison. Sometimes it plays rivetingly, via Jeff Daniels's NASA administrator eyeballing the bottom line and weighing the costs of a public-relations disaster; sometimes, it plays in a discordant, Armageddon-ish comic register, as when klutzy astrophysicist Donald Glover slips on his spilled coffee. (As for the distracting presence of Kristen Wiig, let's just say her role is brief enough to be a skit on SNL.) But mainly, The Martian strikes an invigorating note of let's-work-the-problem cool, bringing in the Chinese space program for a utopian assist, and saluting a little insubordination as Jessica Chastain's guilt-ridden orbiting commander decides to go rogue in an explosive finale. A movie about intellect triumphing over fear, loneliness and an all-disco playlist (the only tunes Watney is left with by his departing cohorts), it gets the mind racing.
Follow Joshua Rothkopf on Twitter: @joshrothkopf
Release details
Rated:
PG-13
Release date:
Friday October 2 2015
Duration:
130 mins
Cast and crew
Director:
Ridley Scott
Screenwriter:
Drew Goddard
Cast:
Kate Mara
Jessica Chastain
Kristen Wiig
Matt Damon
Jeff Daniels

Average User Rating
3.9 / 5
Rating Breakdown
5 star:

1

4 star:

4

3 star:

2

2 star:

0

1 star:

0
The Martian is less a space movie than a movie about the powers of hope and unwavering belief. After an initial accident, Matt Damon is left barely alive and stranded in Mars (surprise!). With only his previous knowledge and scientific theories, Matt has to fend for himself and survive before a rescue effort can be mounted. While the film succeeds in painting a grandiose image of space, it really shines in showcasing human emotions when one is faced with an almost insurmountable task.
Due to the film's length, there invariably will be some moments that dragged on for a bit too long. However, timely comic relief from Damon really helps the pacing and makes the film that much more enjoyable.
I thought this might be a "Cast Away" in space,but was thankful that it was not. After an emergency departures from Mars that left Matt Damon behind, NASA eventually discovers that he is still alive. The problem was that it took 4 years to reach Mars and his food supply was not sufficient enough to last. Thankfully, Damon is a botanist and figures out how to grow veggies on Mars to survive. Stunning visuals of the Red Planet show the isolation and beauty he experiences. The plan to rescue him is a tad far fetched, but overall the film was an interesting tale of survival.