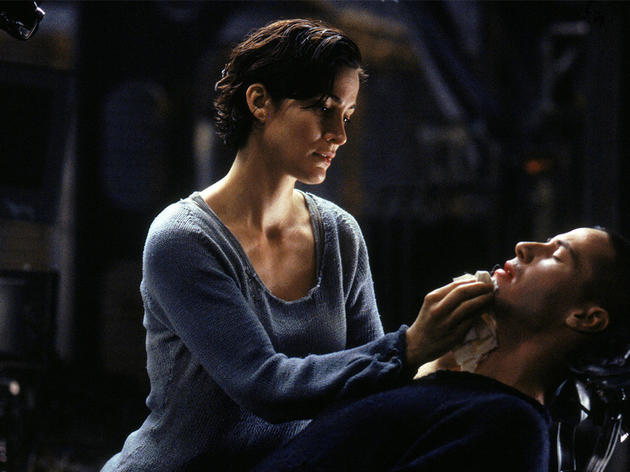 Thomas (Reeves), a salaryman at a software company, leads a secret double life. As 'Neo' he's a computer hacker much in demand. But only when Trinity (Moss) introduces him to charismatic seer Morpheus (Fishburne) does Neo learn that the whole world's unwittingly in the same boat: life as we know it is merely virtual reality, a 'matrix' designed by mankind's overlords to hold us in unquestioning obeisance. Not only are Morpheus and his rebel crew fighting to regain our freedom, but the leader has a bee in his bonnet: might not Neo be the One, who'll lead us to salvation? For its first hour, the second feature by the Wachowskis works well enough as an ambitious if rather portentous dystopian fantasy in the vein of eXistenZ and Blade Runner. Though sometimes a little clumsy, the frequent switches between the different 'realities' are entertainingly ingenious, Bill Pope's camerawork and Owen Paterson's designs are slickly impressive, and the effects neatly embrace Cronenbergian body horror and comic strip panache. But the characters, too, are paper thin (Keanu, especially), while the promising premise is steadily wasted as the film turns into a fairly routine action pic, complete with facile Hollywood heroics, cod kung-fu homilies and computer enhanced martial arts scenes. Weaving is engagingly odd as the rebels' arch enemy Smith, but even he can't hold the attention in what's finally yet another slice of overlong, high concept hokum.
Release details
Rated:
R
Release date:
Wednesday March 31 1999
Duration:
136 mins
Cast and crew
Director:
Andy Wachowski, Larry Wachowski
Screenwriter:
The Waxhowski Brothers
Cast:
Keanu Reeves
Laurence Fishburne
Carrie-Anne Moss
Hugo Weaving

Rating Breakdown
5 star:

1

4 star:

0

3 star:

0

2 star:

0

1 star:

0
Absolute classic for me.I remember going into the movie in 1999 and basically having no idea what this was about, other than something about computer hackers.The first time I saw it, I didn't even fully understand what was really going on, but I did know that the action sequences were something I had never seen before.Going back, it seems every action movie since then has copied the "bullet time" technique that the Matrix made famous.Although followed up by much weaker sequels, the original Matrix is still amazing for me today, with some of the best fight scenes ever.