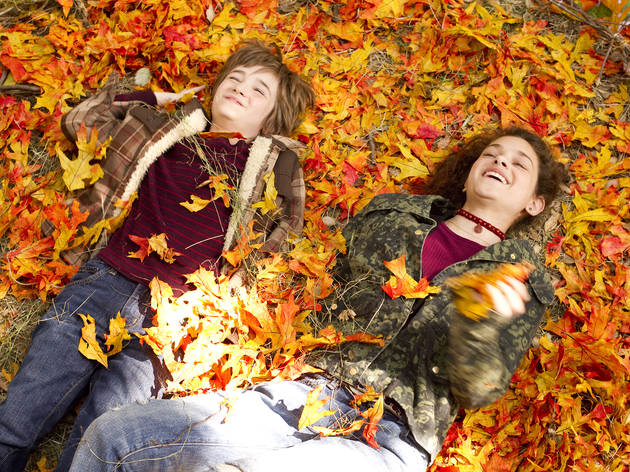 Frustrated by their inability to conceive, barren couple Jim (Joel Edgerton) and Cindy Green (Jennifer Garner) engage in wishful thinking by planting a chest of "hopes" for an eventual offspring in their garden. The next morning, they're more than a little surprised by the appearance of Timothy (CJ Adams)—a soil-covered ten-year-old boy they seem to have miraculously grown overnight. Soon enough, the new parents are introducing the lad to their families, enrolling him in school and figuring out how to hide those pesky leaves sprouting from his ankles.
Achingly sweet-natured and strange (he is part vegetation, after all), Timothy spends his time indirectly imparting life lessons to his not-always-appreciative mom and dad, as well as almost everyone else in town. (A framing story involving an adoption agency indicates that his visit here is actually finite.) As wholesome as they appear, the two adult pushovers harbor their own child-rearing hang-ups thanks to memories of harshly ambitious siblings and domineering fathers; they encourage Timothy to fit in and show up the doubters. The Disney film's tearjerking potential is then tainted by the uncomfortable realization that, magical urchin or not, this homegrown boy is merely the equivalent of parental training wheels. Timothy is apparently nothing more than practice for when a real child comes along—at which point the movie's cloying cotton-candy flavor develops a seriously astringent aftertaste.
Follow Alison Willmore on Twitter: @alisonwillmore
Release details
| | |
| --- | --- |
| Rated: | PG |
| Release date: | Wednesday August 15 2012 |
| Duration: | 104 mins |
Rating Breakdown
5 star:

0

4 star:

0

3 star:

1

2 star:

0

1 star:

0
It's easy to be cynical reviewing a film like The Odd Life of Timothy Green, but it's worth remembering that this film ihas a PG certificate and is presumably aimed at a family audience. It's fundamentally an American film and its gentle satire is aimed at american culture with its emphasis on competitive aspiration and material success. True, the film does not have a cutting edge of a film like Edward Scissorhands but it deals with the same themes, albeit with considerably more spoonfuls of sugar. But it's beautifully photographed and has an aesthetic cohesion which is both pleasing and commendable. It's Disney meets Frankenstein but it remains firmly in Disney Territory, and avoids the darker areas inhabited by the more ambitious Edward Scissorhands . The heartwarming soundtrack , rustic location and good acting performances propel the audience to a bitter-sweet finale ( with the emphasis on sweet ) Recommended for the family.