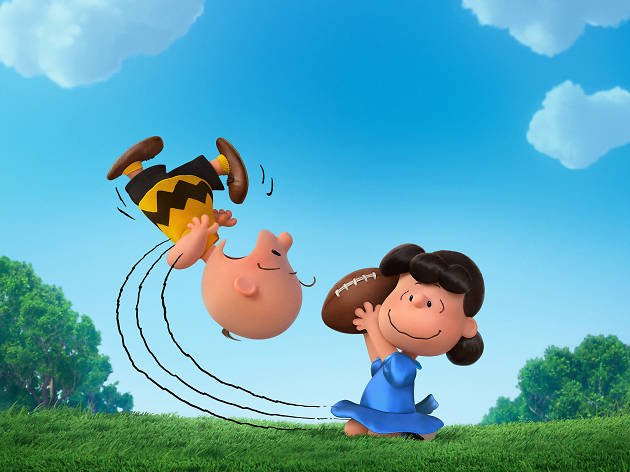 Time Out says
Charlie Brown and the gang are back in a sweet, timid adventure that thinks inside the box.
Worse things could have happened with the first theatrically released Peanuts movie in 35 years. Unlike poor Charlie Brown himself, it actually connects with the football, though any yardage gained by staying true to Charles M. Schulz's gentle, somewhat whitewashed vision of small-town childhood is offset by one too many head-bonking 3-D action sequences and a batch of truly dire pop tunes. (Good grief, Flo Rida.) The better stretches involve Snoopy and his red-pen-editor, Woodstock, at the typewriter, along with the never-out-of-fashion message of dreaming your way out of a jam.
Charlie—"Chuck" to Peppermint Patty, "Charles" to the more formal Marcie, these are the jokes, people—is still inept with a kite, still the constant target of frowny-trombone adult voices. As ever, he's fallen for the Little Red-Haired Girl, marshaled into a love object that barely justifies a three-panel comic strip, never mind a feature. But as the film's wispy narrative (largely conceived by Schulz's son and grandson) makes stops along the way of a big dance, a terrifying 1,000-word book report and Snoopy's perpetual warfare against the Red Baron, the movie begins to feel as cozily old-fashioned as Vince Guaraldi's jazz music.
The problem with all of this obeisance to the source (the film even revives the classic Snoopy voice of Bill Melendez, himself dead for seven years) is you begin to feel encased in dirt. Unlike recent, sharp-witted examples like The Lego Movie and Paddington, there's zero interest in mocking or freshening up the material—think what Wes Anderson might have done with this—thus dooming the movie to nostalgic types only. It trudges along like that black, jagged stripe on our hero's yellow polo: up and down, scene by scene. When Charlie emerges from his insecurities to finally ring that darn doorbell, it's a positive. When stink clouds are digitally rendered around the perpetually foul Pig-Pen, it feels like wasted effort.
Follow Joshua Rothkopf on Twitter: @joshrothkopf
Details
Release details
Rated:
G
Release date:
Friday November 6 2015
Duration:
93 mins
Cast and crew
Director:
Steve Martino
Cast:
Noah Schnapp
Bill Melendez