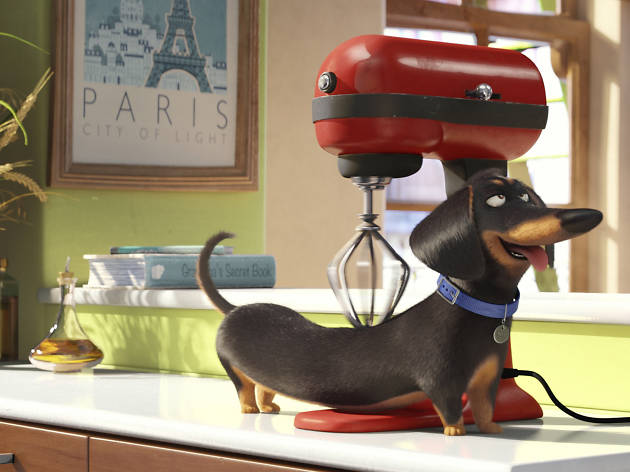 This animated animal adventure feels too tightly collared.
Front-loading the best bits, The Secret Life of Pets begins by imagining what the animals on a New York apartment block get up to when their owners shut the door in the morning. A handsome poodle named Leonard switches on the stereo so he can head-bang. A puffy white Pomeranian swoons in front of daytime soaps. And mongrel Max (voiced by Louis C.K.) loyally waits by the door for his human to come home.
So far, so Pixar. But things get more conventional when Max's owner brings home an addition to the family—a slobbering rescue dog named Duke. It's not long before the two mutts are lost in the city, falling afoul of a gang of animals rejected by their owners and reduced to living in sewers.
There are some funny-sweet observations about pets and our projections on to them. And the animation is expressive (though the cat Chloe isn't nearly sociopathic enough for an indeterminate crossbreed). But the manic pace, piling on the action sequences, is exhausting. Still, what a savvy, stroke-of-genius idea for a film this is. In cities like New York and London, where spiraling property prices have created Generation Rent, pet ownership is declining. We need to get our animal fix from somewhere.
Release details
| | |
| --- | --- |
| Rated: | PG |
| Release date: | Friday July 8 2016 |
| Duration: | 90 mins |
Cast and crew
Director:
Chris Renaud, Yarrow Cheney
Screenwriter:
Ken Daurio, Cinco Paul, Brian Lynch
Cast:
Ellie Kemper
Kevin Hart
Lake Bell
Louis C.K.
Jenny Slate