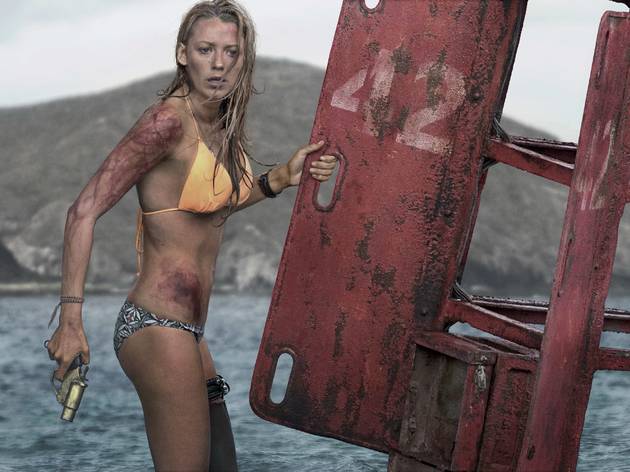 Time Out says
You're gonna need a bigger Blake (and you're going to get one) in Lively's enjoyably trashy shark-survival movie, the definition of summer fun.
Add to the list of actors who, beautifully and boldly, go it alone in their own survival movies the name Blake Lively. Do it without laughing, because she's the shark here: Even though The Shallows, a tremendously entertaining bit of fluff, pits her against a computer-generated great white, the poor creature never stands a chance. Lively joins a group of nobodies that includes Robert Redford (All Is Lost), Tom Hanks (Cast Away) and a boulder-challenged James Franco (127 Hours), but if you ever saw her swan her way through an episode of Gossip Girl, you'll know that she thrives in piranha-infested waters. The Shallows is her Speed, and she's Keanu.
Based on a lean original script (by Anthony Jaswinski) that was probably written in between piña coladas on a beach somewhere, the movie takes justifiable pride in its minimalism. Texas-bred surfer and med-school dropout Nancy (Lively) arrives at the secluded Mexican paradise where her mother, a recent victim of cancer, once frolicked. There, she hopes to connect with something other than her grief.
You can feel Spanish director Jaume Collet-Serra—best known for coaching an unkillable Liam Neeson in Unknown and Non-Stop—racing through these early scenes, somewhat awkwardly. Nancy's best friend? Back at the hotel, nursing a hangover. That pesky cell phone and its invasive chat windows that keep popping up? Stowed in the backpack. The turquoise water beckons.
That's what The Shallows is about—pure, wordless sensation shot in various flavors of tush-ogling slo-mo—and when the water turns crimson, it only gets better. Yanked out of her reverie by a leg chomp, Nancy flops onto a tiny rock just a few hundred yards offshore, where she'll have to outwit a swirling predator, sew up her own wound with earrings (ouch), therapize a neurotic seagull, survive the night and somehow signal to the mainland for help.
Before I throw too much chum in the water, know this isn't Jaws. There's no larger dimension here, no elemental poetry. But it's taken some shrewd calculation to realize that Lively, with her beachy glow and thrust-out chin, could carry this thing. The movie requires this particular star, body and soul, and Lively's confidence turns it into a piece of pop empowerment, even when realism starts slipping away in the final stretches. She'll never be as good in anything else again, because The Shallows is her siren song—it fits her like a wetsuit.
Follow Joshua Rothkopf on Twitter: @joshrothkopf
Details
Release details
Rated:
PG-13
Release date:
Friday June 24 2016
Duration:
87 mins
Cast and crew
Director:
Jaume Collet-Serra
Screenwriter:
Anthony Jaswinski
Cast:
Óscar Jaenada
Blake Lively
Sedona Legge

Users say