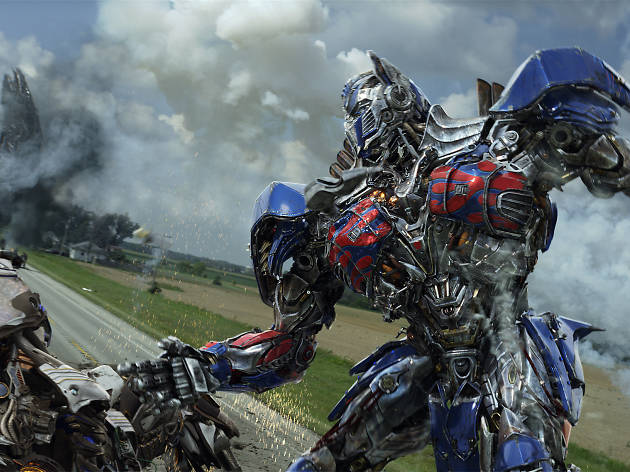 Michael Bay, a filmmaker whose style is better known than that of any other working artist on the planet, tried to make a real movie in 2013: the underrated Pain & Gain, a Miami crime comedy with actual performances and a nastier satirical bite than even The Wolf of Wall Street. He got mocked for it. So it feels like Bay has returned to his normal beat—big robots, explosions and tush shots—with a vengeance and a chip on his shoulder, as if to say: Fine, here's nearly three hours of what you expect from me. Choke on it.
The problem (or maybe it's a virtue) with an uninhibited Michael Bay and Transformers: Age of Extinction, the fourth in the series, is that, despite deadening our senses with spectacle, it's impossible for a director this committed to visual fireworks not to pull off a megablast once in a while. The action is cut cleaner here than in any other picture Bay's done. 
And as his king Autobot, Optimus Prime (still voiced by Peter Cullen), whirls down highways in a blaze of metal or sends puny humans tumbling through the air only to be caught at the last second, Bay is often coming up with genius shots, perhaps at the expense of logic.
We could tell you a bunch of boring plot stuff, about how Shia LaBeouf is gone, making way for Mark Wahlberg's struggling Texas inventor, Cade Yeager, a widower with a teenage daughter (Nicola Peltz, much ogled by the camera). Or about how the evil CEO of an Apple-like tech giant (Stanley Tucci) has plans to make his own robots. Or that most of the destruction takes place in China, a country with a financial stake in the movie's bottom line. But what matters to Bay are fluttering American flags, sentimental sunsets and actors rappelling across the Chicago skyline as mechanical dogs chase them. You're either awestruck, dumbstruck or just plain struck in the face.
Follow Joshua Rothkopf on Twitter: @joshrothkopf
Release details
| | |
| --- | --- |
| Rated: | PG-13 |
| Release date: | Friday June 27 2014 |
| Duration: | 165 mins |
Cast and crew
Director:
Michael Bay
Screenwriter:
Ehren Kruger
Cast:
Nicola Peltz
Mark Wahlberg
Stanley Tucci

Rating Breakdown
5 star:

2

4 star:

0

3 star:

0

2 star:

0

1 star:

0
Do not listen to the detractors for nothing on Earth will ever satisfy your inner Transformers geek more than witnessing the utter, complete and total redemption of Michael Bay. With one glorious fell swoop this evidently slow-to-warm-up-but-eventually-wizard-like filmmaker has expunged all his previous crimes against the Transformers fan base and finally delivered them to their deservedly blissful state of Cybertronian nirvana.

Like a twenty first century Jesus armed with $200 million dollars, Bay has redeemed even the gravest of the sins of our childhood. Not only has he risen phoenix-like, still burning yet majestic, from the putrid black ashes that remained from the burning of our childhood dreams and his own reputation. Incredibly, he has somehow also redeemed the once unforgivable abomination that was the ascension of Rodimus Prime. In one two and half hour expedition to the pinnacle of awesomeness he has made whole the millions of innocent hearts so cynically and selfishly broken all those years ago.

Suddenly the pain and confusion that was so cruelly and needlessly inflicted upon us in 1986 can be forgotten. Even the fresher scars, the proverbial salt in the wound that is the memory of the first three piles of turd rubbed onto celluloid that Bay tried to pass off as Transformers films, have been forever healed. Like faithful, stubborn and persistent visitors to a highly priced and extremely talented plastic surgeon, we have had our scars forever erased.

All those that have ever nestled into the sometimes prickly and often disappointing bosom of the Transformers geekdom, go forth like pilgrims to thine local cinema. Flock now so that you all can finally revel in your long overdue and much deserved cinematic birthright: a truly epic journey into the elusive and sublime joys of well thought-out and skilfully delivered Transformers 'fan service'.

This movie isn't for the hordes. It isn't for the unfortunate souls that weren't brought up living and breathing robots from Cybertron. It's not for the critics. It's an expensive, much belated and exclusive gift made especially just for you. An epic, royally triumphant and completely kick-ass Transformers movie that respects the fan base while also creating a new folklore that not only doesn't make you want to stab yourself in the face with a rusty nail while having your eyeballs lacerated by a million paper cuts, it is actually pretty awesome in its own right.

A true fan will find it almost impossible not to love this film. It is simply that good.

Michael Bay I never thought I would ever say this but, thank you. Even the $600 million odd dollars and approximately seven and a half hours of my life you wasted setting up the story line of this movie with those first three abominations now seems like time and money well spent.

For after nearly thirty long years of shattered hopes and unfulfilled expectations, finally our inner 6 year olds can live the dream. Finally we can stand on the apex of the Mount Everest of 1980's nostalgia - and wholeheartedly and enthusiastically enjoy a Transformers movie for the first time - all the while being snugly wrapped in a delightful bubble of restored faith, emancipation from loss and total satisfaction.

Do not take heed of reviews written by people that have never transformed a toy from a robot to a car in their lives. Do not be distracted by accounts of gratuitous product placement. Worry not about a repeat of previously indecipherable shot composition and editing. Cleanse yourself of the horrible memory that is Shia LeBeouf.

This film delivers much more in the way of fan service than any of the previous films. Some of it is subtle, some quite overt (Galvatron transforming into a cannon and Optimus spending some time looking much like his G1 alter ego in truck form are notable examples). The movie is peppered with a lot of little touches that would probably be lost on people new to Transformers, but that had me clapping the screen at stages. Some people actually applauded the movie when it ended.

It's like they finally aimed it at the fan base, rather than take it for granted that the fan base would go anyway and trying to make it work for everyone else. And I for one appreciated those touches as they have been sorely missing from the franchise. But regardless of whether that stuff resonates with you or not it still has a much better plot than any of the other films and importantly it's a grand spectacle - almost without a doubt bigger and more outrageous than any other movie in history, period. It is simply EPIC.

Anyone that is a true Transformers fan obviously wants to and tries to like these movies. Three times previous to this I have failed in this task more or less and pretty much became a card carrying member of the &@#% You Michael Bay You Killed My Childhood club. Yet this time when they take it in yet another direction that is completely incongruous with the beloved and sacred G1 mythology - I totally went with them instead of fighting it. And actually, it is pretty damn cool. I didn't have to try to like this movie. As a Transformers mega-geek Age of Extinction was inherently enjoyable to me in nearly every way. Plus as I said it has a lot of delicious little morsels for the old school fans that just become the cherry on top of a very sweet sundae.

I am honestly and truly sorry for anyone that thinks they are a Transformers fan but that doesn't absolutely love this movie. I think it is just a horrible defect in their personality. They will never be happy unless watching the movie is a mere carbon copy of their experiences watching the G1 cartoon. Yes Michael didn't go in the direction we wanted him to at first. But where he has ended up should allow us to forgive if not forget and appreciate the unique and incredible nature of this motion picture.

When we thought all hope was lost, Michael Bay has given us what we have been wanting all these years. But for some their own cynicism will not allow them to celebrate the occasion. To them I say let the 6 year old inside you finally let go of all the pain and rip up your Bay Haters membership card.

All the Transformers aficionados that are brow beaten, dejected and void of all hope should rest assured that finally Michael Bay has miraculously managed to not completely &@#% up a Transformers film.

The jaded, dejected and resentful among the once wide-eyed and awestruck Transformers mega-geeks: rejoice! For you are the chosen ones. You are the chosen few for whom Transformers: Age of Extinction won't be a loud and obnoxious destruction of two and a half perfectly good hours of your life. It will be an exhilarating, deeply satisfying and ultimately spiritual experience.