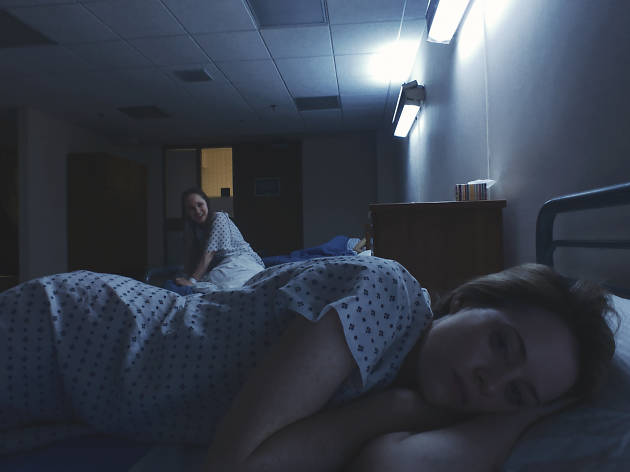 Time Out says
Claire Foy excels again in this itchy, edgy experimental thriller from Steven Soderbergh.
Navigating through a mad, rapidly changing world is something that Claire Foy does well; she's shown as much for two years on Netflix's The Crown. Viewers who have studied the map of her face as Queen Elizabeth II will have done their homework before watching Unsane, a scrappy, shot-on-iPhone thriller elevated by Foy's gutsy, steel-reinforced performance. She plays a businesswoman, Sawyer, who is involuntarily committed to a Pennsylvania mental ward due to some insurance company slight-of-hand. Following the genre template (Shock Corridor, Shutter Island, American Horror Story: Asylum), Sawyer befriends one fellow patient (SNL's Jay Pharoah) and jousts with another (Juno Temple, dialed up to 11). But in a canny twist, Sawyer also comes face to face with a kindly nurse (Joshua Leonard, unrecognizable as the guy from The Blair Witch Project) who she swears is the dangerous man that's been stalking her for years. Cue the gaslight.
Unsane's script is marred by faulty trip wires and too many clichés, but director Steven Soderbergh, the alchemist of American movies, is interested in the plot only as a means to experiment with style. Filming the whole thing on a smart phone drains the material of any glamour while giving it a nervy, disorienting kick. And there's a palpable sense of a filmmaker at play, with parody always peeking in from the periphery: For instance, just for the fun of it, Soderbergh tosses in one of Ocean's Eleven stars for a surprise cameo as a security expert with a Boston accent. (We won't ruin it.) Knowing that some of cinema's greatest performances are in B-movies, Soderbergh turns Unsane into a vehicle for Foy's ferocious presence. She never stoops to a pat depiction of female victimhood, instead inviting us to see the rigged world through her whirlpool eyes.
Details
Release details
Rated:
R
Release date:
Friday March 23 2018
Duration:
97 mins
Cast and crew
Director:
Steven Soderbergh
Screenwriter:
James Greer, Jonathan Bernstein
Cast:
Joshua Leonard
Claire Foy
Jay Pharoah
Juno Temple

Users say