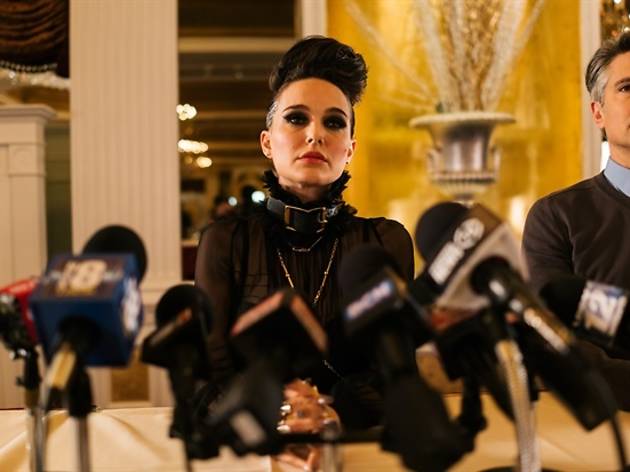 1/2

2/2
Vox Lux
Time Out says
The flip side to A Star Is Born, director Brady Corbet's indie rise of a pop icon—played by a fearless Natalie Portman—is an uneven but fascinating spectacle.
Summoning his most cynical narrator's voice (pretty goddamn cynical), Willem Dafoe steers us along the major contours of the comet-like career of Celeste, a fictional mono-monikered pop star at the center of the intriguing, nervously millennial Vox Lux. We learn that Celeste was a "savvy businesswoman"—that signature compliment of the post-Kardashian celeb-scape—but "at least she wrote her own lyrics." Writer-director Brady Corbet knows enough about music journalism to call out these clichés, but not always enough to avoid them. His two central actors, Raffey Cassidy as the delicate teenage Celeste and Natalie Portman as her toughened-up older variant, shade the potentially embarrassing role with feistiness and guile, but their efforts don't add up to anything more than a gossipy curiosity. It's not a shallow film, but it's not deep either.
If you'll pardon another pop-writing cliché, there are plenty of killer singles here but not enough material for a full-length album. Even though the first half of Vox Lux makes us wait for Portman to appear, it's the more compelling of the two sides, with Cassidy's fragile high-schooler surviving a Columbine–like shooting (brutally filmed) and becoming a national symbol of resilience in the process. Privately, she's also something of a go-getter, driving herself hard in dance rehearsals. Vox Lux could have used more moments in which strangers resonate with Celeste's simple heartfelt songs, scenes that would explain her increasing aloofness, a coping strategy. Instead, we take in ominous shots of the World Trade Center (both before and after 9/11) and ponder the fuzzy implication that Celeste rode those global anxieties to fame and fortune.
Portman explodes on the film: She's a paintball of Staten Island attitude (the accent is just the right amount of honk) and scarred-over sacrifice, much harsher than Madonna or Katy Perry, you imagine. There's a train-wreck magnetism in watching Celeste launch into an argument with a star-struck diner owner, the humility of her earlier years gone. Enablers around her (Jude Law and Jennifer Ehle, playing her manager and publicist, respectively) have also transitioned from gently parental figures into exploiters of her worst impulses. Celeste is a mother now, awkwardly, and Vox Lux doesn't know what to do with that distracted vanity. Scene to scene, the movie has a clued-in exclusivity, building its plot out of tangents about Swedish superproducers and interviewers gone rogue, but when the singer is bum-rushed by the news of an act of terrorism inspired by one of her videos, the film quickly retreats to a fun but vapid arena concert (the original Sia songs are garbage) and promptly ends. The poseur at its heart is too complex for Corbet to handle, but you admire him for dreaming her up.
Follow Joshua Rothkopf on Twitter: @joshrothkopf
Details
Release details
Rated:
R
Release date:
Friday December 7 2018
Duration:
114 mins
Cast and crew
Director:
Brady Corbet
Screenwriter:
Brady Corbet
Cast:
Natalie Portman
Jude Law
Jennifer Ehle
Raffey Cassidy

Users say