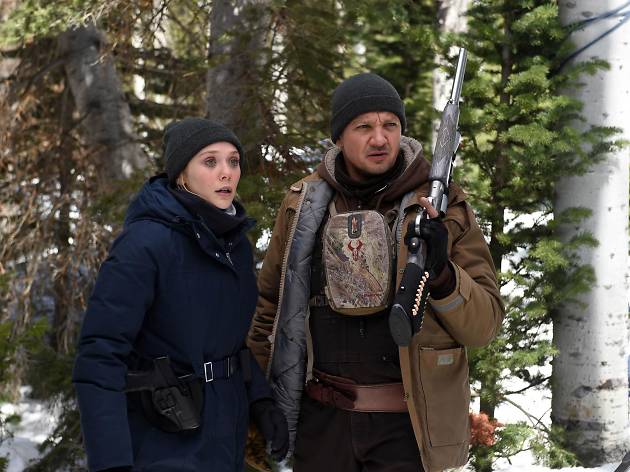 Time Out says
A grizzled tracker and an outsider FBI agent hunt a killer in this summer's fix for fans of old-school crime films.
"Luck lives in the city," we hear a character say late in the gripping, unusually wise Wind River, a movie that definitively demonstrates that, outside the city, you have to rely on stronger stuff. We're in wintry Wyoming, a place of run-down Native American reservations, broken marriages and the sad scourge of opioids and drugs that seems to know no border. It's a place where Cory Lambert (Jeremy Renner) functions as a kind of bridge, divorced by a Native American woman but still present in the life of his young son who, we learn, once had a sister who was murdered. Cory carries the loss like he does his hunting rifle, with confident familiarity, pain at easy access.
Wind River plays like a forlorn Western—similar to those late-period John Ford masterpieces such as The Searchers in which John Wayne allowed himself to be vulnerable. The screenwriter is Taylor Sheridan, who, with Sicario and Hell or High Water, has proven himself to be a recent master of this most American of genres. Sheridan also directs (it's his second time behind the camera after a 2011 horror misfire called Vile), and he's become a clear fan of simple shooting and unsentimental line readings. If you like your movies lean and mean, you've got some viewing ahead of you.
When another teenage girl is found dead—frozen to death in the woods with no shoes on—Cory wrestles with a flood of emotions. Renner does tricky work right under the surface here; forget those Avengers movies and even The Hurt Locker—this is his most tortured turn to date. A Las Vegas federal agent, Jane Banner (Elizabeth Olsen), makes her way out in a blizzard to contend with some ingrained sexism and get the case solved.
Sheridan can't quite shake a hint of Silence of the Lambs–esque familiarity, but that's a wonderful standard to be reaching for. More to his credit, he fills his thriller with sharp observations among his Native American characters (not merely paid lip service), as well as the sudden crack of gunfire. You learn to look for tracks and clues; it's a film that makes you a better viewer.
Follow Joshua Rothkopf on Twitter: @joshrothkopf
Details
Release details
Rated:
R
Release date:
Friday August 4 2017
Duration:
107 mins
Cast and crew
Director:
Taylor Sheridan
Screenwriter:
Taylor Sheridan
Cast:
Jeremy Renner
Elizabeth Olsen
Graham Greene