How to Drink Cava, According to Top US Bartenders
Spain's sparkling wine sips as fresh and crisp as the bubbliest Champagne, all without breaking the bank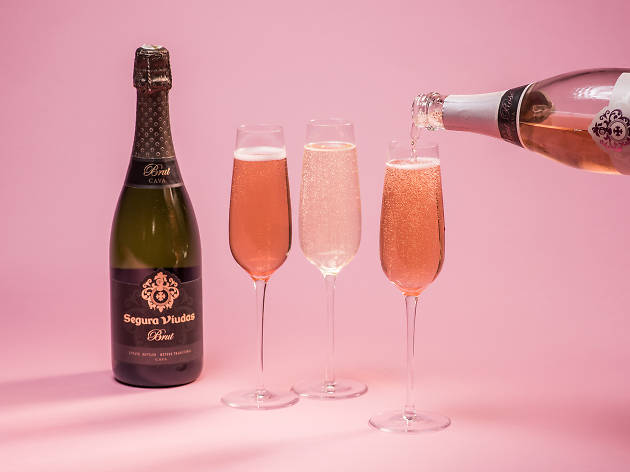 2018 is the year of Spanish wine—from bold Tempranillos of La Rioja to the aromatic Albariño of Galicia, Spain's vinos comprise one of the most exciting and diverse categories currently on the market. That category of course includes Cava, the Spanish sparkling wine now giving Champagne and prosecco a run for their money.
Cava is relatively new—the name "Cava" wasn't given to the category until 1972. The rules for Cava are not so different from those of their bubbly French cousins, but in typical Spanish fashion, they're a bit more laidback. And in an era where white-tableclothed wine rooms are making way for easygoing wine gastropubs with sneaker-clad sommeliers, this is certainly on trend.
So how do you drink, and enjoy, Cava? Whether you prefer Brut, Extra Dry, or Rosé, drinking your bubbles straight or mixing them into sparkling cocktails, we've got you covered. With the help of our friends at Segura Viudas Cava, we reached out to some of our favorite bartenders in America for the 411. Just in time for summer, here's your ultimate guide to drinking (and mixing with) Cava.
Keep it simple
Cava comes in either white or rosé varieties, and tends to be less acidic than Champagne. There are three grapes used to make Cava: Xarel-lo, Macabeo, and Parellada (Chardonnay is also sometimes added). They are generally known for their freshness. "I always find that Cava's traditional grape varietals always have a zesty freshness about them—especially when the Cavas are Brut Nature or Extra Brut," says Samantha Germani, bar manager at Philadelphia's acclaimed wine den Walnut Street Café. Like Champagne, Cava is organized by sweetness—for example, the typical Brut Cava has no more than 12 grams of sugar per liter of wine, while Extra Brut has no sugar added at all, containing between 0-6 grams of residual sugar per liter.
Keep it cold
This may seem obvious, but you'll want to keep your Cava chilled, at around 45 to 49 degrees—especially during these toasty summer months. "There's nothing quite as perfect as a glass of chilled Cava on a hot day," says Justin Lavenue of the Roosevelt Room, winner of Time Out Austin's Best Bar 2017. He adds a quick tip for chilling wine in a pinch: "If you're in a rush and want to get that bottle chilled as quickly as possible, submerge the bottle in an ice bath, sprinkle some table salt around the ice, and spin the bottle in the solution. The salt will drastically lower the freezing temperature of the water, allowing its delicious contents to get from room temperature, to perfectly chilled, and into your belly within minutes!"
Keep it balanced
Like to make your own sparkling wine cocktails? Whether you're splashing some simple mimosas or bellinis, Cava is an excellent stand-in anytime you need a sparkling ingredient. Remi Shobitan, head bartender at Goldbar in New York, explains that Cava adds both a pleasant flavor and body to a cocktail. "I enjoy using Cava in cocktails for the part that it plays in both its flavor composition and its effervescence," he says. "It is dry, zesty, and floral which makes it especially compatible with the botanicals used in gins." Britain Burgos, GM of Philadelphia's The Vintage, agrees: "Most Cava will have a bright lemon or citrus aspect to it, so when using in a cocktail, I like to use ingredients with a little bit of sweetness to achieve balance."
And when making a cocktail, remember to add the Cava as the last step in order to retain its fizz. Walnut Street Cafe's Samantha Germani adds a useful tip to topping off a mix of other ingredients with cava: "When mixing with sparkling wine, you always worry about the bubbles spilling over when making it. If you use the top of your punted bar spoon to delicately add the Cava, you're in business—no spilling."
And most importantly, keep it fun
"Cava elevates and never hides any of its counterparts and it makes an afternoon go by quickly!" says bartender Lauren Pool of Good Housekeeping and Fundamental DTLA in Los Angeles. "I find that Cava goes best with brunches and hangovers."
Take your Cava to the park, drink it at a concert, have a good time with it. You can even take it to the beach! Billy Helmkamp, co-owner of Chicago's music-centric The Whistler, had some specific ideas about where to drink Cava this summer. "Cava would be great to sip on at one of the free concerts in Millenium Park this summer, especially this year with Aimee Mann, The Sea and Cake, Whitney and NE-HI performing," he says. "Get there early to find a prime spot on the lawn, pack some snacks, a blanket and pop open a bottle of Cava to sip on while watching the artists.
"We should always drink Cava," adds bartender Adrian Gonzalez of Miami's Little Havana hotspot Bar Nancy. "Cava has bubbles and brightens any cocktail—Cava is about fun." We couldn't have said it any better.