Heads up! We're working hard to be accurate – but these are unusual times, so please always check before heading out.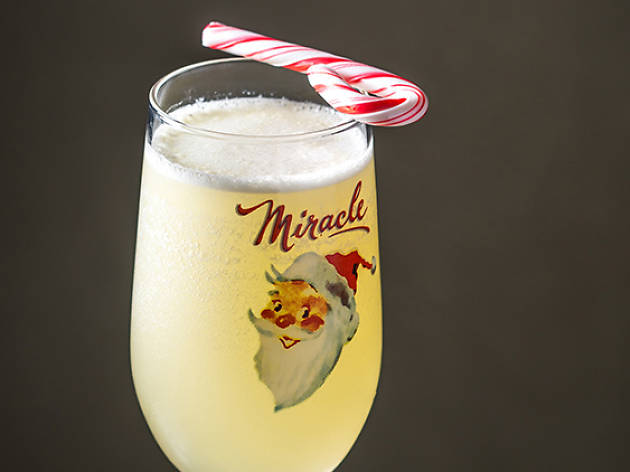 Recipes for Christmas cocktails from America's best bartenders
Elevate your holiday drinking with Christmas cocktails from America's best bartenders, with eggnog recipes and more
Some people love Christmas for the holiday gifts. Some people love Christmas for the Christmas movies. We love Christmas for the booze. Christmas cocktails like spiked eggnog. And buttered rum. And mulled… everything. We'll drink it till we're as red-faced as the big guy himself. This season, we wanted to take our Christmas drinking to the next level, so we invited some of America's top bartenders—celebrated mixologists from the best bars in Miami, New York, Los Angeles, New Orleans and beyond—to share recipes for their favorite Christmas cocktails. Some are easy. Some are tough. All will leave you very, very merry.
Christmas cocktails from America's best bartenders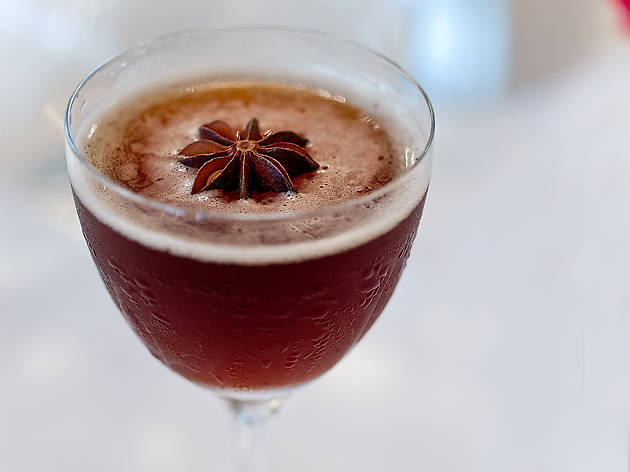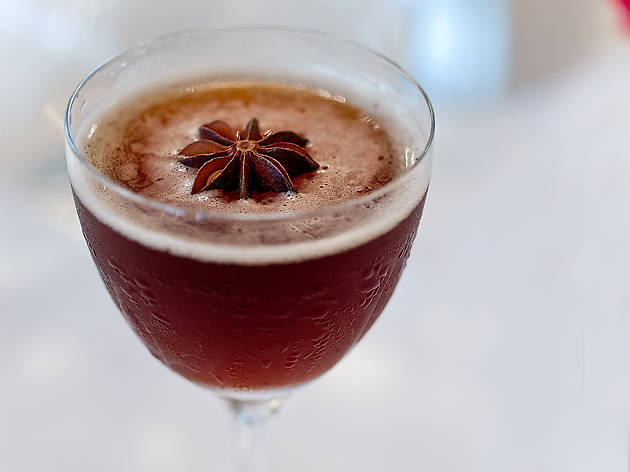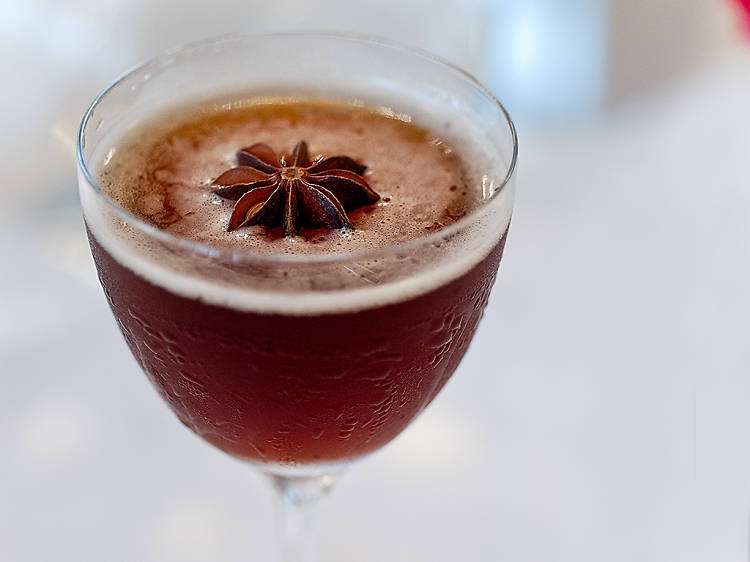 Photograph: Courtesy French 75
1. The Winter Waltz by Chris Hannah, French 75, New Orleans
"'The Christmas Waltz,' by Frank Sinatra, is and has always been one of my favorite Christmas songs," says Chris Hannah of legendary NOLA cocktail bar, French 75. "So when the flavors came together when attempting this seasonal take on a Sazerac, I decided to call it the Winter Waltz."
2 oz rye whiskey
½ oz amaro (full bodied amaro such as Ramazotti Averna or Angostura)
¼ oz allspice dram (St. Elizabeth's and Bitter Truth make allspice dram)
2 dashes Angostura Bitters
Star anise for garnish
Instructions: In a cocktail shaker add the whiskey, amaro, allspice and bitters and shake vigorously with ice. Strain into a chilled cocktail glass and garnish with star anise.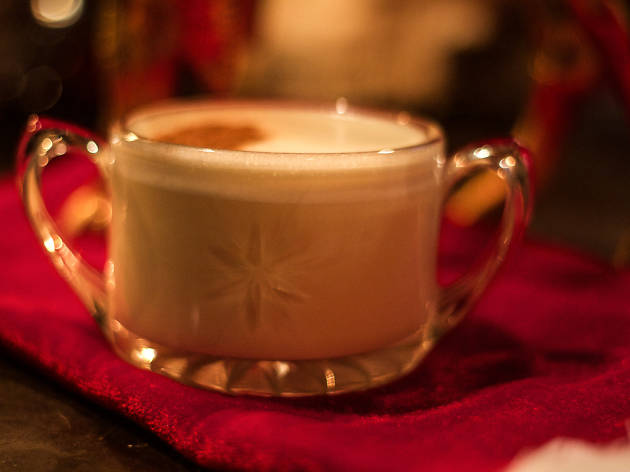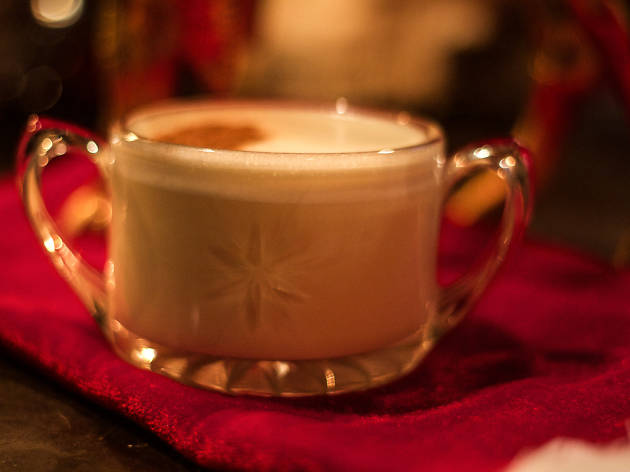 Photograph: Courtesy Tack Room
2. Tack Room Nog by Dustin Drankiewicz, Tack Room, Chicago
Dustin Drankiewicz's Tack Room Nog was inspired by his childhood. "I sipped virgin eggnog back then," he remembers, "but the grown folks definitely spiked the hell out of theirs. I always wondered if they were having more fun than me drinking it." It turns out they were.
1½ oz spiced rum
½ oz amaro nonino
1 oz Monin Spicy Chocolate Syrup
1½ oz walnut milk
1 egg
Ground baking spices for garnish
Instructions: Add all your ingredients into a tin, dry shake (shake without ice) then add ice and shake again. Double strain into a punch cup.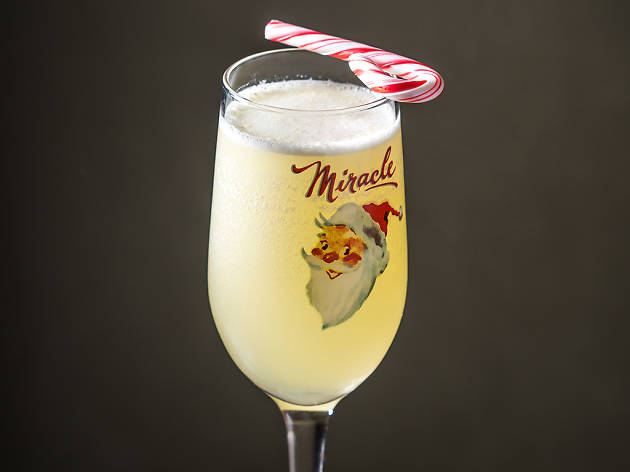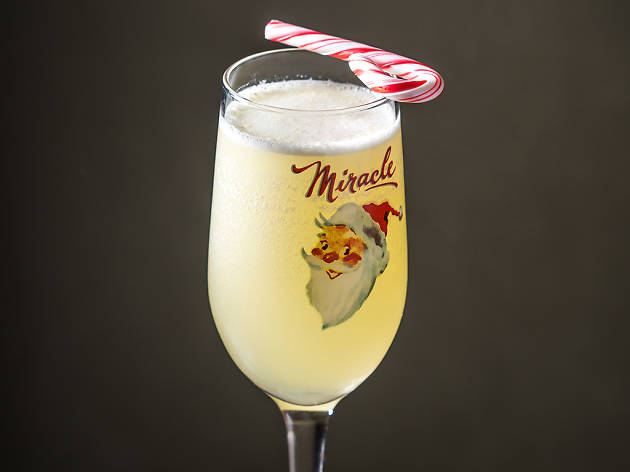 Photograph: Paul Wagtouicz
3. Fa La La by Nico de Soto, Mace, New York City
Frenchman Nico de Soto, of East Village cocktail bar Mace, gives us one of the easiest drinks to make—and one of the most delicious. "It's the Christmas version of a Mimosa," he says simply. And the candy cane is optional.
1 oz fresh clementine juice
½ St. Elizabeth Allspice Dram
Prosecco
Instructions: Build it in a Champagne flute then top with Prosecco.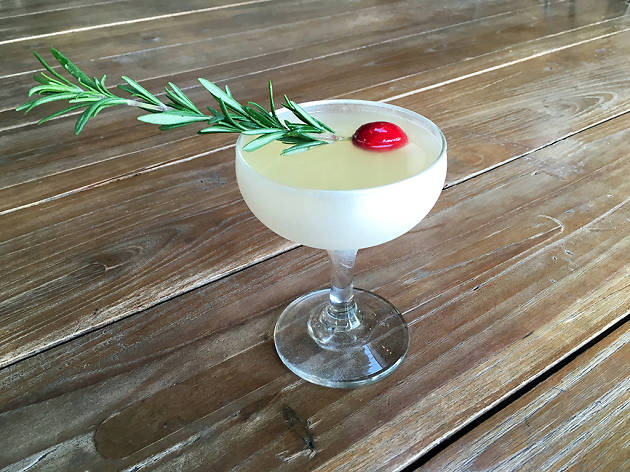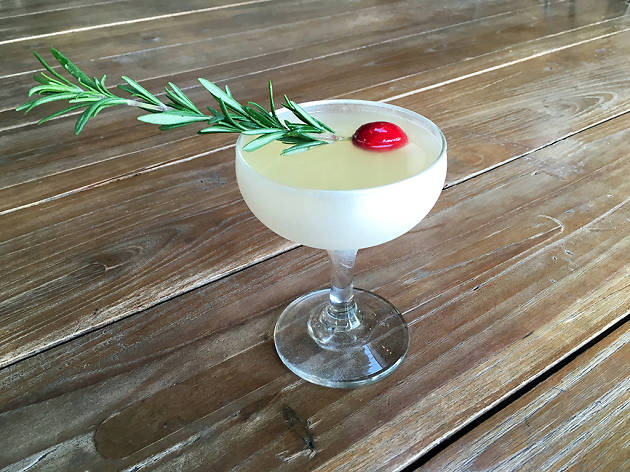 Photograph: Gracias Madre
4. Snow Globe by Jason Eisner, Gracias Madre, Los Angeles
Jason Eisner, the beverage director at West Hollywood Mexican hot spot Gracias Madre, throws down the gauntlet for any brave (and seriously dedicated) Christmas cocktail fiend with this two-step recipe: first you have to make his mulled rye whiskey, then you can build his Snow Globe.
To make the Mulled Rye Whiskey
1 750ml bottle rye (plus one extra cup)
1 medium orange, sliced
1 medium lemon, sliced
1/8 teaspoon ground nutmeg
2 3-inch cinnamon sticks
½ teaspoon whole allspice
½ teaspoon aniseed
½ teaspoon whole peppercorns
4 whole cloves
Instructions: In a large saucepan, combine the rye, orange, lemon and nutmeg. Place remaining spices on two sheets of cheesecloth; bring up corners of cloth and tie with string to form a bag. Add spice bag to rye mixture. Bring to a boil, stirring occasionally. Reduce heat, cover and simmer gently for 20 minutes. Cool, cover and refrigerate overnight. Strain, and discard fruit and spice bag.
To make the Snow Globe

2 oz homemade mulled rye whiskey
1 oz lemon juice
½ oz simple syrup
1 dash fennel bitters
1 pinch edible glitter
Sprig of rosemary
Cranberry
Instructions: Add all ingredients to a cocktail shaker and shake vigorously. Fine strain into a coupe and garnish with a sprig of rosemary and a cranberry.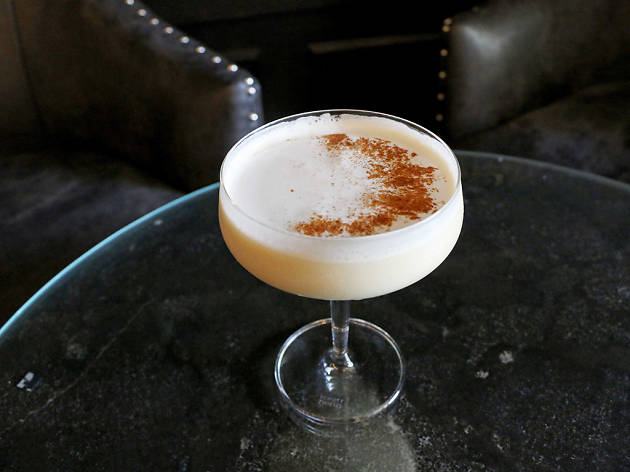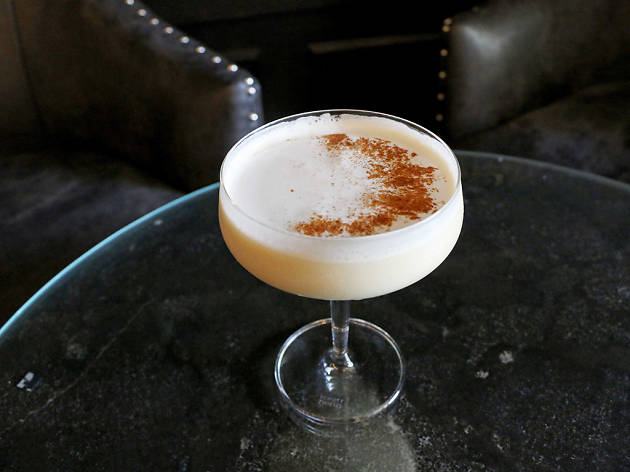 Photograph: Courtesy The Townsend
5. Le Tremblement de Nog by Justin Elliott, Townsend, Austin
This spiked eggnog recipe was born of family rivalry. "I was never much of an eggnog drinker but my wife's family has a Christmas Eve tradition of hosting a get-together for all the neighbors," says Justin Elliott, of downtown Austin bar, the Townsend. "My father-in-law pulls out his yellowing copy of his nog recipe (which he then promptly ignores and just eyeballs all his ingredients) and somewhere in there I wound up in an annual eggnog competition with the old bastard. I'm pretty sure that's where I managed to win his begrudging respect and eventual approval to marry his daughter."
1 oz Remy Martin 1738 Cognac
½ oz Tenneyson Absinthe
½ oz Becherovka
¼ oz (2:1) Turbinado Syrup
1 oz heavy cream
1 whole egg
Ground cinnamon for garnish
Instructions: Combine ingredients, shake vigorously, then strain into coupe. Garnish with cinnamon.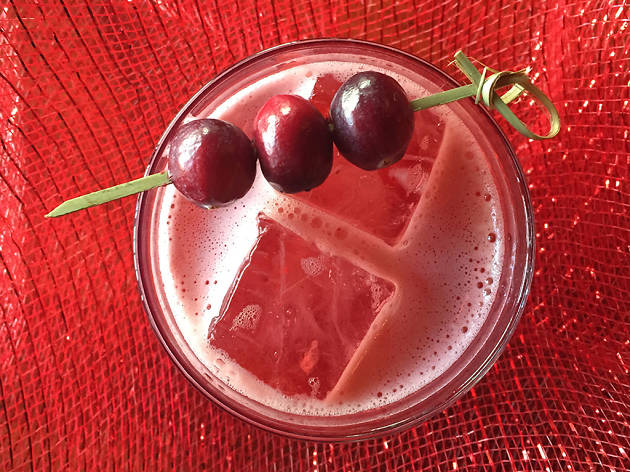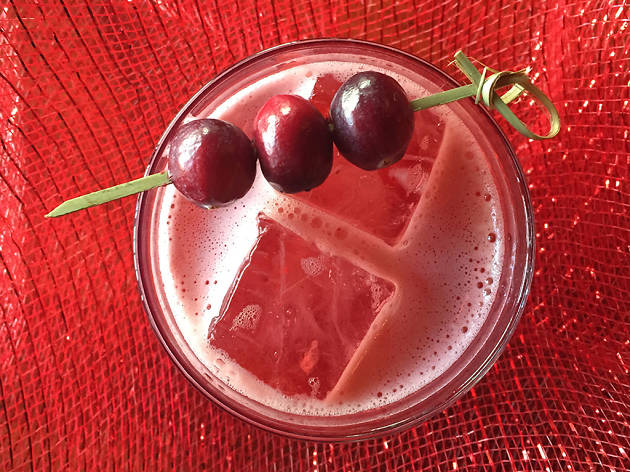 Photograph: Courtesy Rum Club
6. Holiday Hookup by Emily Mistell, Rum Club, Portland, OR
"It was inspired by all those holiday office parties," Rum Club bartender Emily Mistell says of her Holiday Hookup. "Kissing under the mistletoe next to the water cooler and taking home that guy you've had your eye on all year. Because, why not, it's the holidays!" The drink itself is one for those who want to truly dedicate some time to their cocktail craft—you will need to make your own honey cinnamon syrup for this hookup to leave you with no regrets the next morning.
To make the Honey Cinnamon Syrup
1 cup honey (I use Bee-local but any quality clover honey should be fine)
½ cup water
2 sticks cracked cinnamon
Instructions: Combine all ingredients in a small saucepan and bring up to just under boiling. Steep on low heat for 20 minutes, let cool and fine strain.
To make the Holiday Hookup
1 ½ oz Anejo Rum
1 oz Starvation Alley fresh-pressed cranberry juice (if not available in your city then make sure to get an unsweetened cranberry nectar like Knudsen)
½ oz Honey Cinnamon syrup
½ oz Bigallet China-China
¼ oz fresh-squeezed lime juice
2 dashes Scrappy's Orange Bitters
Cranberries
Instructions: Combine all ingredients and shake, then fine strain into a double rocks glass. Top with ice and garnish with fresh cranberries.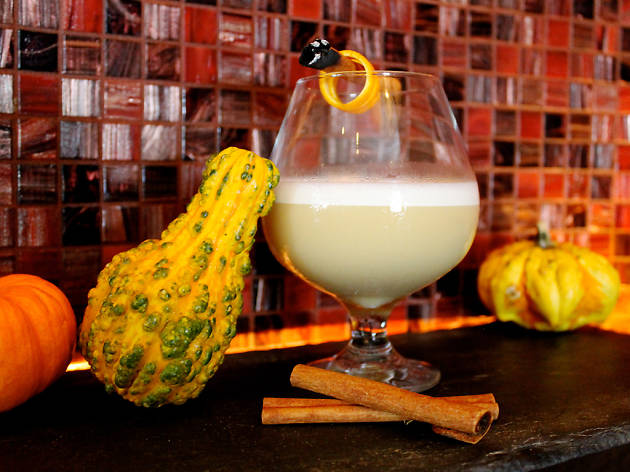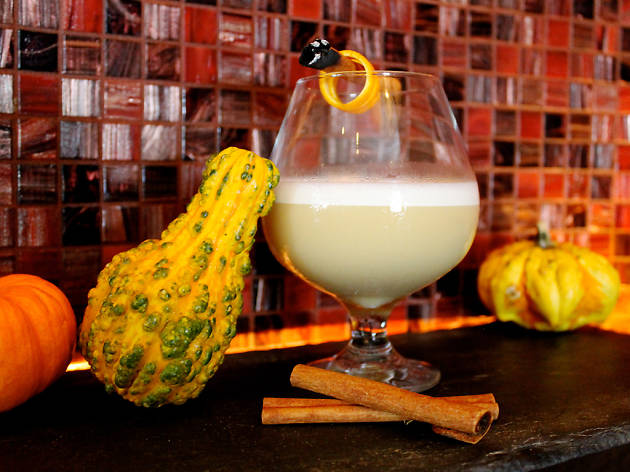 Photograph: Leo Holtzman
7. Flip to Fall by Leo Holtzman, Palms Hotel and Spa, Miami
For the man behind one of Miami's coolest, on-the-downlow bars—the sadly departed, but soon to return, Cocktail Collection at the old Tobacco Road—says his favorite Christmas cocktail came about as a kind of accident. "The cocktail was originally created at a holiday event," Leo Holtzman explains. "Ingredients were scarce and all we had were newly made leftovers and one of our guests said he hated eggnog. Which I told him meant he has disliked every eggnog he's had thus far in life. I quickly ran to the kitchen and grabbed a bottle of pumpkin vodka and proceeded to make a pretty close version of this drink. I didn't have time for the cinnamon syrup, so I used the cinnamon glaze on a cake. And the Drambuie was a happy accident as it was my only option besides the rum. Needless to say, we made him into a eggnog believer."
1 medium egg
1½ oz aged rum
1 oz pumpkin vodka (see below)
½ oz cinnamon syrup (see below)
¼ oz Drambuie
Instructions: Drop the egg into your mixing glass so the shell breaks. Add all other ingredients and shake vigorously without ice for 6 seconds. This will cause the drink to froth more than other methods because the broken egg shells add agitation. Then add ice and shake vigorously for 6 more seconds. Double-strain the shaker contents with a hawthorne and conical tea strainer (extra fine mesh). The strainer will catch all the egg shell and leave you with a smooth, frothy and delicious adult eggnog. Garnish with an orange peel and cinnamon stick, preferable burnt.
Bonus: Holtzman's simple infusions
Cinnamon syrup: Boil water, add cinnamon and simmer for as long as you like, then add equal parts of this infused water and white sugar. Mix until dissolved.
Pumpkin vodka: Cut pumpkin, roast pumpkin (or don't), put pumpkin in a vodka bottle (1 piece or 100 pieces), and wait 1 day or 2 weeks or anytime in between.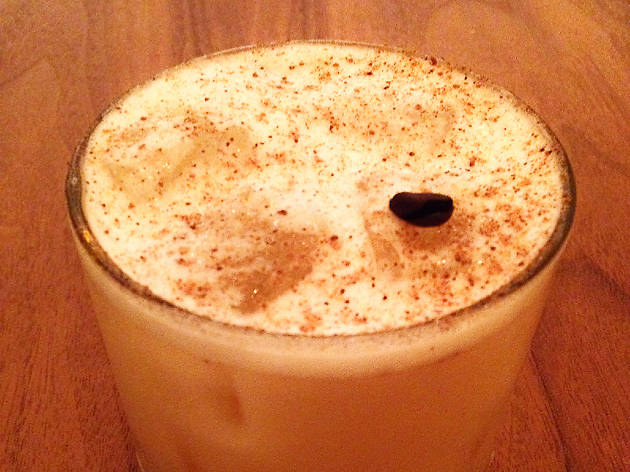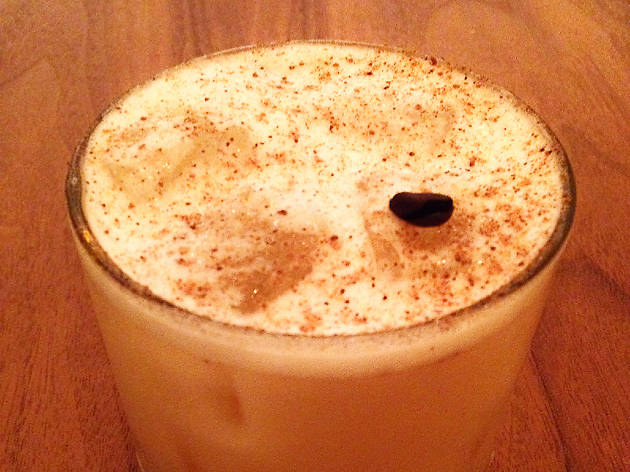 Photograph: Courtesy the Rum Line
8. The Seth Alexander by Rob Ferrara, The Rum Line, Miami
Rob Ferrara of Miami's the Rum Line says he loves creating holiday cocktails: "The warm flavors of the season really allow me to get creative." This drink, inspired by the Brandy Alexander, has the perfect flavor profiles for the season, he says. But it is less heavy than many other holiday offerings. "Instead of Brandy I use a premium rum from the Facundo Collection," he explains. "And instead of heavy cream I use almond milk so it's a lighter cocktail that everyone can enjoy."
1 oz Facundo Eximo
1 oz Tempus Fugit Crème de Cacao
2 oz almond milk
Grated nutmeg and coffee been for garnish
Instructions: Pour all ingredients into cocktail shaker, then add ice and shake for 5 seconds. Pour into a rocks glass and garnish with grated nutmeg and a coffee bean.