With the dual weekend scenario—Austin City Limits Music Festival's modus operandi since 2013—there's an inherent FOMO problem when picking which one to attend. Save for a few swaps (mostly locals and up-and-comers), the lineup for this year's 15th anniversary, which concluded October 7–9, was identical. So how does one anticipate which weekend will be the real party?
Some might argue that Texas country legend Willie Nelson replacing Chris Stapleton for the second weekend's Sunday sundown slot made Round 2 a no-brainer…we're inclined to agree, but when it comes down to it, it's an apples-and-oranges scenario. Though the majority of bands and songs played were the "same," there were subtle differences—anything from a band member's birthday to just going the extra mile to perform powerfully—that made some acts worth catching twice, and a few others rise above for the first time as top-tier entertainers.
Here are our top five performances of Weekend Two: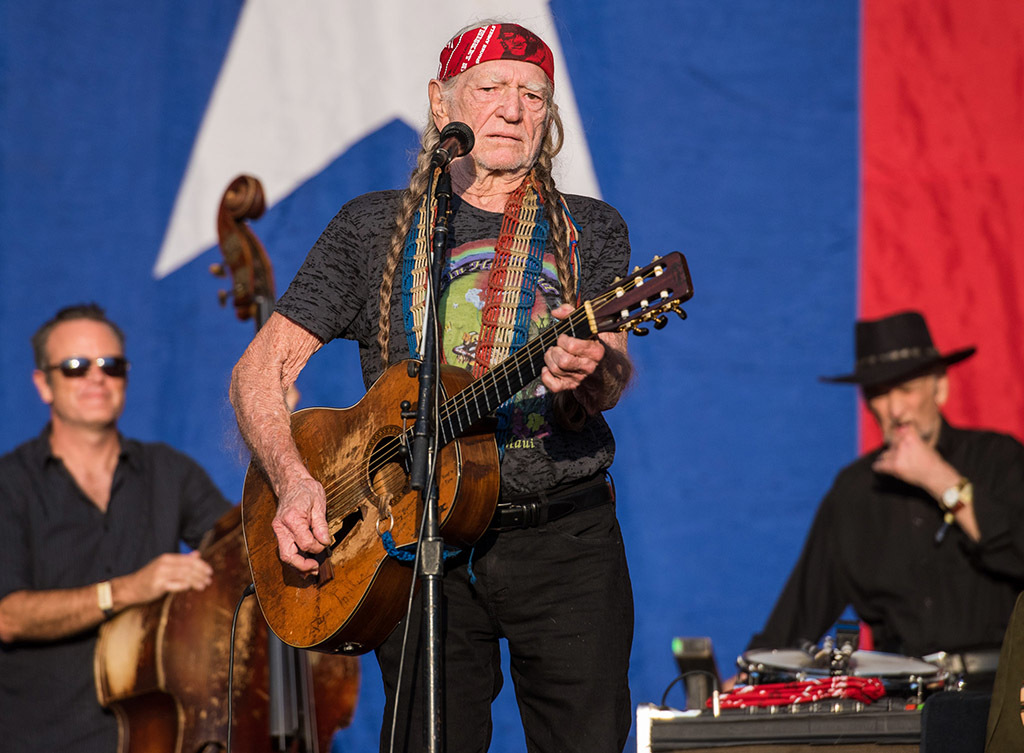 1. Willie Nelson
The anticipation leading up to Willie Nelson's Sunday afternoon performance was palpable as the perhaps the largest audience in ACL Fest history assembled on the field in front of the Samsung main stage. A huge part of that stemmed from historical significance: The Texas country music legend played the 1974 pilot episode of the Austin City Limits television show, the basis for this entire event, and this golden-hour set marked his second time ever playing the fest (his first was in 2006). And at age 83—though his signature low growl and quick Trigger-pickin' still hold up—who knew if he'd ever return to the ACL grounds for an encore?
So when Matthew McConaughey strode out to introduce him, the crowd's reaction was utterly exultant. It was one helluva intro:
"Alright, alight, alright. How you doing Austin, Texas? It's great to know that there's no other coordinate in the universe that you'd rather be than right here, right now: ACL 2016 in Austin Texas. This next man—the man I'm about to introduce—there's nobody more perfect for a second Sunday afternoon sundown session than this man right here. He's a local legend here in Austin. He's a state of Texas legend. He's an American icon. He's a living legend. Can we give a big badass rowdy hello and welcome to the one and the only Mr Willie Nelson?"
Nelson certainly delivered on that endorsement. It was a set for the ages, as much a revue of his influential career—he opened with "Whiskey River," then strategically played "On the Road Again" followed by "You Were Always on My Mind" just as the sun glowed its most golden hue—as it was an homage to all the other legends, many of them lost, who formed the foundations of American country music and, by extension, this festival. To that end, he busted out triumphant renditions of "It's All Going to Pot" ("one for Merle") and "Good Hearted Woman" ("one for Waylon") before leading tens of thousands through a sing-along medley of "Roll Me Up and Smoke Me When I Die," "Circle Be Unbroken," "I'll Fly Away" and "I Saw the Light," which featured fantastic backing duties from surprise guests Mumford and Sons toward the end. It was a fitting tribute from new-school folk-rock kings to an old-school acoustic emperor.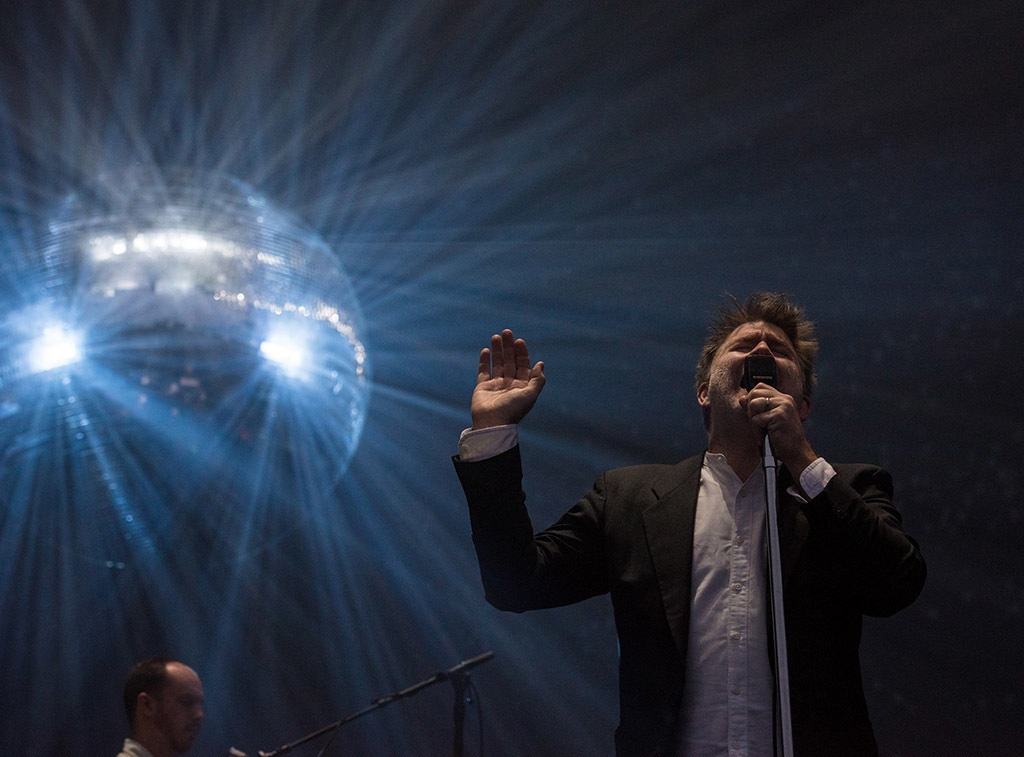 2. LCD Soundsystem
In large part because of their current status as a "reunion band," LCD Soundsystem has been the festival headliner of 2016, playing nearly two dozen (!), plus a few side-shows, since kicking things off at Coachella in April. One might surmise then that by ACL Fest's second weekend—the New York group's final date of 2016—the musicians would be burned out, phoning it in after repeating the same set list night after night.
Nothing could be further from the truth.
Once again—with the opening disco-ball blast of "Us v Them," the conjuring of emotions both personal and universal with the cathartic chorus of "Someone Great," and the sparking of an all-in dance party with one-two punch closers "Dance Yrself Clean" and "All My Friends"—LCD delivered with such a high level of visibly humble happiness and genuine joy that there's no way anyone could conclude this reunion is just for the paycheck.
Despite it being the year's finale, there was no encore, but frontman James Murphy couldn't resist a victory lap of sorts: As fans cheered relentlessly for more, he strode onto the stage solo, grabbed his wine glass and still half-full bottle, and without uttering a word made his exit, head held high, wearing a grin that felt like an assurance: This was hardly the last hurrah.
3. Radiohead
Though Radiohead kicked of their Friday night set on the Samsung main stage in the same fashion as they have on nearly every date of this tour (with a hat-trick of three spellbinders—"Burn the Witch," "Daydreaming" and "Full Stop"—off latest album A Moon Shaped Pool), this show resulted in a far more cathartic feeling by its end than the previous week. Part of that was due to some powerhouse additions: This week's audience was treated to the frenetic alt-rock of "My Iron Lung" and heavy piano plod and trippy samples of "Pyramid Song," plus breezy OK Computer calmers "No Surprises" and "Let Down." Yet the performance was extra-special because it happened to be frontman Thom Yorke's 48th birthday, a coincidence that led to particularly touching conclusion.
"As it's my birthday, and also Flying Lotus's birthday, I'd like to dedicate this song to all the people on this stage," said Yorke before launching into "Fake Plastic Trees." "I'm happy to spend it with these boogers, and happy to spend it with you boogers."
4. Anderson .Paak
It may seem a mystery how Anderson .Paak went from a relative unknown—he seemingly surfaced for the first time for a plethora of tracks on 2015 Dr. Dre album Compton—to a much-sought-after fest sensation. It's a mystery, that is, until you see him live.
He opened his Saturday afternoon set on the HomeAway stage, which was overflowing with dancing and chanting fans, with a pair of deeply soulful hip-hop tracks, "Come Down" and "Drugs," his raspy delivery making him sound like the James Brown of rap. Yet that barely scratched the surface: After hyping up the audience front-and-center, he hopped behind the drums, singing and telling stories while his band the Free Nationals filled out jazzy cuts "The Season" / "Carry Me" and covers of Kaytranada's "Glowed Up" and David Bowie's "Let's Dance."
5. July Talk
Occasionally, you encounter a band at a festival that pours so much of themselves into the performance that they emit a magical magnetism, drawing in passersby effortlessly with their sheer sonic force. Such was the case with Canadian outfit July Talk on Sunday morning. When they kicked off their 11:30am set with "Summer Dress," their audience was thin, only a few nodding along approvingly to the oddly alluring juxtaposition of Tom Waits-meets-Grouplove styles evoked by singers Peter Dreimanis and Leah Fay. For the next hour, they literally threw themselves all over stage, at one point becoming entangled in each others' guitar and mic cords as they plowed through catchy cuts off just-released sophomore album, Touch. Eventually, the audience had swelled large enough that Fay—after stealing one fan's U.S. flag T-shirt and another's cowboy hat—took to the crowd, commandeering the shoulders of her shirtless fan for a rowdy ride to the finish line. July Talk: champions of setting the fest performance bar absurdly high first thing in the morning.
—Photographs by David Brendan Hall