The 15 best pet movies for families
From talking cats to basketball-playing pups, these pet movies are certainly some of your favorite animal movies of all time
There's something about animals that makes them among the most memorable children's cinema characters of all time, whether they're hand-drawn, computer-animated or real, live (highly trained) four-legged actors. Our roundup of the top 15 pet movies for families celebrates the connection between humans and animals—cats, dogs and even pigs, included. Some of these flicks make us laugh, some make us cry, and a few even qualify as some of the very best kids' movies. If you don't have your own Fido or Fluffy, you might even want to reference our NYC pet guide and track down the best pet stores nearby—your kids are sure to start begging for one of their own after watching these movies!
Click the right arrow on the image below to see our 15 best pet movies.
15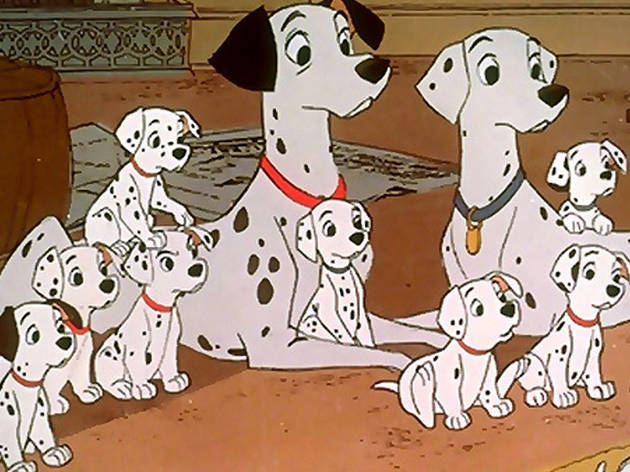 101 Dalmatians (1961)
Having 101 puppies might be the stuff of dreams for kids, but the Disney classic is just as lovable for parents. When a struggling composer's Dalmatian gives birth to 15 new pups, Cruella De Vil, better known as the greatest movie villainess of all time, arranges to steal them in order to make a fabulous spotted fur coat. When the little ones are rescued at Cruella's mansion, 86 more are discovered. Rated G.
14
Old Yeller (1957)
Yet another example of how heartbreaking pet movies can be, Old Yeller remains an American classic. Set in post–Civil War Texas, the destitute Coates children find a big yellow dog in the cornfield, and encounter black bears, boars and the ultimate coming-of-age experience when oldest son Travis is forced to put down his beloved pet after he's bitten by a rabid wolf. Rated G.
13
Homeward Bound: The Incredible Journey (1993)
Chance the bulldog, Shadow the golden retriever and Sassy the cat embark on a journey through the California forest to find the family who they believe abandoned them while on vacation to San Francisco. Run-ins with a mountain lion, a porcupine and the ominous pound provide the necessary obstacles on the road to a heartwarming finale. Rated G.
12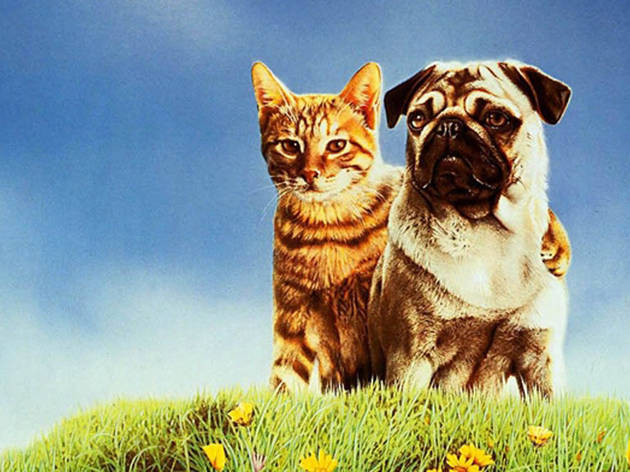 The Adventures of Milo and Otis (1989)
This 1986 Japanese film was edited for American audiences (the original featured some less-than-kid-friendly scenes) and was released three years later. But the English version is just as action-packed, including two bears, a snake and, surprisingly, not a single human. Rated G.
11
Free Willy (1993)
Killer whale, Willy, is separated from his family when humans net him and take him to an amusement park to become the main attraction. When rebellious street-kid Jesse is caught graffiti-ing the whale tank, he must redeem himself by cleaning it regularly under the tutelage of whale-trainer Randolph. Jesse and the whale form a unique connection as they both search for the families they long for. Rated PG.

10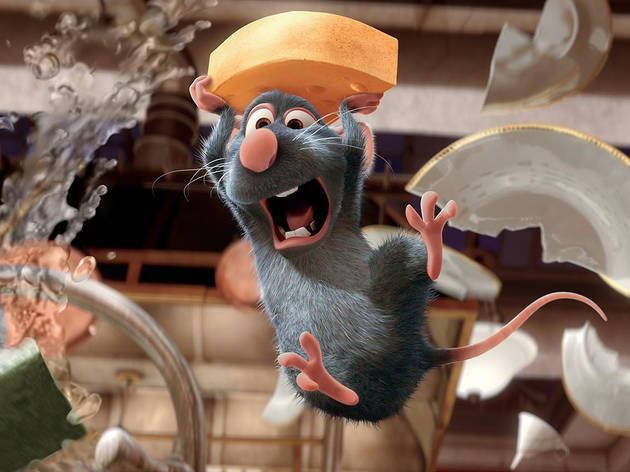 Ratatouille (2007)
Okay, so this rodent isn't exactly a pet—but when ambitious rat, Remy, puts his culinary talents to use to help novice chef, Linguini, succeed in a high-pressure kitchen, a true friendship develops. Remy emerges from his home in Paris' sewer system, certain that he's destined for something greater (and tastier). Since kitchens don't exactly welcome his breed with open arms, Remy's dream of becoming a chef proves difficult, but with help from his newfound human protégé, he may change the opinions of both species. Rated G.
9
Flipper (1964)
Kids will love this fun tale of a boy and a dolphin which proved popular enough to merit a movie sequel and launch a fondly remembered '60s TV series. Sandy (Luke Halpin), a young boy who lives in Coral Key, Florida with his family, nurses a dolphin back from injury and names him Flipper. Sandy's father, fisherman Porter Ricks, dislikes the creature since it competes for fish in the local waters and distracts the neighborhood kids with its silly antics. Sandy must persuade his grouchy pop to let him keep his new-found pal as a pet. Not rated.
8
Air Bud (1997)
The story of a golden retriever who can play basketball may sound like your standard straight-to-DVD movie plot, but the wildly successful Air Bud was based on (and features in its starring role) the stray dog found in the Sierra Nevada mountains that became a national sensation. (He even played the role of Comet on an episode of Full House!) Air Bud's unexpected talent helps 12-year-old Josh Framm break out of his shell to try out for the school basketball team. Rated PG.
7
Lady and the Tramp (1955)
In a scene that continues to live on in the minds of grossed-out kids and romance-obsessed tweens alike, Lady and the Tramp made spaghetti dinners just a little bit more exciting. When a misunderstanding causes Lady, a cocker spaniel with unreasonably great hair (er, fur), to be kicked out of her cushy home, it takes a wrong-side-of-the-tracks mutt named Tramp to take her back where she belongs. Rated G.
6
Balto (1995)
Based on a true story, Balto tells the tale of a sled dog team that delivered medical supplies to Nome, Alaska in the brutal winter of 1925. Overcoming great struggle, Balto used scent, rather than sight, to lead his team to safety. A commemorative event, the Iditarod, happens every year. Rated G.


5
Marley & Me (2008)
Marley & Me markets itself as a family-friendly comedy-drama, but don't be fooled: This movie will bring even the hardest hearts to full-blown sobs. You may want cut the cord halfway through, when the film hasn't yet breached its eventual subjects of miscarriage, postpartum depression and the slow decay of Marley's health. That said, it still manages to cater to the comic sensibilities of kids, albeit through many tears. Rated PG.
4
The Secret Life of Pets (2016)
This film is a great fit for kids of all ages—plus there are some funny jokes for adults, too. Louis C.K. voices Max, a NYC pup who lives the life until his owner adopts a new dog. When two scuffle, they end up getting lost and are forced to work together to make their way home. Kids are sure to love characters like evil Snowball the bunny and Gidget, their hero! Rated PG.
3
The Aristocats (1970)
Kids will likely agree with Scat Cat, the jazzy band leader whom Duchess and her brood of kittens meet on their quest to retrieve the inheritance their wealthy owner left them: Everybody does want to be a cat. Streetwise tomcat O'Malley leads Duchess through danger (two scary hound dogs and an evil English butler) to the safety of their Parisian mansion. In the words of little Marie, "How romantic!" Rated G.
2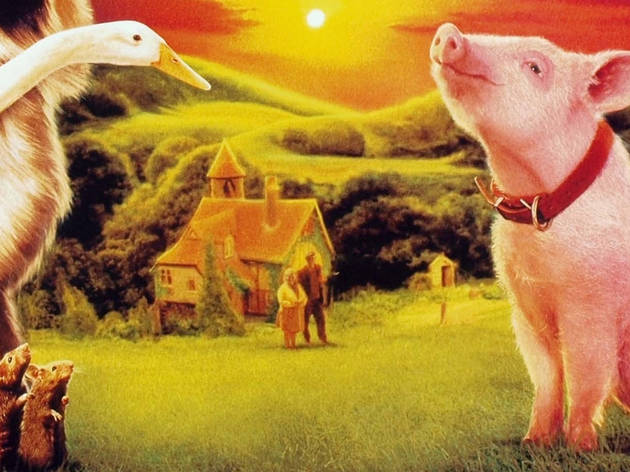 Babe (1995)
Who knew that the story of a pig who wants to be a sheepdog would turn into one of the world's most beloved children's classics? A brilliant screenplay, impressive computer graphics and true heart won Babe an Academy Award nomination for Best Picture and the acclaim of critics and families, perhaps enough to turn even the most carnivorous of humans into vegetarians. That'll do, pig. Rated G.
1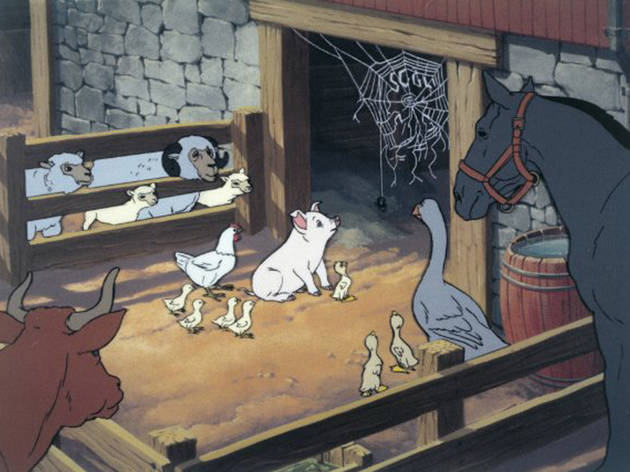 Charlotte's Web (1973)
Leave the 2006 live-action iteration in favor of the 1973 animated musical, one of the most successful movies of its kind not to come out of the House of Mouse. When Fern saves Wilbur, the runt of the litter, from his deadly fate, the piglet learns that an even scarier one looms. With the help of a friendly (and artistic) spider, Wilbur learns to "chin up" in the face of fear. Rated G.