A$AP Rocky talks dropping acid, Ferguson and being intimidated by women
We spend the night with A$AP Rocky, a suave Jekyll-and-Hyde MC who's well on his way to becoming the king of New York hip-hop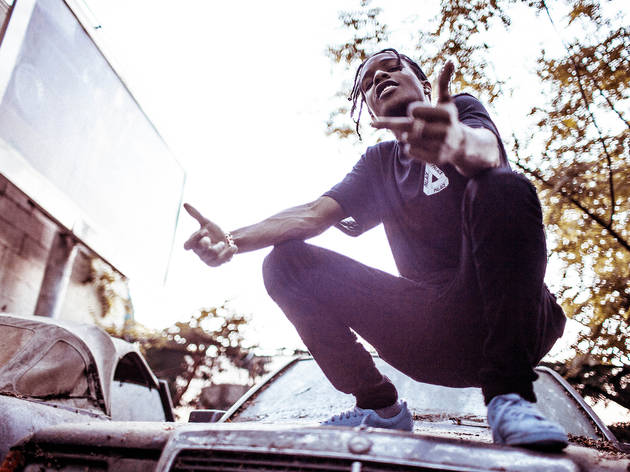 A$AP Rocky is late. Two hours late, to be exact. Then, out of nowhere, he rolls up (literally) to our shoot on an electronic skateboard, which he uses to travel from the door of his Escalade to the studio floor, approximately 30 feet away. "I'm just a big kid," he shrugs, exposing a full-on golden smile—made of real gold—beneath his Céline shades. As with any kid, it's hard to stay mad at him. But he's not really a kid. He's a 26-year-old Harlem-bred rapper who's headlined venues like the theater at Madison Square Garden with fellow headline-making MCs Tyler, the Creator—who was recently banned from entering the U.K.—Vince Staples and Danny Brown. The event topped off a huge four years, during which Rocky's ascended from releasing a mixtape (2011's online freebie Live.Love.A$AP) to signing a $3 million deal with Sony, dropping two No. 1 albums and collaborating with Skrillex, Lana Del Rey, Kanye West and, most recently, Rod Stewart on At.Long.Last.A$AP. (The record's acronym, by the way, is a reference to Allah.) During our candid chat—which is all conducted while Rocky rides his skateboard—the stylish MC touches on everything from political hip-hop to why God created weed.

You've said that LSD is a major influence on your new record. How did you get into acid?
Pfff, mushrooms. I did mushrooms about five years ago and acid two years ago.

What context was that in?
Yo, okay, without giving away too much or getting anyone in trouble, I was with my homeboy and some trippy celebrity chicks…and…yeah. [Laughs]

How long did the trip last?
Too long, man. Twenty-three hours or something like that. I was trippin' till the next day, man. And when I woke up I was like, Daaaaaamn. I did that shit! That shit was dope. It was so amazing. You know how the first time is always the best, with anything? Like sex or drugs? It's amazing. I had a few that came close but nothing was like that first-time experience.

What did it switch on with you creatively?
I never really gave a fuck, man, but this time I was like, Oh I really don't give a fuck. I don't care about making no fucking hits, none of that. I wanna make music that I feel proud of when I'm onstage, that I feel like I put my all into. Hits? I'm not down playing hits. This album wasn't for that. It was based upon making a whole conceptual project. A piece. An album. People don't make albums any more. It's always about singles. I wanted to take that old-school approach.

Has acid helped you get through the grieving process?
It helped. That's not my go-to drug any time I got a problem. I have to clear my schedule for the next two days if I do that. It's so hard to be progressive when you're trippin' out. To function. Anything.

So it's a misconception that artists need drugs to create?
It's harder on drugs!

So you were tripping in the studio?
There was this one time I was with Danger Mouse, right? We were in London. Me, Danger Mouse, Mos Def, all at the studio. It's about 3am. I'm trippin' balls. You know who happens to come by? Pusha T. Pusha T's in London town. His music sounded so good. I was like, You know what? I just wanna be a fan of Pusha T, I shouldn't rap. [Laughs] I'm telling you, I made Pusha T play the same song 10 times in a row in a studio full of people. I was asking them the next day, How was I acting yesterday? And they were like, You were just a kid in a candy store. And I was like, Okay that's cool!

What's it like working with Danger Mouse?
This guy is so amazing because he has this really cool studio with antique fuckin' old-ass appliances and technology and books and cool gadgets and shit. The energy is awesome. What he'll do throughout the session is just stop, go watch old Woody Allen films or listen to Pink Floyd, the Beatles, the Doors or Bad Brains. He doesn't smoke weed but he'd let me smoke my weed. His point of view on life is so funny. He understands me but he's not a rapper. I don't get it. He just gets it, especially when it comes to me.

It seems like rappers in your generation are more nihilistic.
[Groans]

Do you think it's live fast, die young approach that sparks this?
Man, I think you're right. Are we referring to my livelihood or my career?

Art imitates life, right?
Yeah but I look at it like, We gotta go. We all gotta go. You and me. We don't know when. You can't be scared. Nah, you just gotta pray to God. You gotta keep good vibes. You gotta keep doing good shit, putting good energy into the universe. I pray to God and I just hope that when I die, I get to see [departed friend and collaborator A$AP] Yams. I know what my journey and mission is—to inspire. I've done that in so many ways. I'm not joking.

Now that you're so successful, how do you look back on your years of peddling drugs in Harlem?
I didn't feel like I was bad! [Laughs] I could tell you so many reasons why.

Why?
The prohibition era! Liquor was fucking crack back then. Liquor was weed back then, wasn't it? What's the difference? Look at now! I was selling weed. Weed is about to be legal in so many states. Man makes rules and laws. God made right and wrong. God put weed on the Earth for us to smoke that shit. Nobody ever overdosed, nobody ever killed anybody because of marijuana. I'm fine with marijuana. Fuck that shit!

What about violence? Like when you hit someone in London outside a bagel shop this year?
That wasn't violence. How was that violence? See now, if I would have hit him, I'd have been violent. See? I didn't hit him. He violently threw a cupcake at my car. So I got out. That's why. And came back into the restaurant. I was in the bagel shop the whole time, nobody said nothing to me. I leave out. He tried to run back in the store and I run back in the store and I'm like, What the fuck? And then I realize I look like a fuckin' idiot so I leave. I'm not gonna argue with a dude about a fucking bagel.

An argument did arise, though, at Oxford University, when you said you didn't want to get political in your music.
I think speaking on a subject is fine but I don't feel like I need to make songs off of it. If I felt like doing it I would. [That student's] whole question was, "Why haven't you [gotten political?" I'm like, Bitch, 'cause I don't feel like it. Kendrick is doing that already. J. Cole is doing it already. Let them deal with that shit. I wanna talk about the fucked-up shit in my life. Not that fucked-up shit I see on TV. Because I'm not there. How am I gonna talk about something I'm not helping? It's fucked up. It's a touchy subject.

Do you ever feel like you're being forced to address these issues?
They're not forcing me to do shit. I'm just gonna stay black and die. Why, because I'm black? So every time something happens because I'm black I gotta stand up? What the fuck am I, Al Sharpton now? I'm A$AP Rocky. I did not sign up to be no political activist. I wanna talk about my motherfuckin' lean, my best friend dying, the girls that come in and out of my life, the jiggy fashion that I wear, my new inspirations in drugs! I don't wanna talk about no fucking Ferguson and shit because I don't live over there! I live in fucking Soho and Beverly Hills. I can't relate. I'm in the studio; I'm in these fashion studios; I'm in these bitches' drawers. I'm not doing anything outside of that. That's my life.

What about your life when you were starting out? Where did you go see shows in New York?
We snuck into the Phillip Lim show.

A fashion show?
Oh, I never been to a music show until I got famous and went to my own. I never could afford to.

So what happened at these fashion shows?
We used to rob people. Go yard. Yeah man. We were badass kids. We'd just beat them up and share the gold yard. Whoever was there. Whoever spotted it. Whoever got it first you would debate from there. Depending on who had it, how much collateral they had. You know when you're poor you share with your boys. They like brothers. We was all sharing shit.

You received a lot of backlash for your song "Better Things," which mentions pop star Rita Ora. Do you regret those lyrics?
I didn't regret… Like I said it, at the time it was what it was, you know?

Are you intimidated by women?
Yes.

How?
I know that women are smarter than men. I don't wanna sound like I'm on a bandwagon for chicks but I do love 'em, can't front. Women are smarter than men. I know I gotta lot of chicks up my sleeve but you guys are twice as good.

When was the last time a woman outsmarted you?
About a week ago! I saw her, I thought she looked really nice. I got her number. She's all like, Yeah so when are we gonna go out or something? I don't really like going out in public with chicks unless I know I like them. I'm not a public affection type of cat to begin with. I'm not about to be chillin' with no broad and I don't know who she belong to, who she involved with. And she's like, Yeah okay, I'll come over, I'll come over to your house and la-dah-dah. She says, Text me your address. And I'm like, No we'll meet out, I'll hit you back, I'll think about this. I'm getting all paranoid. Why does she need my address? Does she wanna keep it in her files? She tried to get me. And I could be wrong, but I'm so paranoid that I feel right.

What's the worst thing a woman can do to you?
Break your heart. The real worst thing? She could get you locked up and set up. But the worst thing a good girl could do to you is break your heart.

How often do you speak to your mother?
Often. Every day. I just spoke to her a few hours ago. I love her. We're cool. She's proud. Hell yeah.
See more A$AP Rocky
Check out these amazing images of A$AP Rocky, the red-hot Harlem MC (and Time Out New York cover dude)
More to explore