When I dip, you dip, we dip: KFC's legendary secret blend of 11 herbs and spices keeps its chicken kickin' all on its lonesome, but we're partial to the Colonel's creations after a quick dip in some sauce.
KFC's dip roster has grown and changed throughout the years, and on October 12, the saucy tides will turn once again. The House the Colonel Built just announced an all new flavor—called the KFC Sauce—as well as a retool of three of its classics: ranch, honey mustard, and honey BBQ.
The new signature sauce is described as "tangy and sweet, with a bit of smokiness specifically designed to pair with KFC's Extra Crispy Tenders," according to a news release, and took 50 tries to nail the secret blend. So, just how tangy and sweet is it? And were those 50 attempts worth it? We received a preview of the dips and decided to compare the new KFC Sauce to a favorite that's soon to leave the menu, the Finger Lickin' Good Sauce—you know, for science.
There's been some talk online about KFC simply renaming and repackaging their Finger Lickin' Good Sauce, and the people doing this talking are laughably wrong. (Sorry to burst the Saucegate bubble.) They're similar, though they differ in spice, color, consistency and sweetness—and they're definitely two different sauces.
The camera eats first, so let's let take a look before we dive in: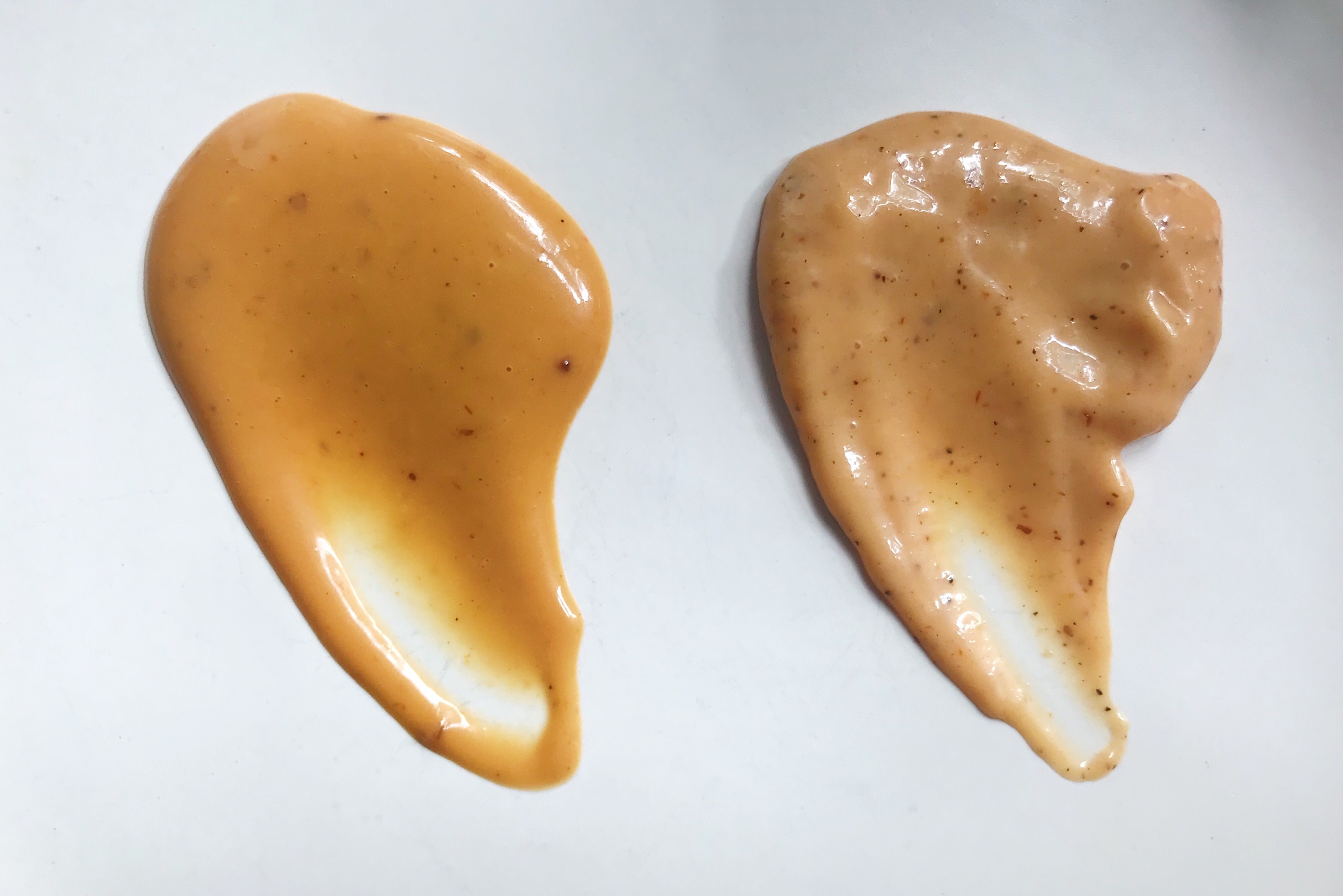 The Finger Lickin' Good Sauce, soon to leave this menu/earth, packs more of a vinegar bite as well as pronounced tang from, we'd wager, that tamarind and white wine listed in the ingredients. It's also more heavily spiced in a peppery sort of way, and is noticeably thicker, not spreading as easily with a spoon dragged across a plate, nor all over a chicken tender after a substantial dunk.
When it comes to the new kid on the block, things are considerably brighter: KFC Sauce is a more vibrant golden yellow, and it tastes more mustardy to match its color. There are also more hints of tomato, and it's a bit sweeter, too. Most noticeable in a side-by-side comparison is the smoother consistency; while the Finger Lickin' Good's flavor is top-notch, the sauce itself can get a bit gloopy—with the new KFC Sauce, it's smooth and silken and finds its way into a tender's every groove.
We're hard pressed to overwhelmingly favor one over the other, but while we'll miss the Finger Lickin' Good Sauce—as well as KFC's iconic catchphrase, now changed to "It's chicken dippin' good!"—we can rest easy knowing the new signature sauce is worth a dip. Now if only we could get some of the UK's dips on this side of the pond. (Looking at you, garlic mayo and Supercharger sauce.)
Kentucky Fried Chicken's new signature KFC Sauce and revamped BBQ, honey mustard, and ranch all launch on October 12.
Most popular on Time Out
- The entire McDonald's breakfast menu, ranked
- Candy maker Mars Wrigley swoops in with trick or treating app for Halloween
- The scariest real-life haunted houses in the U.S.
- 11 Starbucks secret menu items and how to order them
- Starting this weekend, you can send Taco Bell to friends with the push of a button