Way before we couldn't travel for Thanksgiving, my wife and I decided that we wouldn't. The cost and time sink of flights from Los Angeles to New York for both Thanksgiving and Christmas became too much, so in 2014 we decided to trim down our holiday travel.
Spending Thanksgiving by ourselves meant menu planning for once in our lives. But for a pair with the culinary skills of college freshmen and an indifference to roasting an entire bird, turkey didn't seem worthwhile. So we asked ourselves what meal would make us happiest, and there was one obvious answer: pizza. But we wouldn't settle for something frozen or cave in to ordering takeout, so we decided we'd make a pie (nearly) from scratch.
And that's how Crustmas was born.
What started as an in-joke to make our three-ingredient cooking endeavor seem more festive has morphed into a full-blown holiday with an ever-deepening lore of original pun-filled songs and possibly slightly heretical characters (all of which somehow feel too personal to dive into here). But it's also become both an ironic sendup and a cheeky embrace of our East Coast roots and my Italian-American heritage (the red-sauce brand, not the Seven Fishes one).
There's really only so much to say about the recipe itself: It's the holy trinity of dough, sauce and cheese. To skip the trial and error of getting the crust just right, we use Trader Joe's one-pound bag of premade dough. Then we'll toss it in some flour and roll it out, spread a thin layer of red sauce and top it with cheese—usually a mix of shredded mozzarella and quattro formaggi—and a sprinkle of oregano. Bake at 450 degrees for about 10 minutes and you've got yourself a pizza.
The recipe rarely varies. Sometimes there's pepperoni on my half and always olives and occasionally mushrooms on hers. We've tried a drizzle of olive oil to crisp up the crust, to mixed results. Maybe this year—flour shortages forgiving—we'll try to make the dough from scratch. But it's probably more likely that we drown our slices in heaping piles of cold cheese and learn that our aging stomachs aren't quite as invincible as they were a decade ago.
We've made some proper investments in the future of Crustmas over the years. First, it was the switch from a standard baking sheet to a proper round pan. Then last year we really stepped it up: to a pizza stone and peel. But we probably shouldn't have waited until the holiday for our first attempt: Without enough flour, we couldn't shimmy the uncooked pizza off of the peel. The more we pushed, the more it collapsed into a floppy facsimile of a calzone. Neither extra flour nor spatula nor a piece of string (that's where we got truly desperate) was enough to make it look round again. (Don't worry, we've since perfected the process with a bit of parchment paper.)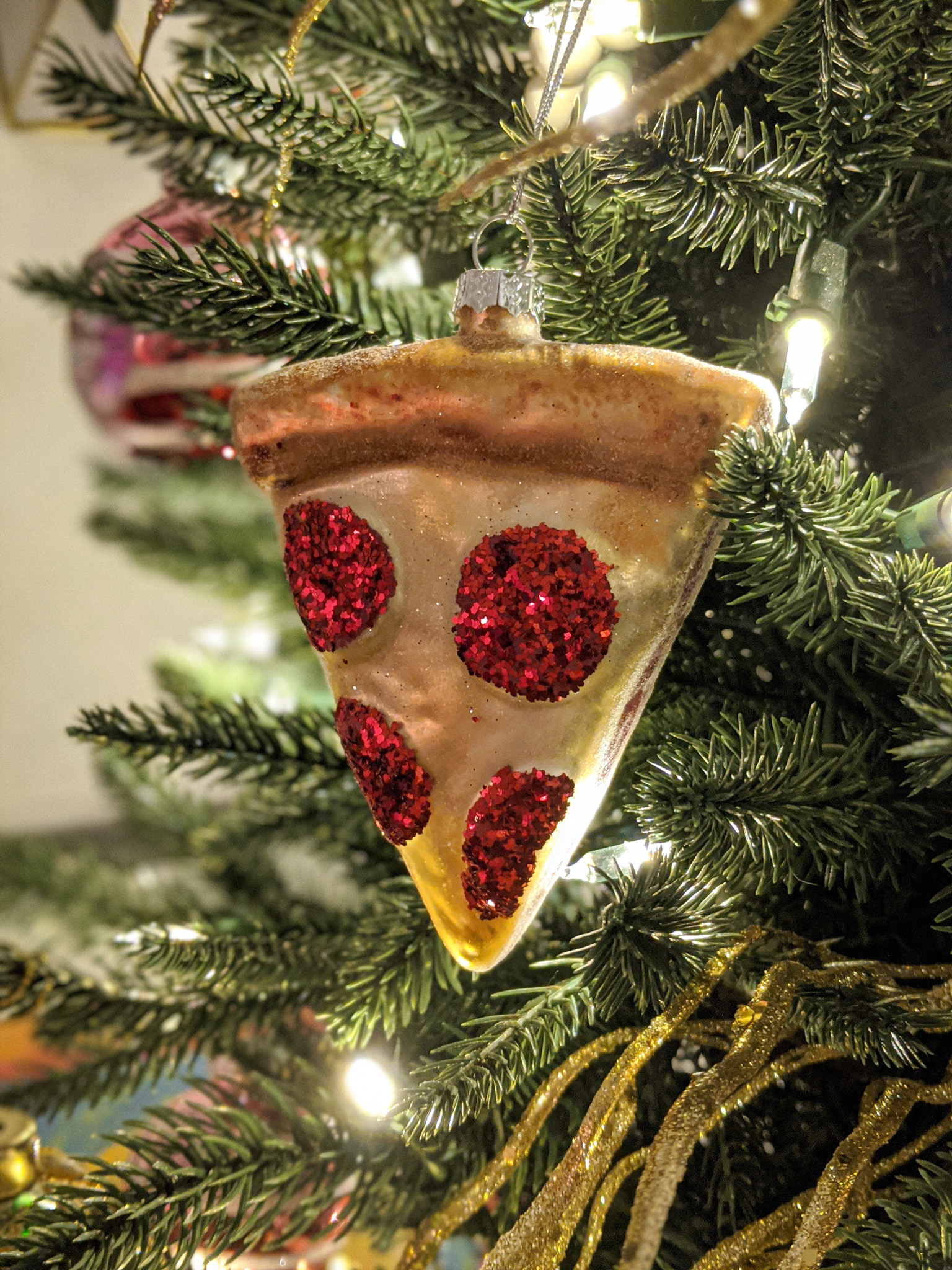 The food is really only part of the enjoyment, though. Before we feast, we dance and decorate our Christmas tree with a bit of Crustmas spirit: a blown-glass, glitter-speckled pizza slice ornament that occupies a piece of prime real estate on the slender tree.
While the oven preheats, we'll fix cocktails to a soundtrack of checkered-tablecloth standards: Frank Sinatra, Dean Martin, Rosemary Clooney, Louis Prima and pretty much any song that mentions the word "pizza."
If Crustmas has a musical patron saint, it's surely East Coast native Lou Monte. And oh, I could write an entire separate essay on the novelty songs of Mr. Monte—like his midpoint aside in New York Mets seventh-inning stretch standard "Lazy Mary": "And now for you nice ladies and gentlemen out there who don't understand the Eye-talian language, I'd like to do two choruses in British" (with an extra emphasis on the fricative).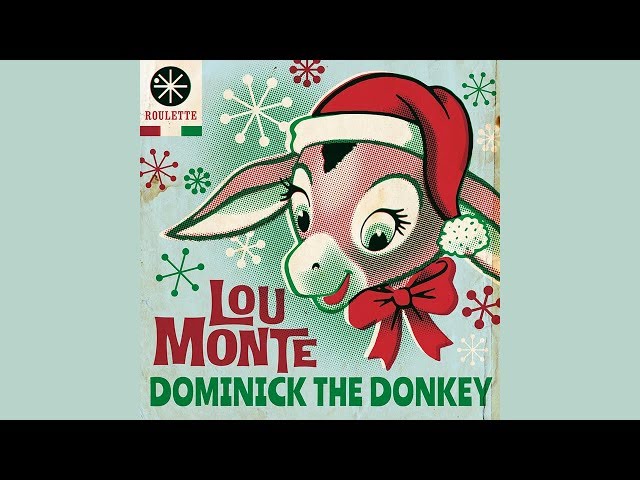 But instead, I'll just turn your attention toward "Dominick the Donkey," Monte's tale of a dancing donkey who understands Italian and delivers made-in-Brooklyn presents for Santa over hills that are too steep for his reindeer to tackle. Its ridiculous "chingedy ching, hee haw, hee haw" chorus was a Christmastime staple on Long Island, but any mention of it is met with nothing but puzzled looks on the opposite coast (where we're more of a "¿Dónde Está Santa Claus?" town).
As much as I want to mock those catchy "la-di-o-das," they kind of speak to the true spirit of Crustmas: We've taken small pieces of our youth—of Friday nights bringing in pizza, of Christmas-music–filled car rides on cold nights with friends, of holidays spent in sweaty living rooms with extended family—and baked them into something new. Traditions are passed down from generation to generation. For our small family on Crustmas (the two of us and our chunky cat), that means making something that truly belongs to us.