Heads up! We're working hard to be accurate – but these are unusual times, so please always check before heading out.
Super Bowl recipes from America's top comfort food chefs
America's kings of hearty eats provide their top Super Bowl recipes, from killer apps to amazing dips
For some, the Super Bowl is all about the game. For others, it's all about the ads. For others still, game day is all about the halftime show. For us, though, Super Bowl Sunday is almost all about pairing great beer (try these best craft beers in the country) with great food, and maybe catching snippets of football along the way. And none of that healthy stuff—bring on the burgers and barbecue, please. With that in mind, we asked some of the best chefs in the U.S. to give us their top Super Bowl recipes. These chefs, known for their commitment to big dishes and comfort food, did not disappoint. For fantastic dips, mac and cheese, grilled cheeses and more, these are the Super Bowl recipes you need to know. Follow Time Out USA on Facebook
Super Bowl recipes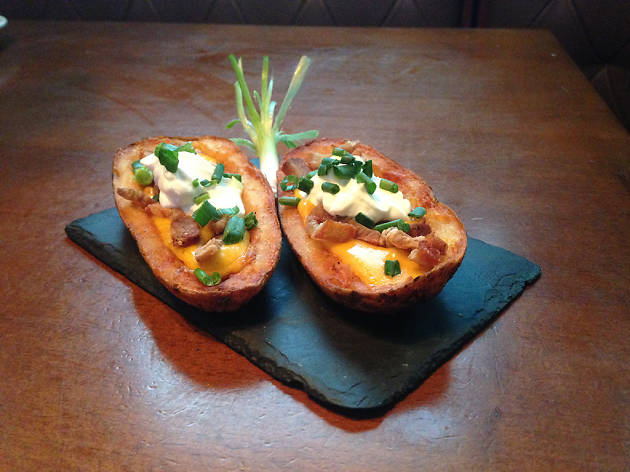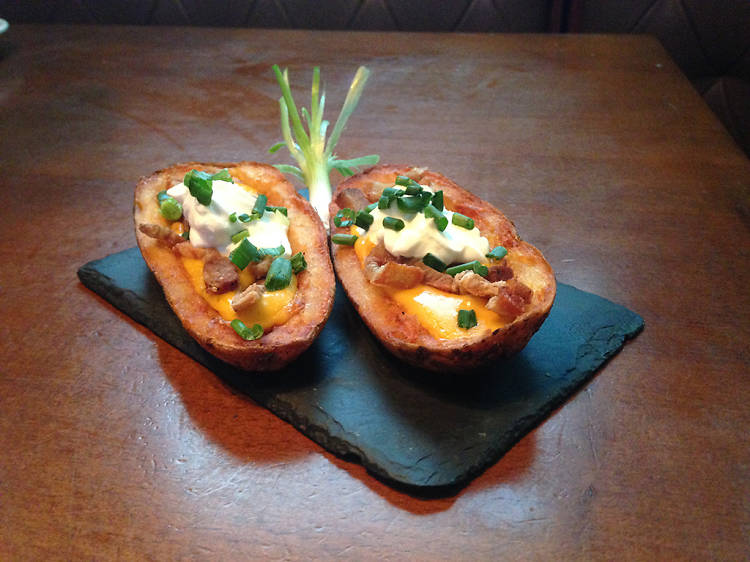 Photograph: Courtesy Batch
1. Crispy Crackling Potato Skins from Ariel Rivero, Batch Gastropub, Miami
Ariel Rivero, chef at hip Brickell gastropub Batch, says these babies are "the perfect Super Bowl food! Hearty potatoes, gooey smoked cheddar cheese, sour cream, chives and finished with crispy chicharrones, which give the dish a unique Miami twist." It will mean making your own chicharrones, but the extra step is worth it.
2 Idaho potatoes
2 oz smoked cheddar cheese
2 oz crispy chicharrones (comfit 2 oz of pork belly for 3 hours at 275 degrees, cool, then fry until brown)
2 tsp sour cream
1 tsp chives
Instructions: Bake potatoes at 300 degrees for 25min. Let cool and then slice potatoes in two and remove half the meat. Deep fry the potato halves for 3 to 4 minutes, until golden brown. Grab the smoked cheddar cheese, sour cream, crispy chicharrones, and chives and top the fried potato halves.

Serves 4.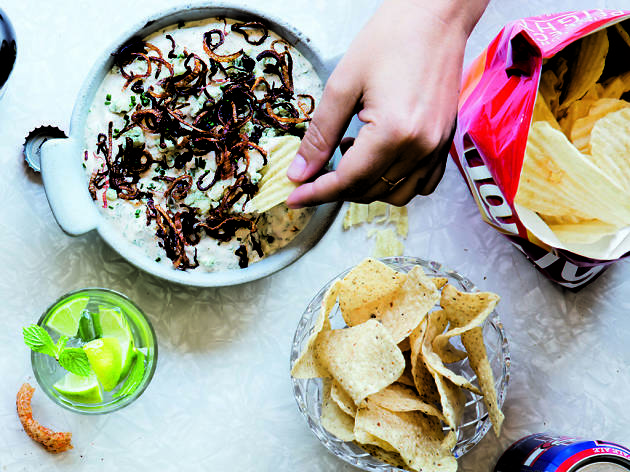 Photograph: Courtesy Classic Recipes for Modern People
2. Ultra Mega Dip from Max and Eli Sussman, Ed & Bev's and Samesa, New York City
Eli Sussman, one half of the chef brothers whose mini restaurant and cookbook empire has New York in raptures (seriously, their Ed & Bev's Detroit-Style Coney Island is divine, messy eating), says the "Ultra Mega Dip is a helmet to helmet collision of flavor! It's sure to crush your taste buds this Super Bowl Sunday." And, not done with the puns, adds: "Don't let your hunger get sacked with boring dips when you can go for a flavor touchdown with this gift."
4 oz sour cream
½ cup mayonnaise
½ cup buttermilk
2 tbsp minced fresh dill
1 tbsp minced fresh chives
2 tbsp dried parsley
1 tbsp each onion powder and garlic powder
1 tsp kosher salt
¼ tsp sweet Spanish paprika
¼ lb blue cheese, crumbled
½ lb shallots
2 cups vegetable oil
Ridged potato chips for serving
Instructions: In a bowl, combine the sour cream, mayonnaise, buttermilk, dill, chives, parsley, onion powder, garlic powder, salt and paprika and stir to mix well. Fold in the blue cheese. Using a mandoline, slice the shallots into thin, even rounds about ⅛ inch (3 mm) thick. In a sauce pan, heat the vegetable oil over medium heat to 325 degrees. Add the shallots and fry until deep golden brown—about 10 minutes. Using a slotted spoon, transfer to paper towels to drain. Sprinkle the shallots over the dip and serve with the potato chips for dipping.

Serves 4.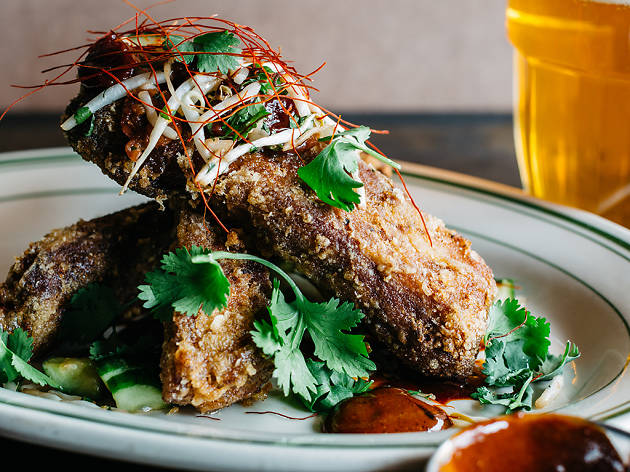 Photograph: Michael Piazza
3. Crispy Ancho Chile Rubbed Ribs from Tony Maws, Kirkland Tap and Trotter, Boston
The James Beard Award-winning mastermind behind Boston comfort food haven Kirkland Tap and Trotter has a Super Bowl recipe for the ambitious game day host: the host who aims to impress, and has some prep time to do it. It's a three-step process, but the deliciousness is worth the effort.
To make the Ancho Chili Rub (yields 1 qt):
6 Ancho chilies, stemmed, toasted and deseeded
2 Pasilla chilies (if available)

1 inch ginger, peeled and smashed

4 cloves garlic, peeled
¼ cup soy sauce

2 tbsp sesame oil
¼ cup canola oil
¼ cup maple syrup
3 whole scallions
10 sprigs cilantro
1 star anise, ground

1 cinnamon stick, ground

1 tbsp coriander seeds, ground
1 tbsp Szechuan peppercorns
Instructions: Toast the dried chilies in the oven at 350 degrees for 3 minutes or until fragrant. Boil 1 quart of water and pour over the dried chiles; cover and let soak for 20 minutes. Remove the chilies from the liquid and set aside, reserving the liquid.
 Add all ingredients to the blender, puree until smooth, adding reserved chili liquid as needed to make a puree.
To make the ribs:
1 rack St. Louis Cut Pork ribs, cut in half so you have 2 smaller slabs
3 tbsp kosher salt

1 can beer, preferably Negro Modelo

2 cups arrowroot (you may substitute corn starch)

To make the Ancho Rub Dipping Sauce:
2 cups Ancho Chili Rub

¼ cup red wine vinegar

4 tbsp molasses

Water to adjust consistency (and if you have any bacon fat you should add that too)
Instructions:
Rub the ribs with salt and your Ancho Chili rub, reserving some for dipping sauce.
 Let them sit for at least one hour, but preferably overnight.
 Reduce heat in oven to 325 degrees. 
Place ribs and beer in a braising pan, cover and cook until ribs are tender (approximately 2.5 hours). Remove from oven and chill.
 When cold, cut the ribs through each bone so you have individual rib portions. Preheat fryer to 375 degrees. 
Dip the ribs into the arrowroot and shake to remove excess.
 Deep fry until outside is crispy and inside is hot, approximately 6-8 minutes. Serve with Ancho Rub Dipping Sauce.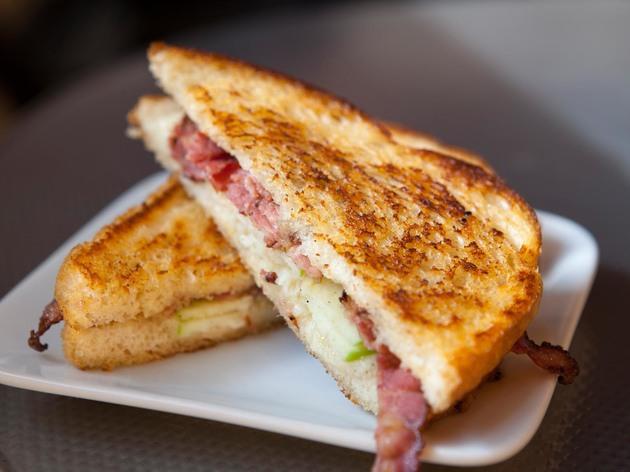 Photograph: Jakob N. Layman
4. The Johnny Apple-Cheese, a.k.a. Johnny Pastrami from Eric Greenspan, Greenspan's Grilled Cheese, Los Angeles
One of the most popular sandwiches on the menu at Eric Greenspan's eponymous—and famously delicious—L.A. grilled cheese joint is a perfect Super Bowl option. Especially if you want to up your game by serving full-blown entrees to your guests, along with the usual dips and nachos. "This is the perfect super bowl food," says Greenspan: "Easy to make, bold enough flavors to match anything else you're eating (or drinking!), and who doesn't love a great grilled cheese?"
For the chutney:
6 Granny Smith apples, peeled, cored and diced
½ cup of strong Dijon mustard
2 tbls honey
¼ cup apple cider vinegar
½ cup fresh apple juice
Instructions: In a medium sauce pan, heat the honey until it begins to bubble and add the apples. Cook until browned and caramelized. Deglaze with the vinegar and reduce until almost dry. Add the juice and mustard and cook until almost no liquid is left. Blend in a blender until smooth.
For the sandwiches:
8 slices sourdough bread
1 lb aged white cheddar cheese, sliced in 1 oz slices
½ lb thinly sliced pastrami (from a good Jewish deli)
2 Granny Smith apples, thinly sliced
½ cup butter
Instructions: Spread a tablespoon of the chutney on a slice of bread. Place 2 slices of cheese atop, then ¼ of the pastrami. Top with ¼ of the apple slices, then 2 more slices of cheese. Place another slice of bread on top to complete the sandwich. Repeat 3 more times. In a large cast iron skillet, melt ½ the butter and heat until slightly browned. Add the sandwiches and cook until golden brown and crispy. Turn the sandwiches over, add the rest of the butter and continue to cook until both sides are golden brown, crispy and the cheese is melted within.
Serves 4.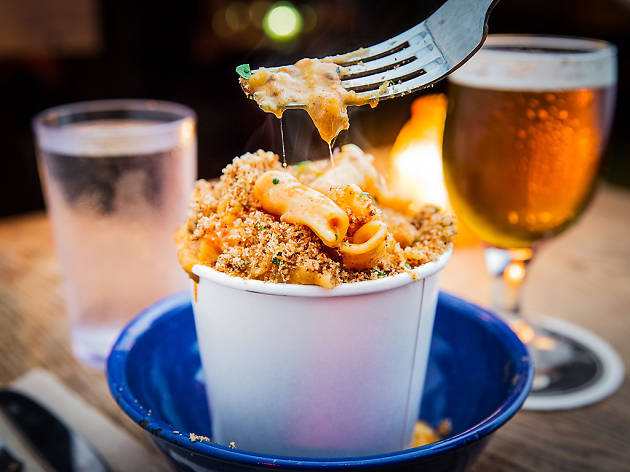 Photograph: Courtesy Beard and Belly
5. Chili Mac from Kyle Schrage, Beard and Belly, Chicago
This monster of a dish from the team behind Chicago gastropub Beard and Belly may be one of the more complex recipes on our list. "We think it is a excellent Super Bowl Recipe because when you make it you really end up with three very good filling dishes (chili, mac and cheese and chili mac)," says Kyle Shrage. "You could also bake it like a casserole if you want to, or serve it at a party by having a big vat of chili as well as a bunch of mac and cheese and people can mix them together as desired. It's easy to make and feeds the masses...a perfect dish for the big game."
For the Super Bowl chili:
2½ lb ground beef
2½ red bell pepper (medium dice)
1½ yellow onion (medium dice)
2 serrano peppers (small dice)
1 habanero pepper (small dice)
2 16 oz cans kidney beans
2 28 oz cans tomatoes crushed by hand
½ head celery (medium dice)
½ cup tomato paste
1 cup black coffee
1 cup Pepsi or Coke
1 cup ketchup
2 tbsp apple cider vinegar
2 tbsp yellow mustard
1 oz smoked paprika
1 ½ oz black pepper
1 ½ oz salt
½ oz cayenne
½ oz cumin
Instructions: Season beef with ½ oz each of salt and pepper and cook till done, drain off the fat. In the same pot sweat the peppers, onions and celery. Add seasonings and cook for 5 minutes, stirring often and opening the spices. Add tomato paste, coffee and cola, stirring often and reducing slightly; add meat, tomatoes, vinegar and mustard. Simmer until you can no longer smell the coffee and it's only an afterthought while tasting. Stir in drained and rinsed kidney beans. Makes about 6 quarts.
For the cheese sauce:
½ lb butter
½ lb AP flour
½ gallon whole milk
1 onion pique
½ lb white cheddar
1 oz salt
Instructions: Melt butter then stir in flour to make a roux and cook for about 10 minutes, being careful not to burn. Set aside to cool. In a large, heavy-bottomed pot add milk and onion pique and bring to a simmer, stirring occasionally. Remove onion pique and whisk in cooled roux. Cook on medium low heat stirring often, making sure to get into the groove around the bottom of the pot. When thickening is complete add white cheddar until totally incorporated and season to taste. Makes about 3 quarts.
For the pasta:
2 lb campanelle
½ cup salt
2 gallons water
Instructions: Bring water to a boil in a large stock pot, add noodles and cook until al dente, remove from heat and drain. Rinse with cold water until totally cool.
For the Chili Mac (combining all):

3 quarts chili
2 quarts cheese sauce
1¼ lb diced cheese curds
3½ lb cooked campanelle
10 oz seasoned bread crumbs
Salt
Pepper
Instructions: Add chili, cheese sauce, cheese curds, salt and pepper (to taste) to a large pan on medium heat. Heat mixture until curds start to melt and get stringy. Transfer to a 13x9 casserole dish and top with seasoned bread crumbs. Be careful—you will probably have extra. Serve hot. (If you want baked chili mac you can just mix together at room temperature, transfer to casserole dish and top with bread crumbs and bake at 350 degrees for 15 min or until bread crumbs start to brown.)
Serves 10.