Time Out Card
Make the most of London…for less
Questions?
Free 'The View from The Shard' Print
Applies when purchasing tickets. Please show Time Out Card on arrival.
10% off tickets to Silent Disco, exclusive to Time Out
Tickets cost £33.75 (usually £37.50). Choose from 4 dates. You must book online HERE. Tickets are limited to 26 per disco and subject to availability.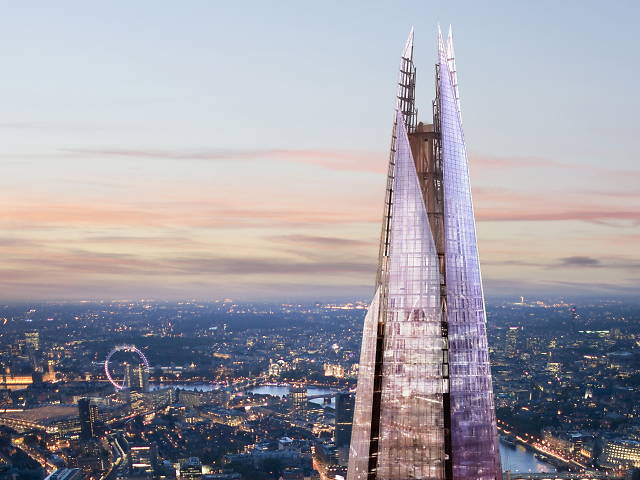 The View from the Shard
Joiner St
London
SE1 9QU
0844 499 7111
Details & map
Please check offer for booking requirements
Find more great offers
Showing
1-50

of

652

results
Sort by:
Billy Elliot the Musical

Victoria Palace Theatre

St James's Park

126 Victoria Street

London

SW1E 5EA

020 7907 7071

10% off our normal price

Your discount will be provided on checkout. Booking essential. Click here to book

Offer expires 19 December 2015.

The Book of Mormon

Prince of Wales Theatre

Piccadilly Circus

Coventry St

W1D 6AS

0844 544 3830

10% off our normal price

Your discount will be provided on checkout. Booking essential. Click here to book

Offer expires 6 February 2016.

Matilda the Musical

Cambridge Theatre

Covent Garden

Earlham St

London

WC2H 9HU

0870 830 0200

10% off our normal price

Your discount will be provided on checkout. Booking essential. Click here to book

Offer expires 20 December 2015.

Les Miserables

Queen's Theatre

Soho

Shaftesbury Avenue

London

W1D 6BA

0844 544 3830

10% off our normal price

Your discount will be provided on checkout. Booking essential. Click here to book

Offer expires 1 October 2016.

Charlie and the Chocolate Factory

Theatre Royal Drury Lane

Covent Garden

Catherine St

London

WC2B 5JF

020 7492 9930

10% off our normal price

Your discount will be provided on checkout. Booking essential. Click here to book

Offer expires 3 December 2015.

The Alternative London Tour

Old Spitalfields Market

Walking tours

Spitalfields

Brushfield St

London

E1 6AA

07899 686 235

25 % off Street Art Tour and Workshop

Bookings can be made online here.

Tate Modern

Popular venues

South Bank

Bankside

London

SE1 9TG

020 7887 8888

Ruby Violet

Kentish Town

118 Fortess Road

London

NW5 2HL

020 7609 0444

Kew Gardens

Kew

London

TW9 3AB

020 8332 5655

Visit to Kew Gardens and Palace for Two -save 25% or more

This offer also includes Afternoon Tea. Online booking is essential. Click here to book

The View from the Shard

Towers and viewpoints

London Bridge

Joiner St

London

SE1 9QU

0844 499 7111

Free 'The View from The Shard' Print

Applies when purchasing tickets. Please show Time Out Card on arrival.

10% off tickets to Silent Disco, exclusive to Time Out

Tickets cost £33.75 (usually £37.50). Choose from 4 dates. You must book online HERE. Tickets are limited to 26 per disco and subject to availability.

The Comedy Store Players

Comedy Store

Piccadilly Circus

1a Oxendon St

London

SW1Y 4EE

08448 717699

Comedy Store Players Improvisation Show - £5 off tickets

Was £17, now £12. Show time: 8pm Wednesdays and 7:30pm Sundays. Booking essential, please call to book and quote Time Out Card: 0844 871 7699. All bookings are subject to a booking fee. Valid for 1 discount per Time Out Card.

Club De Fromage

O2 Academy Islington

Clubs

Angel

16 Parkfield St

London

N1 OPS

£5 entry before 11:30pm

Applies to door sales only. Please present your Time Out Card on arrival.

Miss Saigon

Prince Edward Theatre

Soho

28 Old Compton St

W1D 4HS

0844 482 5155

10% off our normal price

Your discount will be provided on checkout. Booking essential. Click here to book

Offer expires 27 February 2016.

Cats

London Palladium

Soho

8 Argyll Street

London

W1F 7TF

10% off our normal price

Your discount will be provided on checkout. Booking essential. Click here to book

Offer expires 2 January 2016.

Cinnamon Kitchen

Aldgate

9 Devonshire Square

London

EC2M 4YL

020 7626 5000

£19 for 2 courses and free signature cocktail

Booking essential. Available at 6pm, 6.30pm and 9.30pm.

£21 for 3 courses and free signature cocktail

Booking essential. Available at 6pm, 6.30pm and 9.30pm.

BOW WOW London

Shops

Covent Garden

50a Earlham St

Covent Garden

London

WC2H 9LA

02072400818

10% discount on all goods in store

This excludes all food items.

Trailer Happiness

Westbourne

177 Portobello Rd

London

W11 2DY

020 7041 9833

50% off food

Booking essential, please quote Time Out Card.

Tootoomoo

Crouch End

12 Crouch End Hill

London

N8 8AA

020 8340 2633

Complimentary glass of wine with dinner

Valid for parties of 2. Not valid in conjunction with other offers or on Bank Holidays. Simply present your Time Out Card before you order your meal.

Stomp

Ambassadors Theatre

Covent Garden

West St

London

WC2H 9ND

0844 811 2334

10% off our normal price

Your discount will be provided on checkout. Booking essential. Click here to book

Offer expires 20 December 2015.

La Patagonia

Camden Town

31 Camden High St

London

NW1 7JE

020 7388 9861

20% off food

Closed between 3 and 6pm Mon-Fri. Open from 6pm Sun.

Phoenix Artist Club

Covent Garden

1 Phoenix Street

London

WC2H 8BU

020 7836 1077

Complimentary Access

Please show your Time Out Card upon entry. Last entry 9pm. Subject to availability and occupancy.Valid for the Cardholder plus one.

Hereford Road

Westbourne

3 Hereford Road

London

W2 4AB

020 7727 1144

Free glass of wine with lunch

Must order a minimum of 3 courses per person. Not valid on Set Lunch and Express Lunch. Maximum party size of 2.

Shakespeare's Globe

South Bank

New Globe Walk

Bankside

London

SE1 9DT

Tour of Shakespeare's Globe Theatre for Two-save 25% or more

Cutting Edge

Comedy Store

Piccadilly Circus

1a Oxendon St

London

SW1Y 4EE

08448 717699

The Cutting Edge Topical Comedy - £5 off tickets

Was £14, now £9. Show time: 8pm Tuesdays. Booking essential, please call to book and quote Time Out Card: 020 7930 2949. All bookings are subject to a booking fee. Valid for 1 discount per Time Out Card.

Ben's Canteen

Wandsworth

140 St John's Hill

London

SW11 1SL

020 7228 3260

Free glass of wine with dinner

Valid for parties of 2 or more.

Tierra Peru

Islington

164 Essex Road

London

N1 8LY

020 7354 5586

2 for 1 on food

Booking essential, please quote Time Out Card. Applies to main courses only. Must order a minimum of 3 courses per person. Maximum party size of 2. Excludes bank holidays.

Daddy Donkey

Snack bars

Farringdon

50B Leather Lane

London

EC1N 7TP

020 7404 4173

Ladybird Bar

Angel

70 Upper Street

London

N1 0NY

020 7359 1710

35% off drinks

Cannot be used in conjunction with any other offer. Offer can be used once per visit.

Crazy Bear

Fitzrovia

26-28 Whitfield Street

London

W1T 2RG

020 7631 0088

Dim Sum Afternoon Tea and Cocktails for Two-save 25% or more

Tower of London

Popular venues

Tower Hill

Tower Hill

London

EC3N 4AB

Visit Tower of London with Thames Cruise - save 25% or more

This offer is valid for 2 people. Click here to book

Ten Room at Hotel Café Royal

Piccadilly Circus

68 Regent Street

London

W1B 4DY

020 7406 3310

25% off total bill

Booking essential, please quote Time Out Card. Offer not valid on bank holidays and Special occasions. Offer is only available on the La Carte menu only.

Proud Cabaret City

Nightlife venues

Aldgate

1 Mark Lane

London

EC3R 7AH

020 7283 1940

25% off food

25% off the cover charge only. Booking essential, please quote your Time Out Card. Offer not valid on bank holidays and Special occasions,.

Brasserie Toulouse Lautrec & Jazz Bar

Kennington

140 Newington Butts

London

SE11 4RN

020 7582 6800

50% off food

Applies to 'Bar Food' menu only. Please note this offer is not valid on the main restaurant menu. Advanced booking is essential, please telephone on: (020) 7582 6800 and mention the Time Out Card. This offer is not valid after 6pm on Friday's and Saturday's or throughout December. This offer is for a maximum of 2 people.

214 Bermondsey

London Bridge

214 Bermondsey Street

London

SE1 3TQ

020 7403 6875

£24 for Gin Tasting Experience

Usual price £27 - £42. Includes a Gin and Tonic tasting flight of your choice (a little game of who's who with three Gin and Tonics and an envelope that reveals all!) Followed by 2 gin cocktails. Excludes the month of December and Bank Holidays.

Earlham Street Clubhouse

Covent Garden

35 Earlham St

London

WC2H 9LD

020 7240 5142

25% off food

Offer valid on pizza only.

Water Poet

Gastropubs

Spitalfields

9-11 Folgate Street

London

E1 6BX

020 7426 0495

£10 for main course and a glass of beer or wine

Applies to the weekly lunch menu.

The London Dungeon

South Bank

Westminster Bridge Rd

London

SE1 7PB

Save up to 28%

Adult £18,95, Child £14.95. Not valid in conjunction with other offers. Booking 24 hours in advance essential. Call 0871 222 4001, quote 2015 EXTRAS and bring your Card on the day. Subject to availability. Please select More Details for opening times.

Offer expires 31 December 2015.

Darkroom

Independent retailers

Holborn

52 Lamb's Conduit St

London

WC1N 3LL

020 7891 7244

15% off Purchases

Please note, this offer cannot be used in conjunction with any other offer and is not valid on books, sale items and magazines.

Thai Thai East

Old Street

London

EC1V 9BD

020 7490 5230

50% off food

Booking essential, please call and quote your Time Out Card.

Meat People

Islington

4-6 Essex Road

N1 8LN

020 7359 5361

2 for 1 on food

Please present your Time Out Card on arrival. Offer not available in December. Offer valid on starters, main courses and desserts. Offer not valid on side dishes.

Cinnamon Soho

Soho

5 Kingly Street

London

W1B 5PF

020 7437 1664

£10 for a cocktail and 10 balls

Cannot be used in conjunction with any other offer.

Greedy Cow

Bistros

Mile End

2 Grove Road

London

E3 5AX

020 8983 3304

20% off total bill

Maximum party size of 4.

Ibérica Marylebone

Marylebone

195 Great Portland Street

London

W1W 5PS

020 7636 8650

Free glass of Cava with food

Complimentary glass of Cava for all diners.Booking essential, please quote Time Out Card. Must order a minimum of 2 courses per person. Excludes bank holidays and special occasions.Please note Iberica is open until 4pm on Sundays.

Houses of Parliament

Westminster

Palace of Westminster

London

SW1A 0AA

0207 219 4114

20% off audio tours

Online booking essential. Please click here to book. Valid on full price adult admission only and not in conjunction with any other offer.

Offer expires 31 March 2016.

Love in a Cup

Coffeeshops

Whitechapel

15 Osborn St

London

E1 6TD

07828 513539

Shutterbug

Shoreditch

1 Rivington Place

London

EC2A 3BA

020 3222 0518

2 for 1 on food

Booking essential, please quote Time Out Card. Offer not valid on Bank Holidays and Special Occasions. Opening hours vary, please see website for more details.

Crown & Shuttle

Pubs

Shoreditch

226 Shoreditch High Street

London

E1 6PJ

020 7375 2905

Main, side dish and drink for £10

Choose from Ale of the week or glass of House Wine with any main course and side dish. Please note this offer is not valid from 10th - 31st of December.

King Gong

Comedy Store

Piccadilly Circus

1a Oxendon St

London

SW1Y 4EE

08448 717699

King Gong Open Mic Night - £3 off tickets

Was £8, now £5. Show Time: 1st Sunday of the month 7.30pm. Booking essential, please call to book and quote Time Out Card: 020 7930 2949. All bookings are subject to a booking fee. Valid for 1 discount per Time Out Card.

Ripley's Believe It or Not!

Piccadilly Circus

1 Piccadilly Circus

London

W1J 0DA

020 3238 0022, bookings 08445 791940

2 for 1 entry

Maximum party size of 6. Cannot be used in conjunction with any other offer. Please show your Time Out Card on arrival to redeem this offer.

Syon House and Park

Historic buildings and sites

Brentford End

Brentford

Middx

London

TW8 8JF

2 for 1 on admission

Offer valid on Adult House & Garden tickets. Please present your Time Out Card on arrival. This offer can be redeemed between 8am and 10pm